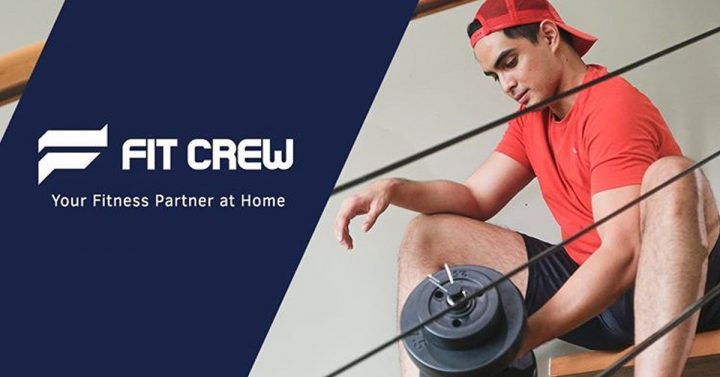 When COVID-19 came and proved that it's here to stick around for an extended period of time, we all knew that there was no returning to our old fitness routines any time soon. Thankfully, online coaching programs like actor Juancho Triviño's Fit Crew PH have sprouted everywhere to help both coaches and enthusiasts alike.
Early on in the first few months of lockdown we provided our Fearless Forecast for the fitness community and foretold some changes that may well become our so-called 'new normal'. Part of the forecast predicted that remote personal training or online fitness coaching would rise to popularity far and wide in an effort to make fitness accessible despite having gyms and studios closed indefinitely.
From indoor cycling studios renting out or selling their bikes so that people can attend online versions of their exhilarating exercises, to big gyms giving open access to programs by their top personal trainers, online fitness has spread and caught on faster than any of us could have thought it would.
RELATED READ: 7 tips to level up your online fitness class experience and home studio
Seeking solutions, helping others
The options grew by the day, and just last July, Fit Crew PH joined the mix, offering online personal training services that are beginner-friendly, and aim to help the fitness community – coaches, enthusiasts, and all. Talking to the founder, local celebrity and entrepreneur Juancho Triviño, he shares that Fit Crew PH was founded on the mission to help people stuck in quarantine to still achieve their fitness goals despite being grounded at home.
Triviño shares that as he had personally experienced a downturn in his fitness level and how that could cause potential risks given the deadly pandemic going around, he started Fit Crew to help provide a friendly, fun, and safe avenue for people to keep moving and stay healthy. Citing how the pandemic has slowed down activity for all of us in the fitness community, Juancho explains that many people may become more prone to gaining unwanted weight as he did.
"Movement natin is very, very limited…. And the calories burned before compared to now has just dropped kaya maraming nag-gegain ng weight. Like me, I personally felt that I added weight," he shares.
(Our movement is very, very limited…. And the calories burned before compared to now has just dropped. That's why a lot of people are gaining weight. Like me, i personally felt that I added weight.)
He mentions that before the COVID-19 lockdowns, he was an avid basketball hobbyist and that having the practice of the sport taken away had contributed to a relatively unhealthier lifestyle than he was used to, and so came up with Fit Crew PH as the solution to this. According to Triviño, his fitness platform wants to help people 'make the most out of what we have' in terms of being at home and using the time to workout, while also maintaining safety.
"I knew na kung ako, matutulungan ko sarili ko, makakatulong din ako ng maraming tao," says the actor. 
(I knew that if I could help myself, I could help a lot of other people.)
He further adds that the dilemma of having to choose between your health and your safety is 'really a pain point nowadays' and that individuals and groups can resolve this with the help of Fit Crew PH.
Classes for community
As a fitness platform, Juancho explains that Fit Crew PH has an established profile of Certified Personal Trainers (CPT) who aim to provide clients with safe, fun, and effective workouts. Looking to always improve customer experience, they are constantly seeking opportunities to add to and improve their services.
The most recent addition, he reports, was a roster of zumba instructors and nutritionists. For those who want to try it out, Juancho tells Pinoy Fitness that they also hold public sessions for their zumba classes every Saturday. Classes are free after a one-time payment of PHP 100.
Compared to pre-recorded online classes, their live zumba classes seek to bring their clients closer to the feeling of interacting with a community, and to make the workout experience more personal. This way, he says, is how they hope to help people out.
Fitness is fun when it's also safe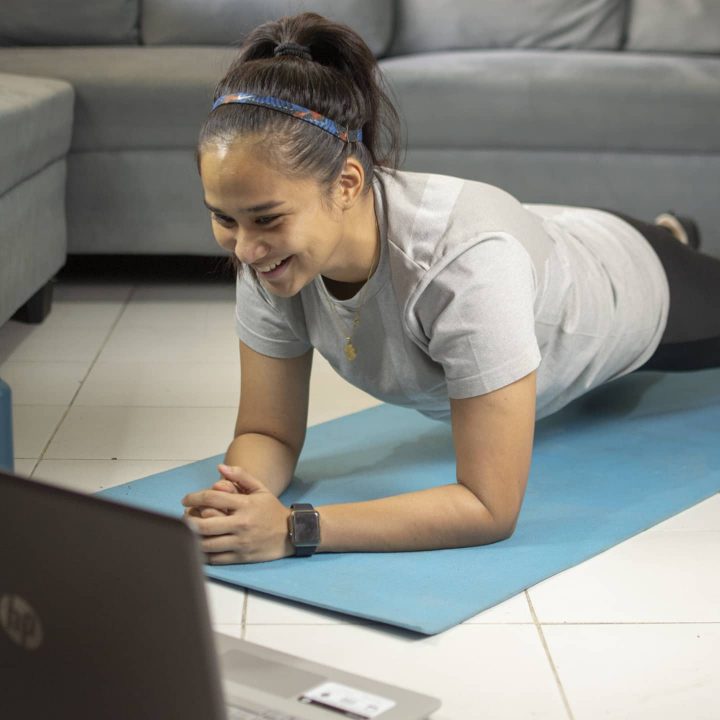 But despite the need to migrate workouts to online platforms, Juancho admits that the online personal training platforms available nowadays also face the challenge of competing with the many, free, workout videos that influencers post on their channels. 
He says that he is often faced with the question, "bakit ka naman magbabayad para sa online coaching if it's not physical or you can just simply watch on YouTube?"
(Why would you have to pay for online coaching when it's not physical, or you can just simply watch on YouTube?)
To which he answers: "Kailingan kasi natin ng guide. Workouts are different for everybody…. I, for one, can't explain that to other people. But I have a lot of CPTs right now who can help us achieve our fitness goals."
(We need a guide. Workouts are different for everybody…. I, for one, can't explain that to other people. But I have a lot of CPTs right now who can help us achieve our fitness goals.)
Triviño adds further that the tricky thing with YouTube workouts and just watching and following the routines of influencers is that it exposes people to possible injuries. While he was fair to mention that the practice is relatively okay for people with high fitness levels, it could pose a risk to beginners who have little to no idea about proper form and technique, thus causing 'more harm than good'.
"Siyempre yung mga CPTs, they studied these proper forms and how to deal with certain body types and fitness goals.
(Of course these CPTs, they studied these proper forms and how to deal with certain body types and fitness goals.)
So that's what you should really be thinking about when you are hiring people to assist you with regard to your workout," Juancho points out.
On the part of influencers sharing their workouts, Triviño says there isn't anything particularly wrong with doing so. But he stresses that with any workout video he posts or others plan on posting, it is crucial to remain vocal and open about saying that the routines came from and should be done with the guidance of a certified coach.
Offering more than the workout
During this time it is important to just keep moving, Triviño says, drawing back to his initial point stressing the importance of maintaining our physical health amid the pandemic. More than advanced fitness enthusiasts, Fit Crew PH really hopes to see more beginners using their platform, because of this reason.
With their roster of coaches certified and trained to teach the basics, Juancho would like to invite people who are just at the early stages of their fitness journeys to try out Fit Crew PH. He hopes that with their platform, people could discover more than a workout, but an overall, meaningful experience for them.
As Fit Crew PH continues to work on the experience for customers, they currently operate with a straightforward messaging system where interested users can contact them via their website or Instagram account about a free trial. After messaging, those who are interested will then be able to pick – or be assigned – a coach to start their workouts with, depending on their availability.
"The first trial is free, and you're immersed in this 45-minute to 1-hour session with our coach working out to our Fit Crew x DJ Nina Spotify playlist," Juancho describes. After the trial, users will then have the option to continue with the paid service, or not. Although the feature isn't part of their services yet, Fit Crew PH also hopes to help provide users with assistance with workout equipment.
But as a reason that is of equal importance as helping out the fitness community, Juancho also hopes that, with Fit Crew PH, he can help out the coaches that are losing business due to the pandemic. Although he reports that it's hard because people still have low trust towards online coaching, he is hopeful and puts his faith in the idea that the fitness community will open up to it soon.
"But yeah, it's a huge challenge for us. My coaches also don't have work as well. Ako, personally I'm not just trying to help myself.
(Me, personally, I'm not just trying to help myself.)
I'm also trying to help the coaches also, and most importantly, I'm doing my best to help the customers achieve their fitness goals," Triviño says.
In choosing Fit Crew PH, Juancho details that, "it's not just 'sige mag book ka diyan and bahala ka na'.
(It's not just 'sure, go and book and the rest is up to you'.)
It's a lot of following up and checking up on you and asking what more we can improve on."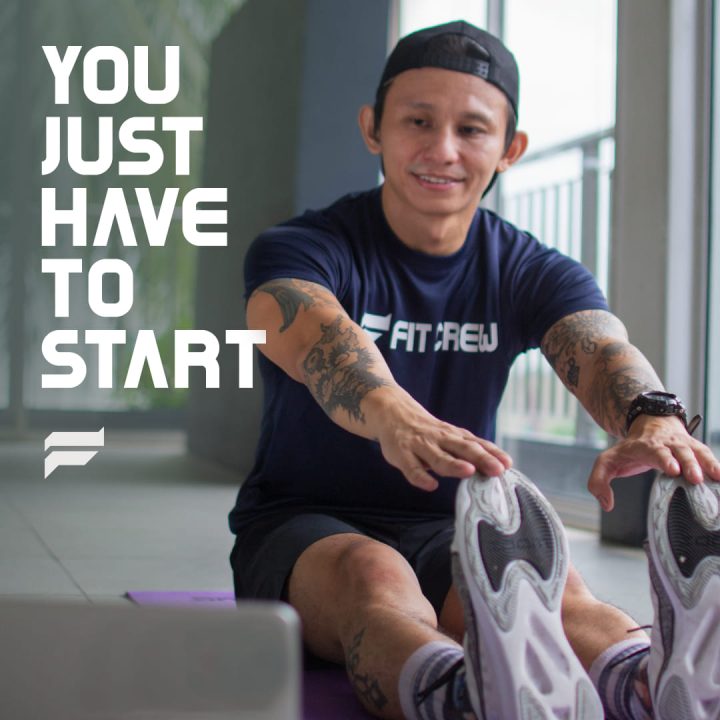 As a final note of invitation for those just starting their fitness journeys, Juancho says, "just give it a try. We aim to be as friendly as possible and not intimidating…. I promise that I will be personally there in their sessions if they want me to.
Reach Fit Crew PH via Instagram or Facebook and book a FREE trial to check it out!