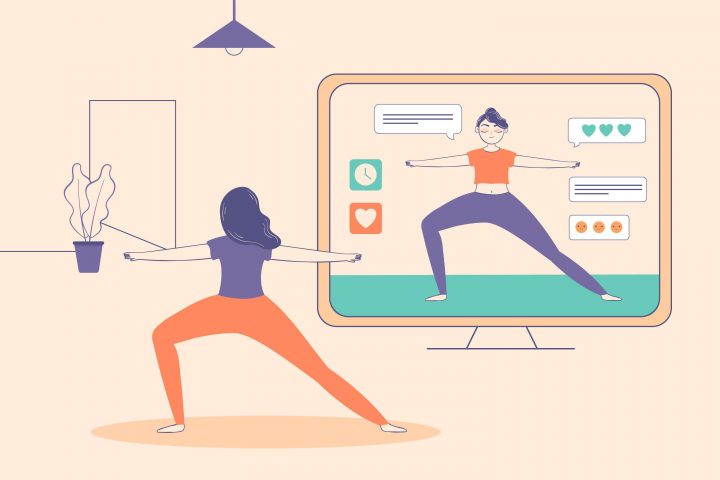 Quarantine restrictions will be eased up in certain areas excluding Metro Manila, Laguna province and Cebu City starting Saturday, May 16. But that doesn't mean it's back to regular programming for all of us. Under the government's recently announced guidelines, how is the fitness industry expected to react, and what awaits fitness enthusiasts all over the country?
Citing the strain that the lockdown has had on local businesses in their respective jurisdictions, Metro Manila mayors recommended 3 scenarios to the Inter-Agency Task Force on Emerging Infectious Diseases (IATF-EID) that will allow for more movement and supposedly help ease the burden of business owners.
Since then, the national government announced that they will be easing up restrictions on certain areas, along with new guidelines for quarantine namely: general community quarantine (GCQ); modified general community quarantine (MGCQ); and modified enhanced community quarantine (MECQ). (Read this explainer to better understand the differences, here.)
So does this mean we can go to the gym?
No. Under the guidelines across the board – from GCQ (lowest restrictions) up to the MECQ (highest restrictions) – gyms and fitness studios, which fall under the category 'leisure,' will remain closed until the health officials and the government give the green light.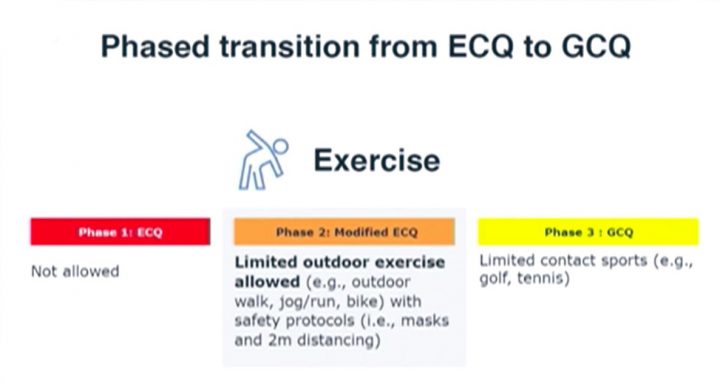 Only specific, limited contact sports like tennis and golf will be allowed under GCQ. Sports mass gatherings – and mass gatherings of any kind, for that matter – are also still prohibited for an indefinite period. Running or jogging, walking, biking, or exercise activities that require no contact, however, will be allowed under MECQ and GCQ.
How can the fitness industry and fitness enthusiasts adapt?
Apart from businesses suffering damaging losses, another big dilemma people are faced with is maintaining general well-being amid this viral pandemic – health in its most holistic sense.
RELATED READ: 7 Things you can do if you're not feeling well… (Mentally)
Since word of the deadly virus' spread first hit, health experts have been emphasizing the importance of maintaining optimal holistic health to ward off COVID-19. To respond to this, the general public has taken workouts indoors by taking on engaging workout challenges online, while fitness establishments (or those that can, at least) were quick to digitize their services.
In addition to valuing health, the pandemic has harshly pointed out that the way we've been doing things has not been working well in our favor, and so calls for a 'new normal' approach to how we interact with society and go about our lives.
So as we remain under, what some have said to be the 'strictest and longest lockdown' in response to the coronavirus pandemic, and do so for an indefinite time, it would be wise to start shifting your fitness routines as well.
What's the outlook for the fitness industry in the 'new normal' going to be amid, and post-coronavirus crisis? Pinoy Fitness forecasts here: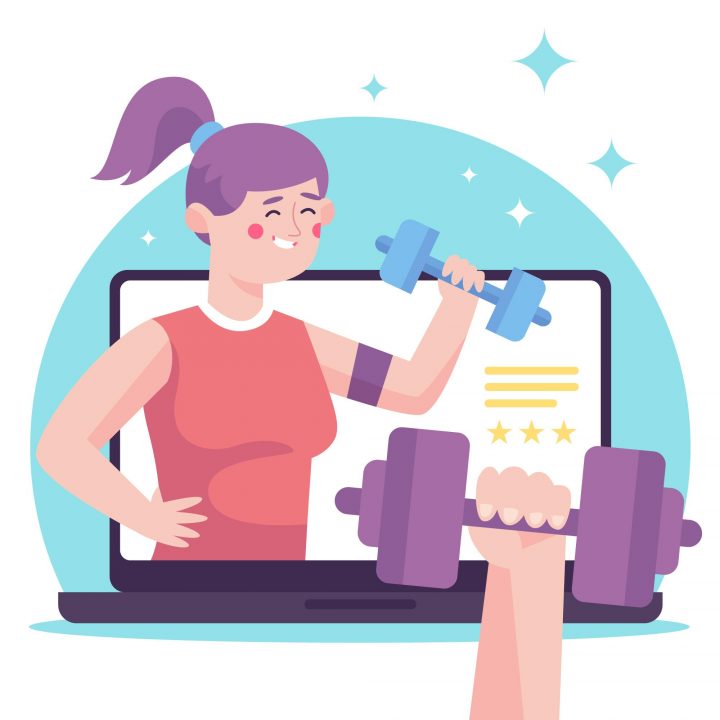 1. The Rise of Digital Fitness
While certain studios that teach workouts that involve the use of equipment (indoor cycling, CrossFit, aerial yoga, etc) are slowly getting up to speed with offering digital versions of their classes, virtual instructorship was not uncommon pre-coronavirus days.
Studios that provide instruction on minimalist workouts such as yoga, pilates and bodyweight training have been offering online classes (live or pre-recorded) as a means to expand their services portfolio, while at the same time, offering a more convenient way for their students to attend classes.
RELATED READ: Virtual Workouts to Keep You Fit While Under Quarantine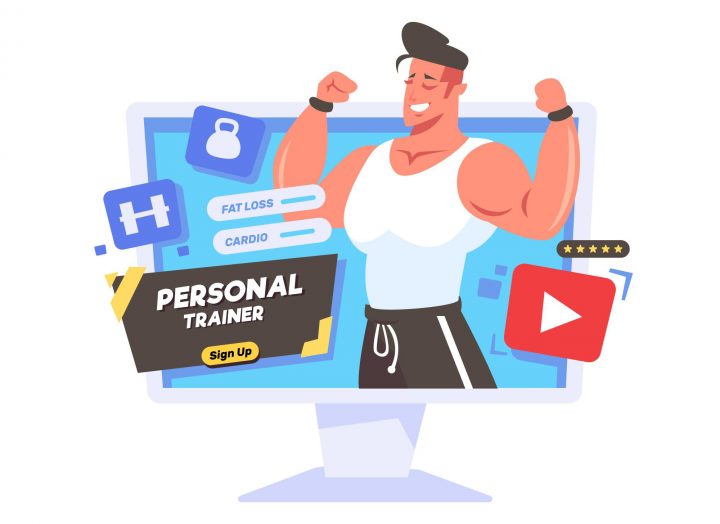 2. Remote Personal Training
Like fitness studios, independent coaches will also seek to adapt to customer needs by offering remote personal training. This would make workouts-of the day come in the form of daily messages and video calls from your coach to check on your form, among other things. Consult with your trainer about these kinds of offerings – your business may help them out during these financially challenging times too.
In contrast, expect as well self-proclaimed 'fitness coaches' who lack certifications and professional experience to mix into this pool of RPT. Often, individuals like these market themselves as well-learned in fitness coaching and sell amateur services as professional – a predicament that may pose safety issues, to say the least.
As a note of caution: be extra discerning of where and who you consult for remote personal training from. While hospitals are over-capacitated with COVID-19 patients, these times make sustaining injuries even more dangerous as treatment for these is inaccessible.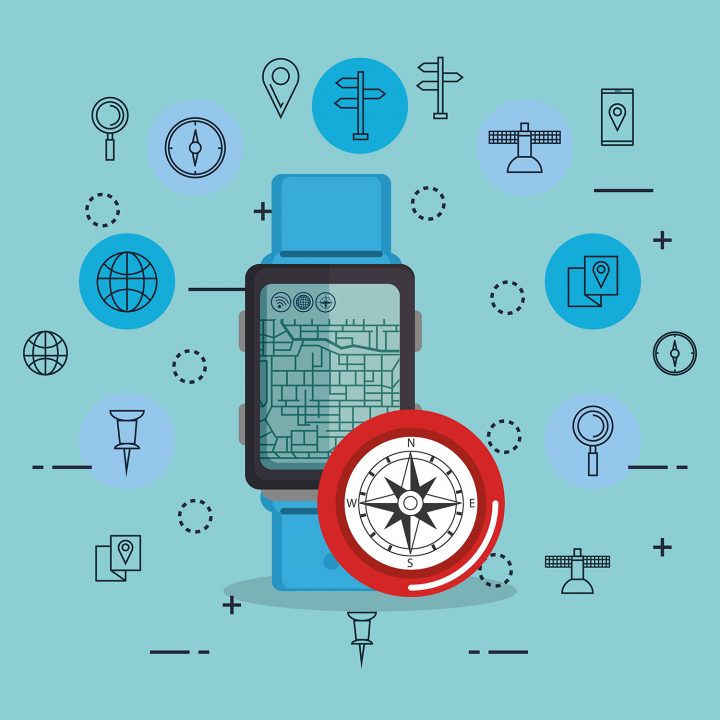 3. A Surge in Fitness Tech – Mobile and Wearable
A hike in sales of fitness tech or FitTech will also be a likely occurrence in the 'new normal'. As domestic activity gradually resumes and consumers regain more wiggle room in terms of finances, those who see to it that they can closely monitor their health data will likely invest in both mobile and wearable fitness trackers.
In addition, these FitTech apps and gadgets augment services of RPT coaches. By way of remote data transfers, some wearable tech provides trainers with ready information on your workout progress on their tablet. A quick browse in the App Store and Google Play will show you an abundant amount of fitness trackers – what follows is simply choosing which ones work best for you.
RELATED READ: Fitness Tech that Help us Stick to our Fitness Commitments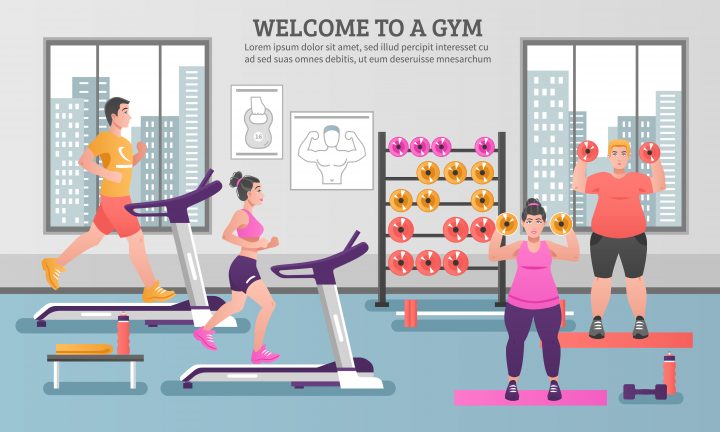 4. Limited Operations for Gyms/Clubs
As physical distancing and stringent hygiene protocols carry over to our 'new normal', expect that there will be limited operations for gyms. This can be either in shortened hours of operations, or this could also mean pre-booking the gym floor as studios manage the in-flow of customers and contact period between members.
However the strategy gym administrators choose to go about it, it's best to assume as early as now that even when gyms reopen post-pandemic, we won't have the same access to it as we used to. So plan ahead, and think of alternatives for workout venues.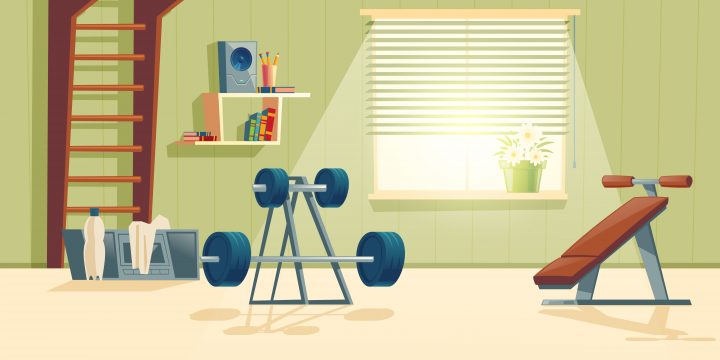 5. Home Gyms
Building home gyms was something that was not as common pre-coronavirus times as it is expected to be after it. During home quarantine, in an impatient itch to get moving and simulate the gym experience at home, some members of the community have started to purchase items commonly available in gyms.
As we expect gym operations to be suspended further, or limited after the pandemic blows over, having simple equipment in a dedicated space at home is something to work on incrementally.
RELATED READ: 7 Essential Equipment for a Home Gym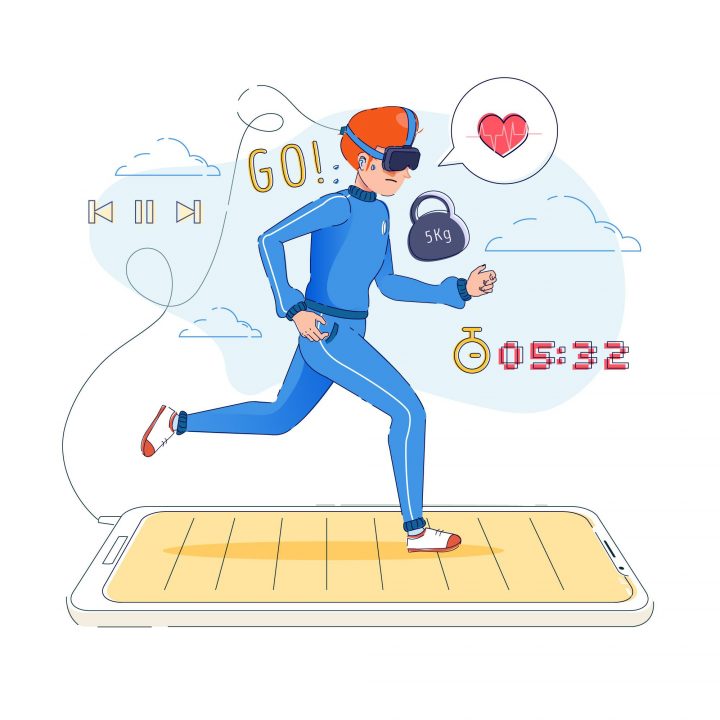 6. Less Road, More Virtual
Friendly competition among members is something that is cherished in the community as it helps build morale and challenge sports aficionados to train more. While mass sports gatherings are still an improbability for our immediate futures, some race organizers started innovating and took these challenges we know and love to virtual platforms.
Virtual reality (VR) and augmented reality (AR) tech were already common buzzwords before we all had to confine ourselves at home. During this time, and even well after it, expect races and other forms of competition to be resettled on digital spaces and online.
RELATED READ: 5 Reasons Why You Should Give Virtual Running a Try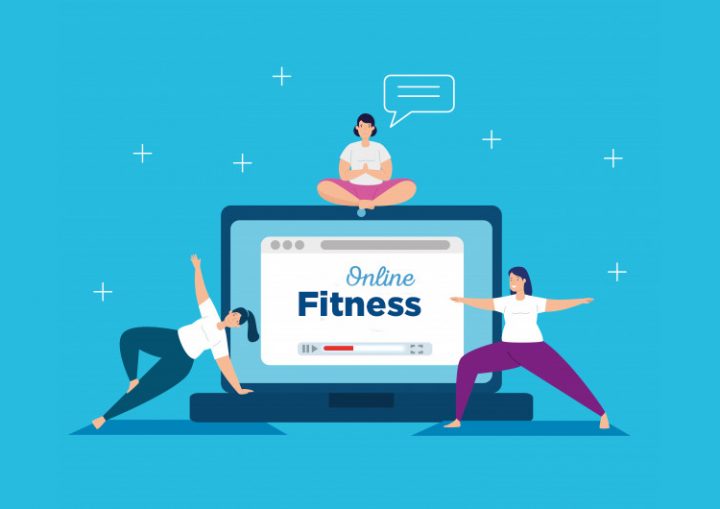 7. A Growing Sense of Community
Ironically, some of the best things to come about while being home quarantined is that some of us have become more connected with each other than ever before. As we stay inside our homes, screens right in our palms, and sharing worries and woes, we have finally learned the importance of reaching out to one another.
In the Pinoy Fitness Community, we do this by offering exercise and nutrition tips, reminders to stick to our routines, and by providing encouragement to each member by way of dropping motivating comments on workout photos and videos we post. Likewise, those who are only starting to get into the fitness community are warmly welcomed, as inquiries are met with eager replies to help out.
A sense of community that we know has been strengthened, and will only grow stronger, by and because of the challenges of these times.
Do you have your own Fearless Forecast for the fitness community's 'new normal'? Sound-off and let's discuss in the comments!