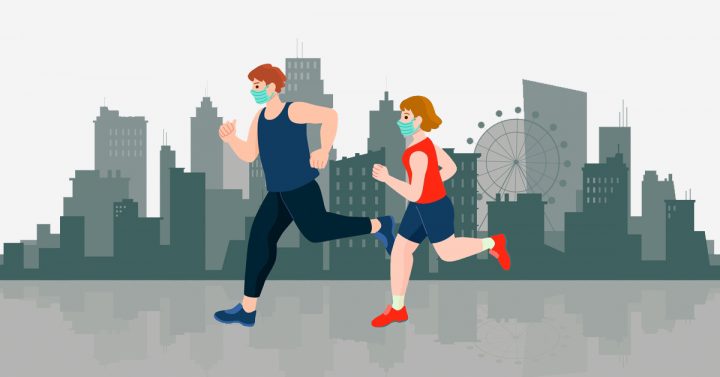 As excited as you may be about the government loosening the reins in pandemic quarantining, this does not mean that health precautions should be ignored.
If you caught the reports, you'll know that the government will be implementing new quarantine measures which will allow people to resume work at a certain capacity and even perform exercises outdoors. Specifically, under modified enhanced community quarantine (MECQ) running, jogging, walking or biking will be permitted, while under general community quarantine (GCQ) limited contact sports such as golf and tennis will also be permitted on top of these.
These more 'relaxed' quarantine guidelines, however, are not without purpose, as these were formulated by the task force in response to a call from Metro Manila mayors to ease the strains of the lockdown on the local economy. As economic activity slowed to a pause, local businesses risked to face closure, with little hope for recovery, post-pandemic.
RELATED READ: Fearless Forecast: The 'new normal' for the fitness community
Simply put, these measures were not modified just so that people can leisurely walk around. As numbers of cases and deaths to COVID-19 continue to climb, the government stresses that in spite of these loose grounds, specific health protocols will still be strictly imposed and should be followed to prevent a 'second wave' of contamination.
With the curve of virus spread barely flattening and more citizens – most critically our frontliners – getting infected, it is important to bear in mind that we observe these protocols diligently and religiously. That said, what are those who plan to start running outside supposed to do given the risks that need to be avoided? Here are our tips:
1. Plan your Running Route
Avoid entering moderate- to high-risk zones by accident by researching thoroughly and identifying buffer zones or safe areas to make their route. Apart from finding out the quarantine category of the location, make sure to also review area-specific guidelines and protocols to avoid breaking them and getting into trouble with authorities.
2. Limit your Running Time
This is to lessen your exposure time. Remember that the longer you are exposed, the higher your risk of getting infected. It is important to keep your runs short and sweet. If you want it to be challenging, run fast and short by maintaining a fast pace for 3 to 5 kilometers so that you finish as soon as possible.
3. Wear Additional Protective Gear
Better safe than sorry. Wear additional protective gear that can shield you from droplets that could transmit the virus. Gear up with appropriate eyewear, caps, face masks or balaclavas. Outerwear or arm and calf sleeves are also an optional addition to your gear.
With us being in the middle of summer in the sunny tropics, these additions to your running outfit can also shield you from the sun, protecting you as well from heat stroke.
READ ALSO: Heat Training and What You Need to Know About Heat Stroke
4. Make Sure You're Fueled
And by that we mean with the appropriate fluids and vitamins. On top of the outer defenses, an intact and well-functioning immune system is also critical to warding off the novel coronavirus for a relatively safe run.
5. Maintain Physical Distancing
Remember to maintain a minimum 1-meter distance if you happen to pass by other people on the road. If you're running behind someone and want to overtake, make sure to maintain the same distance and complete the overtaking quickly.
6. Wash Down Before Entering the House
Avoid risking the safety of those you are living with and wash down before entering the house after your run. This is an especially critical tip to observe if you're living with vulnerable individuals (age 60 and above).
We hope these tips help provide you with a bit of guidance before you lace up and hit the road again. But on a final and important note, we want everyone in the community to remember and always keep in mind that we are still in the thick of things in terms of the fight against the COVID-19. Stay indoors as much as you can – your 30-minute run is not worth risking the safety of everyone else around you.
Got other tips for the Pinoy Fitness Community? Share them in the comments!
Medical vector created by freepik – www.freepik.com