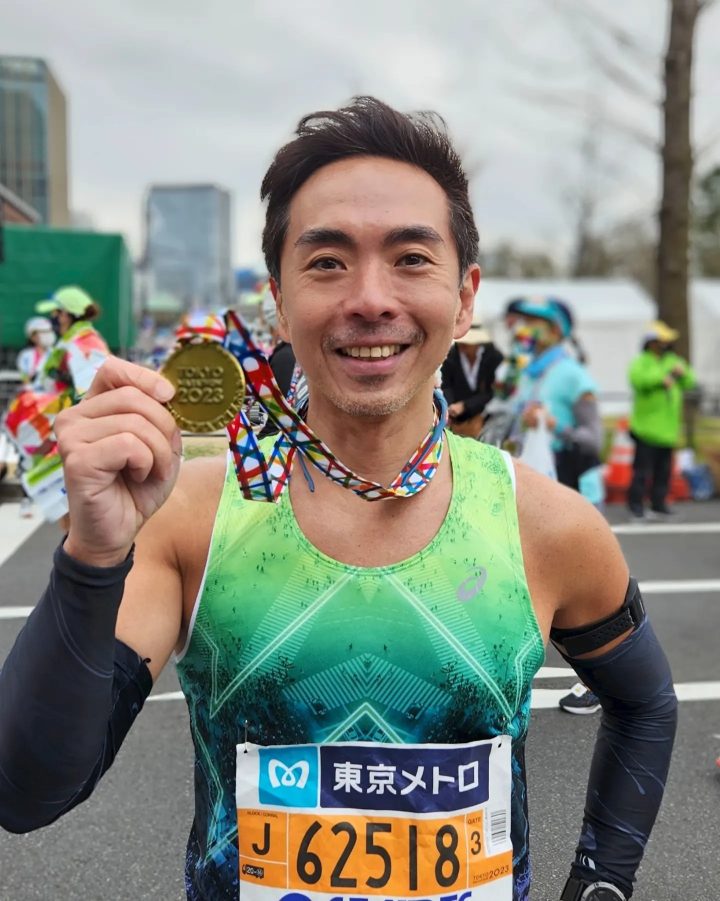 The Tokyo Marathon was an incredible experience, and being my second Major Marathon after New York, it was truly unforgettable. Running the majors is an amazing accomplishment, and in this article I want to share my experience of the Tokyo Marathon in hopes that it will guide future runners on how to make the most of this unforgettable event.
How to Join the Tokyo Marathon
Three months before the race, Asics Philippines contacted me with an offer to participate in the Tokyo Marathon. Having tried unsuccessfully to secure a spot through the lottery for the past five years, I jumped at the opportunity and immediately said yes to their invitation.
Being sponsored by a brand to participate in a major marathon like the Tokyo Marathon is a rare opportunity, and I feel incredibly fortunate to have been chosen. However, for those who are not sponsored, there are other ways to secure a spot in the race.
The most common method is through the lottery system, where interested participants can register and hope to be selected. Alternatively, runners can also secure a spot by running with a charity group, joining a tour package, or by meeting the qualifying standards set by the Tokyo Marathon organizers. While these methods may require more effort and dedication, the reward of crossing the finish line in one of the world's most prestigious marathons is undoubtedly worth it.
If you're planning to join the Tokyo Marathon via lottery, follow these steps:
Check eligibility and registration period: Make sure you meet the eligibility criteria and check the official Tokyo Marathon website for the registration period, which usually opens in July or August and lasts for a few weeks.
Register online: Fill out the online registration form and pay the non-refundable entry fee during the registration period via – https://www.marathon.tokyo/en/
Wait for the lottery results: After the registration period ends, the Tokyo Marathon organizers conduct a lottery to select the participants. Lottery results are usually announced in October or November. If you are selected, you will receive an email with instructions on how to confirm your participation and pay the entry fee.
Pay entry fee: If you are selected through the lottery, you'll need to pay the entry fee within a specified period to confirm your participation in the race.
Remember that the lottery system is a popular method of entry for the Tokyo Marathon, and the chances of being selected are relatively low due to the high demand for the race. If you are not selected through the lottery, you can consider other methods of entry, such as running with a charity group or joining a tour package.
View this post on Instagram
How to Prepare for the Marathon
As I accepted the challenge of running the Tokyo Marathon with only three months to prepare, I decided to get a coach to guide me through the process. Luckily, Coach Saul Sibayan was available to help me prepare for the race. Since the pandemic, my longest running distance had only been 10K, so I knew that training for a marathon in such a short time would be a long and challenging journey.
While having a coach can be advantageous since they have experience in training for and running marathons, it's not always necessary. You can also find training plans online or use training apps to guide your preparation. The key is to have a structured plan in place to train effectively for the 42K distance.
Long runs can become monotonous towards the end of your training plan. To add variety to my routine, I like to participate in road running events for my longest runs. For instance, I ran the Cebu Marathon for my 21K and the 7-Eleven run for my 32K. These events not only provided me with the necessary mileage to prepare for the Tokyo Marathon, but they also kept me motivated and engaged throughout my training
Our events calendar features a comprehensive list of upcoming running events that you can check out by visiting this link – https://www.pinoyfitness.com/list-of-events/
Prepare your Race Gear
Your shoes and socks are arguably the most important gear you'll need for any race, as they can make or break your performance. For the Tokyo Marathon, I personally opted for the ASICS Metaspeed Edge+ shoes, which I paired with my trusty Balega socks.
I spent 2 months training with the Metaspeed Edge+ to ensure that they were the perfect fit for me. As every runner's feet are unique and every shoe is different, it's important to find the right pair that provides optimal support and comfort throughout the race.
Next on the list is preparing your attire for the race, including tops, bottoms, and cold weather gear. The weather for the Tokyo Marathon is historically between 9-12 degrees Celsius, and as someone living in the Philippines, I found it particularly challenging to plan for how to keep warm before and during the race.
It took me some time to decide on my race gear, but I eventually settled on the Asics Marathon Singlet with an additional singlet underneath, paired with the Asics ROAD 2 in 1 5IN shorts for the added inner lining. To keep my arms and hands warm during the race, I opted for the ASICS arm sleeves and gloves.
In addition to my shoes and clothing, I rely on several accessories to help me during the race. I use my Garmin Fenix 6 watch to track my pace, distance. To carry my cellphone and Huma Energy Gels, I use the Flipbelt with Zipper edition. Shades by Rudy Project, since the run will be from morning till noon. I also use a power meter from Stryd to monitor my running efficiency and a heart rate monitor by Coospo to ensure that I stay within my target heart rate zone.
While waiting for the race to begin at the starting line, which lasted for over an hour, I found it helpful to bring a throwaway emergency blanket. I purchased the blanket for P360 from Decathlon, and it helped me stay warm until the race started.
Preparing Your Travel Itinerary
Here are some important reminders to consider before booking your plane ticket for your Tokyo Marathon trip after your 3 months of training.
Apply for a Japan Visa: If you are a foreign national and you don't have a Japanese visa yet, it is important to apply for one through their accredited agencies before booking your trip. The requirements are usually straightforward, and the turnaround time for processing is around 5 days.
However, it is important to note that the visa application process may vary depending on your country of origin, so be sure to check the requirements and procedures specific to your location. Additionally, make sure to apply for a visa well in advance of your planned travel date to avoid any issues or delays.
Book your flight and hotel: When traveling to Tokyo, you can choose to land at either Narita or Haneda airports. While Narita is more popular, Haneda is closer to Tokyo.
To ensure you're not late for the race, it's recommended to book a hotel near the Shinjuku area where the race starts. There are two options to get to your hotel from the airport: by bus or by train. Taking the bus can be more convenient as it has direct stops to hotels, like the Keio Hotel Tokyo. However, if you prefer the train, be prepared to carry your luggage around the city. Keep in mind that the trains in Tokyo can get crowded.
If you plan to tour the city and nearby areas, it's best to do it after the race to avoid affecting your performance on race day. Keep in mind that exploring Tokyo often involves a lot of walking.
Going Around Tokyo: To explore Tokyo, the most efficient and cost-effective mode of transportation is by train. To make your travels even smoother, consider getting a Suica card, which eliminates the need to purchase tickets at every station and allows for quick and easy entry onto the trains. The train system in Tokyo is also easy to navigate once you become familiar with it, as stations are well-marked and signs point you in the right direction.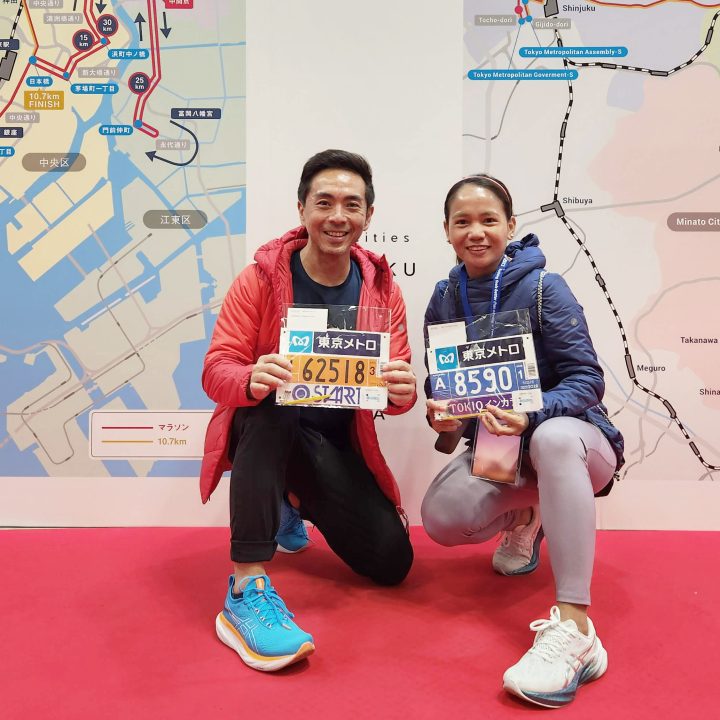 Race Kit Pickup and Race Day Reminders
To ensure a smooth race kit pickup experience, it's important to review the handbook for instructions and reminders before heading to the venue. Although going early may seem like a good idea, it's worth noting that this year, early birds actually spent more time waiting in line than those who went the following day. This could be due to staff improving the collection process over time.
Going early is also beneficial if you're interested in purchasing exclusive Tokyo Marathon merchandise and souvenirs. These items tend to sell out quickly, so it's best to grab them early on. We hope that the organizers can find ways to improve the merchandise availability in the future.
To ensure a smooth race day experience, it's important to remember the following:
Review the Tokyo Marathon Handbook and venue map ahead of time to find your designated gate and corral.
Arrive at least one hour before the gate closes at 8:45 AM.
Stay warm before the race begins by bringing warm clothing or an emergency blanket, as it can be chilly while waiting for the race to start.
Take note that throwaway jackets are allowed at the starting line this year, but an emergency blanket can also work well.
Depending on your corral, it may take up to 20-30 minutes to get to the starting line. Make sure to discard your warm clothing at the last stop to ensure that you stay warm until right before you start running.
Time to Experience the Race
This is it, the moment you have been waiting for. All those early morning runs, all those sacrifices, all the hard work has led up to this very day. The race is not just a test of your physical ability, but also a test of your mental toughness. Push yourself to the limit and embrace the pain, for it is temporary but the glory is forever. The race is not just a competition, it's a reward for all the hard work and dedication put into preparing for it.
With each step, feel the energy of the crowd, hear the cheers of the supporters, and immerse yourself in the breathtaking scenery of Tokyo. The Tokyo Marathon route is more than just a race course, it's a journey that will take you to the heart of Tokyo's iconic landmarks, from the majestic Imperial Palace to the towering Tokyo Tower, the historic Asakusa to the vibrant Ginza. So go ahead, soak it all in, and make every step count.
Here's a short clip of the race:
View this post on Instagram
Special thanks to ASICS Philippines
I am glad to express my heartfelt gratitude to ASICS Philippines for granting me an unforgettable experience. The Tokyo Marathon has been a dream of mine, and completing it has brought me one step closer to achieving my 6-star major marathon dream.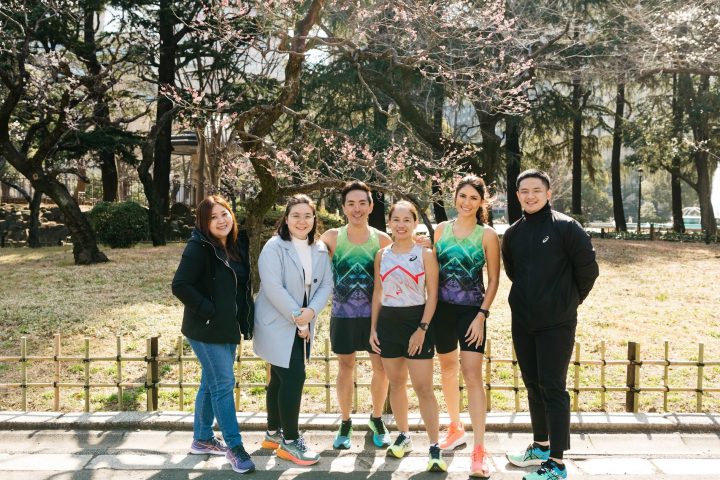 More than the race, the memories created with the new friends I made during the race are what truly made this journey unforgettable. Conquering the Tokyo Marathon alongside newfound companions has left an indelible mark on my heart.
Refueling after the race
The real fun begins after the race as Tokyo offers a plethora of sights and sounds to explore, but the ultimate post-race activity is undoubtedly indulging in delicious food. During our trip, we had the pleasure of dining at popular spots like Ichiran, Gyukatsu Motomura, Ikinari Steak, and Uohide.
Here are some other recommendations for your post-race feast.
Sushi Dai – located in the famous Tsukiji Fish Market, this sushi restaurant is known for its fresh and delicious sushi.
Tonkatsu Maisen Aoyama Honten – a popular spot for tonkatsu (breaded pork cutlets), with a few locations around Tokyo.
Afuri Ramen – a chain of ramen restaurants that offer a unique yuzu citrus flavor in their broth.
Torigin – a yakitori (grilled chicken skewers) restaurant with a cozy atmosphere and delicious food.
Harajuku Gyoza Lou – a casual spot that specializes in gyoza (dumplings), with a variety of fillings and dipping sauces to choose from.
Enjoy your culinary adventures in Tokyo!