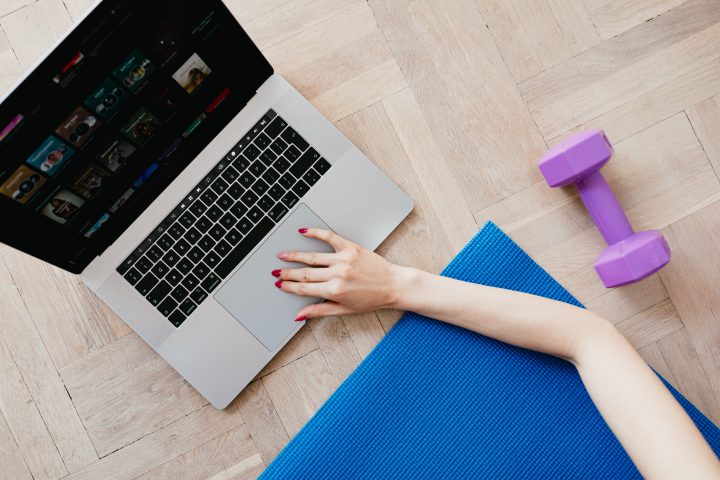 Like most things, context matters. When COVID-19 struck the fitness world into a chaotic shift to digital, the challenge for boutique fitness communities was clear: How do they bring the full experience of being in a matted equipment ground, a dance studio, or a bike room into an often space-restricted living area? The answer is simple – they can't.
Online fitness classes and Zoom workout sessions will never be exactly like hanging out in a studio. There's no incessant chatter building up and no palpable excitement in the air for the class about to happen. It's not the same and that can be a good thing.
RELATED READ: Virtual Workouts to Keep You Fit While Under Quarantine
Is different really a good thing?
There are a number of pros in the new fitness normal, like being able to avoid traffic, you don't run out of slots, flexibility in schedule, and in most cases, cheaper rates. So it's up to you to take all the good parts about working out at home and make them even better.
Think about it: Maybe a better online fitness class isn't about expecting things to be exactly the way they were pre-COVID, but focusing on what you can do with what's in front of you — a screen full of like-minded individuals with similar goals and the grit you see staring back at you once the screen goes dark. 
But in case you needed a little something extra, there are a few key ways you can set up your space at home to maximize the online group classes you're taking. The following are simple, but crucial steps — not to mention often overlooked — that you can take to level up your home studio:
1. Treat your studio as your sacred space
If you have a designated workstation to keep your work and home boundaries clearly defined, then the same should go for your makeshift gym space. Reposition the furniture in your room such that your workout area is separate from any semblance of comfort (that menacing bed) or regular stressors (that glaring work laptop).
Strategically plan it out so that your view is, as much as possible, therapeutic. That might be by the window, on a balcony, or even facing a clean wall if that's something that clears your mind. You can opt to add something that inspires you – a painting, a poster, or a quote. Remember: It's about working with what you have. The trick is to reassess and reorganize accordingly. 
If you're pressed for space, make sure your equipment is stacked or kept neatly. Decluttering your space makes for a better mind going into a workout, and this could make the difference between a good workout, and a bad one. 
It also pays to make it feel like a communal space. If you live with others, workout in an area where other people can pass by, or see you. This way, you're never too comfortable. If you're too lax in your workout space, it will reflect in your workout. Part of the charm of doing a group workout class is pushing yourself and playing out of your comfort zone.
2. Mind the quirks
Each group fitness is different, and there many facets that go into it that gets people hooked. There are a lot of reasons why you keep coming back, and it helps to ask yourself – what is it about the workout that makes it unique? And it's not just about having the basic equipment. You need to pinpoint the little things that make a class what it is.
In an indoor cycling class, for example, the addicting experience is made by a well-thought-out progression of moves, the playlist's tone, the tough bass from the sound system, and the transitions from a dark room to a festive lights party that perfectly syncs with the music. You can leave it to the instructor to play with the program, class format, and playlist. The rest is up to you.
Think about that one thing that used to make your boutique fitness classes, and attempt to replicate at home, if it helps. If your favorite workout before was indoor cycling, mimic the experience by ensuring that your sound system is loud enough to drown out external noise, turning off your fluorescents and investing on fun, colorful lights. There are many affordable options that can even change color as the music shifts its beat.
RELATED READ: 7 Essential Equipment for a Home Gym
3. Don't lag behind
And by this, we mean: Make sure your internet connection is stable enough to prevent video lagging. For online classes, a good connection can make or break the class. 
If you've ever attended a live online spinning class, you'll know for sure that there's nothing worse than being at the peak of a sprint or a hold only for it to be ruined by a lag in connection. Taking that extra step to secure a decent connection doesn't just help your workout, but it helps productivity too. 
4. Get into a good mindset for working out 
I don't know how many times I've tried buzzer-beating — still typing up an email 1 minute before a class — and ended up not taking the class at all because I took advantage of having no prep. 
You can't have a work-filled head coming into a workout, or you risk doing it half-heartedly. Setting time before the class to check in with yourself creates a good amount of headspace and builds up the experience by giving you something to look forward to. 
RELATED READ: How to motivate yourself to exercise during the pandemic
Do it like you're performing — maybe to an audience or someone important to you — so that you give it your plus 100%.
5. No room for distractions
When preparing for a class, make sure to leave everything you don't need outside your studio as well. Something that can easily mess with your mindset – like the beep signaling a disdainful work email — during a workout can cause you to lose step in your workout.
If you're trying to emulate a real live group class, it's important to follow all the rules that apply in real studios: No phones, no scrolling, no baggage. One particular pre-workout tip that I find most effective is: Do it like you're performing — maybe to an audience or someone important to you — so that you give it your plus 100%.
Don't get me wrong — losing yourself while doing a certain move and loving the workout just as it is should be the end goal. Working out shouldn't be about impressing, but expressing. But part of what makes a group class engaging is the fact that people can watch you grow into a stronger athlete.
Countless studies show that people perform better when they're being watched. It makes sense: people are on top of their game when something is at stake. So before the workout even starts, pretend you're not at home. Do the workout like you're outside and you have a team counting on you. That's why setting up your studio is so important. 
6. Check yourself out
In all group classes, the mirror is a big deal. All studios must have it. Because although you're watching the instructor as a guide, seeing your form and how you look greatly affects how you feel about doing a certain movement. Putting a full-length mirror in front of you is both functional form-wise as it is inspirational. 
7. Check on your teammates
Any person who's borderline addicted to group fitness classes will tell you that it's more than just a workout or an experience. It's a community. This is what sets each studio apart. People are social in nature, even introverts like myself. After an intense session, a group class lets you share that collective sigh of relief with strangers turned family. 
Have your friends join you in your workouts, as you would drag them in real life. Who are these people who you keep coming back with or have seen you through difficult times — workout-wise, or otherwise. Although you can't give these friends a pat of validation for a job well done, you can linger a little longer to ask how they're doing. 
Take some time to check-in. What are their new goals? What have they been doing to get there? What can you help with? Building on peoples' experiences with similar goals to your helps you progress with your personal programs, not just limited to fitness. Taking your favorite group class at home usually eliminates that conversation after the class. Bringing it back seals the deal for a great workout that keeps you coming back.  
In group fitness exercises, one of the best things instructors can do is let you feel your space. If there's one thing 2020 has taught us — and there are many — it's that you should learn to own your space. Now may be the only time you can do that. So, again, focus on what you have power over and then naturally, make it worthwhile.
Got your own tips on how to make home workouts or online fitness classes more fun? Share them with us and the Pinoy Fitness Community over on Facebook!