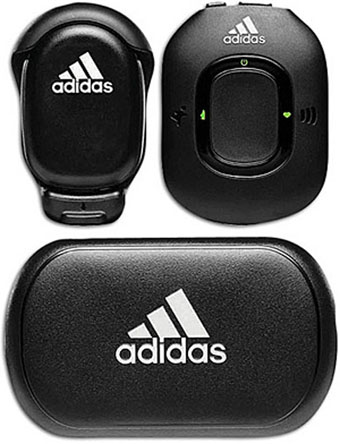 [ad#post]
There seems to be a trend in making heart rate monitors more personal. After Philips announced their Activa a heart rate monitor and MP3 player that plays music depending on your workout intensity, Adidas now just introduced a similar device called the Adidas miCoach.
Adidas miCoach is also similar to Nike+ but with some additional feature, it includes a stride sensor to keep track of your running pace. Additionally, there's a heart rate monitor, and an "audio feedback" unit to aid in keeping track of your workouts, it also includes a music interface that let's you plug in your favorite MP3 player that allows you to listen to your favorite music while miCoach monitors your workout.
Here are the 3 ways on how miCoach Coaches
Heart Rate Training
Every runner is different, every heart is unique. Your heart rate indicates your level of effort during exercise. miCoach helps you stay within four heart rate zones so that you get the most out of each run.

Training Zones
miCoach uses heart rate zones to create varied, complete and personalized workouts. And each zone has its own benefit:
Red: Maximal effort boosts your power and speed.
Yellow: Hard effort improves your cardio strength.
Green: Medium effort extends your endurance and optimally burns calories.
Blue: Easy effort builds your aerobic base and improves recovery.

Real Time Feedback
As you workout, miCoach will let you know which training zone you're in—audibly if you're using miCoach Pacer or visually if you're using miCoach Zone. You can sync miCoach Pacer to adidas.com/micoach to analyze your stats and get coaching feedback online.

From Adidas miCoach Website.
There is none or very little review yet about this product, share your thoughts about this product and new technology trend towards personalized heart rate monitors the tech market is introducing, do you find it interesting?