There are thousands of articles online that talk about the latest diet trends. Whether it be the ever so popular Ketogenic Diet or the tried-and-tested low calorie diet, the internet is flooded with resources on how to eat less and get fit. However, strictly following these diets can be harsh to even professional athletes.
Following your preferred diet and eating healthy for a day is easy. That level of difficulty, however, increases exponentially as the period of your diet gets longer. That brings us to a very important element to a successful diet: Sustainability. Everyone has their own preferred diet method depending on what works for them and more often times than not, a reason they choose their preferred diet is that it's easier for them to sustain. But even with this, it's not enough. As time goes by, the unrelenting temptations of donuts and fries get so intense it can bring down even the most dedicated people. However, all is not lost. A little help goes a long way and, in this case, it comes from the most unexpected of foes: Cheat Days.
The goal is to be fit all year round, and you won't be able to do that if you don't indulge your cravings every once in a while. I mean if Dwayne "The Rock" Johnson can smash 5 plates of sushi rolls and still look as good as he does, then why can't you. Cheat meals are given a bad reputation but in truth, treating yourself to hearty meals to satisfy your cravings can do your diet some good. First and foremost, cheat meals have the capacity to affect you on a physical level.
It's been studied that having cheat meals can increase leptin which is a hormone that controls your body's metabolism. This allows for your body to burn more calories during different types of exercise than usual. It also regulates your appetite and hunger urges. But more than the physical effects to your body, cheat meals provide a lot of benefits psychologically especially when you follow a strict diet. These meals don't provide much nutritional value but they go a long way mentally and can help you sustain your preferred diet method all year long. But don't misunderstand. Cheat meals can help but at the end of the day, a greasy cheeseburger is still a greasy cheeseburger. These meals still need to be controlled and low in frequency.
But if you haven't had one in a while and you're looking to treat yourself to a meal or two, here are some of my favorite places you can check out!
MANAM
Manam has been a classic favorite here in the Philippines. They've given a whole new definition to Filipino Comfort food. Pairing their classic Crispy Sisig with the Watermelon Sinigang is sure to make any diet shake in fear. And don't forget about their Crispy Pancit Palabok. They give a new twist to how the Filipino classic should be served and eaten. Filipino food has always been about comfort and Manam has captured the essence of what Filipino food should be.
PRO TIP: Mix the Watermelon Sinigang soup with the large garlic rice that you'll be ordering, your diet won't know what hit it.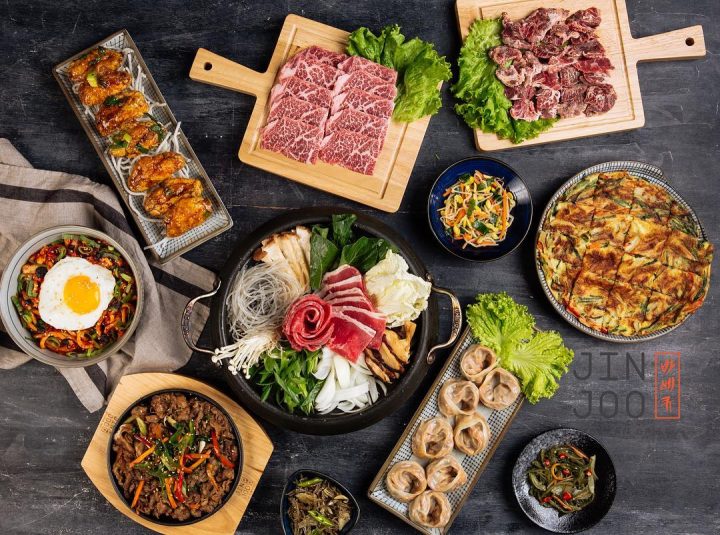 JIN JOO Korean Grill
There is a lot to be said about how unlimited Korean grills have taken the hearts of the Filipino people. No list of good food is ever complete without at least one Korean grill there. Now, there are a lot of other choices out there for good Korean restaurants but for today, we're going with JIN JOO Korean Grill. Which is, in this humble writer's opinion, one of the best out there. Admittedly much like the other chains, their beef is riddled with fat but that's just all part of the fun you'll be having on your glorious cheat day. The combination of melted cheese and Korean sauces make the meat you'll be ordering so mouthwatering you'd reconsider brushing your teeth afterwards just to save the after taste.
PRO TIP: Go with your friends during your birth month because celebrants get their meals for free. You'll get to break your diet without breaking the bank.
Sweet Ecstasy
This little burger joint has garnered international attention by recently being announced as the 3rd best burger in all of Asia. Needless to say, it has made both our Country and our stomachs proud. The Double burger, a classic cheese burger with two patties, is a bestseller that you just can't miss. It is by far one of the most satisfying burgers to smash after a long run or a heavy workout. And we all know how strong our smashing urges are after exercise. They also serve wings much like other burger joints so it's safe to look at Sweet Ecstasy as a one stop shop to happiness and joy.
PRO TIP: Always add caramelized onions to whatever burger you order. Any burger.
These are just some of my favorite places to spend extra calories on. Cheat days may not come too often but when they do, it's always a blast. Just keep in mind that you're still on a diet and that you're only having these meals to help you sustain it. So, it's best to still be careful not to overeat.
Remember the goal isn't to be fit for that 1-week vacation trip to the beach. The goal is to be fit the whole year round and periodic cheat days can help sustain any kind of diet. So, get out there and have a bit of fun!
Cheating doesn't always have to be a bad thing.