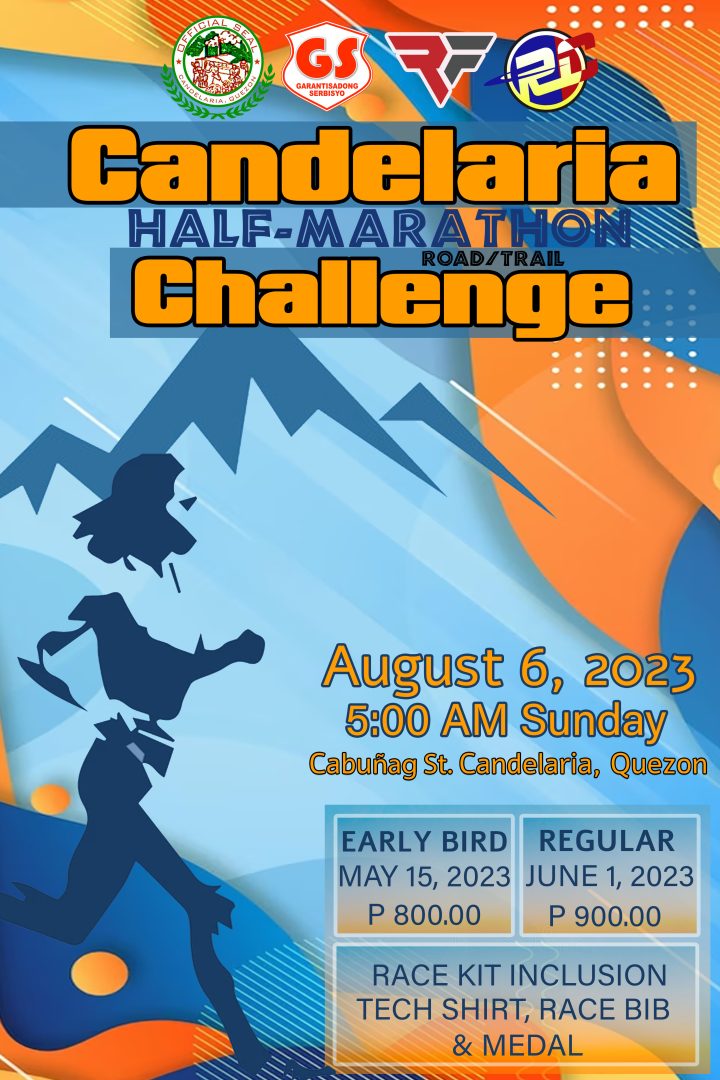 The first-ever CANDELARIA HALF-MARATHON CHALLENGE 2023 is set to take place on August 06, 2023 in Candelaria, Quezon. This national running event offers a thrilling challenge for participants, showcasing the scenic beauty and challenging terrain of Candelaria. Runners of all abilities are welcome to join the half-marathon challenge, including both seasoned athletes and first-time runners. The event has a cut-off time of 6 hours.
With the support of the Municipal Government of Candelaria, Quezon, as well as dedicated marathon marshals, the Candelaria Half-Marathon Challenge 2023 promises to provide an unforgettable experience for all participants. The event is organized in partnership with the Candelaria Tourism Council and the Candelaria Sports Coordinator Office.
Registration opens on May 15, 2023 for EARLY BIRD and June 1, 2023 for REGULAR REGISTRATION. Interested runners are encouraged to secure their spot early, as there are limited slots available. Don't miss the opportunity to be part of this historic event.
In addition, a portion of the registration proceeds will be donated to the Candelaria Tourism Council, supporting the local tourism industry and giving back to the community.
Mark your calendars and join us on August 06, 2023 for the Candelaria Half-Marathon Challenge 2023—an event filled with excitement, challenge, and unforgettable memories.
CANDELARIA Half-Marathon Challenge 2023
August 6, 2023
Candelaria, Quezon
21K
Organizer: RF Sports Promotions
Registration Fees:
Early Bird – P800.00 [MAY 15-31, 2023]
Regular – P900.00
– INCLUSIONS: DriFit tech-shirt, post-race meal, raffle stub, finisher medal, race bib, in-race snacks, and refreshments.
– LIMITED 200 SLOTS ONLY
Registration Venue:
1. Register Online via – https://docs.google.com/forms/
For More Information:
RD Ryan Fabie – 09617087411