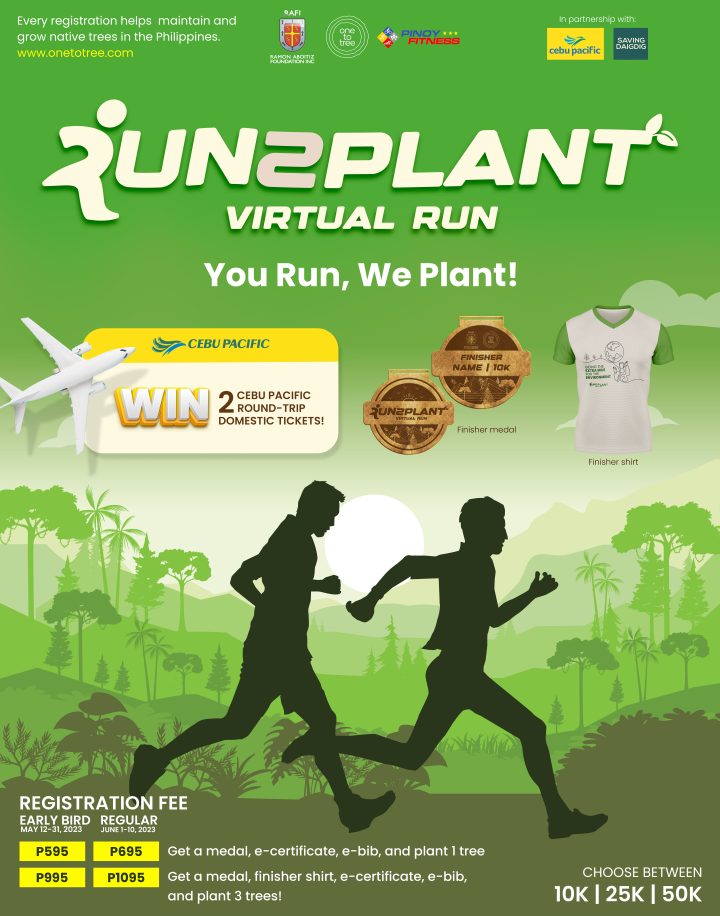 Step up your daily workout routine this June and celebrate Philippine Environment Month with RAFI One to Tree's Run2Plant Virtual Run! From June 1-30, join us in planting 5,000 native trees by participating in the virtual run. Not only will you improve your fitness, but you'll also contribute to a greener planet. We'll handle the planting while you run, so let's make a positive impact together!
By completing the virtual run, not only will you enhance your physical well-being, but you'll also make a positive impact on the planet by contributing to the growth of native trees.
An e-Certificate of Tree Growing will be issued for all participants after the running period. Trees will be planted and grown by our partner farmers in Borbon, Cebu.
Run2Plant Virtual Run – by RAFI One To Tree
June 1–30, 2023
10K|25K|50K
Anywhere in the Philippines
Registration Fees:
EARLY BIRD: Until May 31
Medal + Tree Planted – P495
Medal + Shirt + Tree Planted – P895
REGULAR RATE: Until June 10
Medal + Tree Planted – P595
Medal + Shirt + Tree Planted – P995
– PLUS P100 Delivery Fee
– FREE Medal Engraving until May 31
– Entitlements will be delivered 4 weeks after the event ends on June 30, 2023
– International runners are welcome, but we require a valid Philippine address to deliver the finisher entitlements.
Registration Venue:
1. Google Play Store – Click Here
2. Apple Store – Click Here
Payment Details:
1. Register to the event via the PF Atleta App
2. Wait for confirmation Email
3. Deposit Payment via:
BDO
Account Name: PINOYFITNESS INC.
Account Type: Savings
Account No: 00-742-001-6795
East West Bank
Account Name: PINOYFITNESS INC.
Account No: 200003486744
BPI
Account Name: PINOYFITNESS INC.
Account Type: Savings
Account No: 3211-0912-57
GCASH
Mobile Number: 0936-934-2528
4. Email Deposit Slip together with your PF Atleta Transaction ID to [email protected]
How does a Virtual Race work?
– Choose and Register on a Virtual Race
– Use a GPS-tracking running app, watch or treadmill
– Track and Finish the Race
– Take a photo of your result
– Submit your Run
Rules:
– "No completion, no reward" policy; This race is based on honour system, periodic checks will be done on the submissions.
– All GPS-based App and Treadmill Submissions are allowed.
– Account will be suspended if fraudulent results are found.