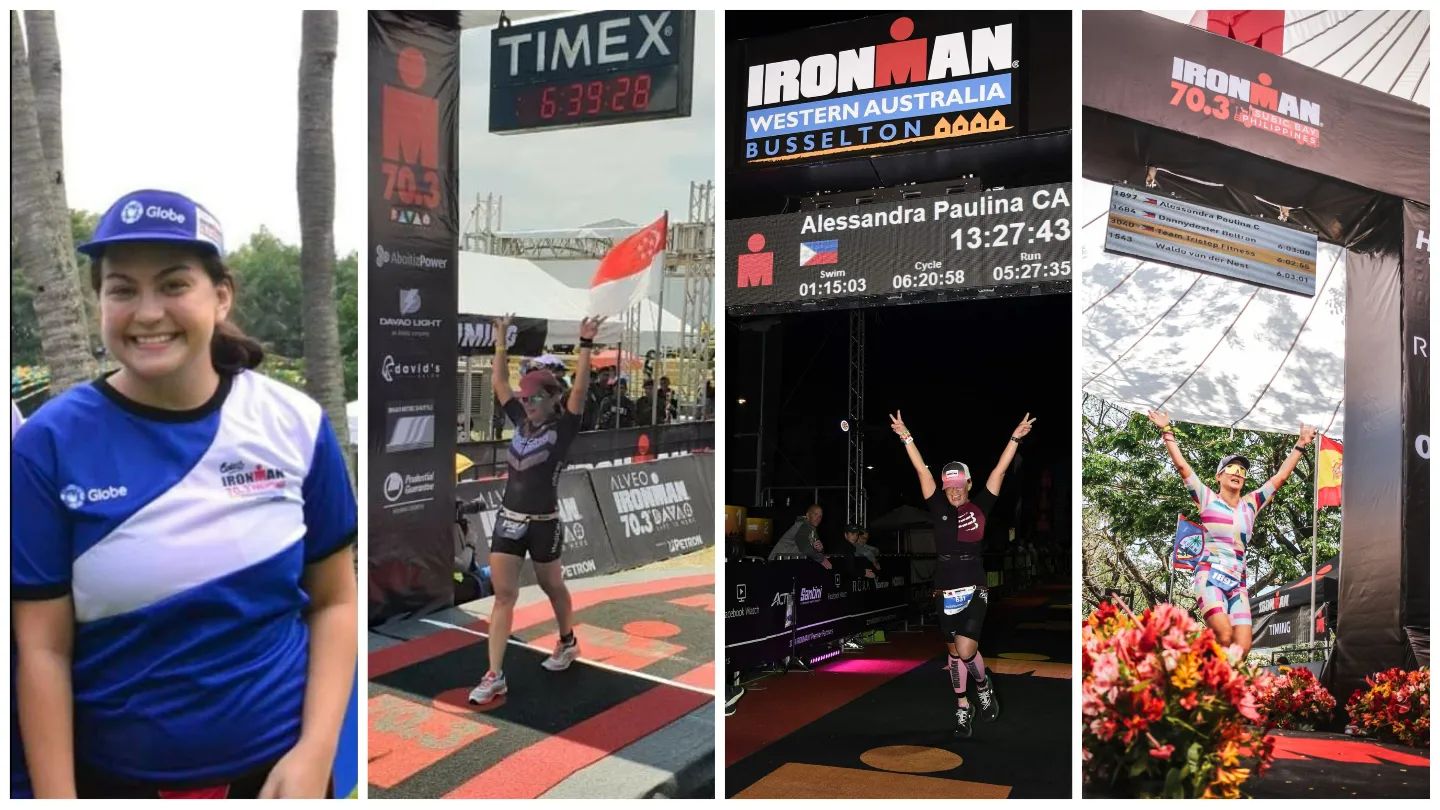 March 6 of this year, Ironman PH and 70.3 finally pushed through in Subic, after having been postponed since June 2020. We saw a lot of familiar Pinoy Fitness community members out there, all of them so inspiring. In this instance, we zoom in on Aless Castañeda. Her age group podium finish earned her a spot to the Ironman 70.3 World Championships in St. George, Utah. What a proud and inspiring feat for Aless. But even more inspiring is her five-year journey.
After the March 5 race, Aless made a compelling post on her Instagram showing how in August 2016, weighing 200lbs, she watched her first Ironman as a supporter and spectator, worked hard up to March 2019 for her very own IM 70.3 in Davao, continued her training for her first full Ironman in Australia on December 2019, and finally finishing 2nd place in her age group and 3rd place overall in IM70.3 at Subic this year. We, in the PF Community were so moved that we really had to get a hold of her and learn "How did you do it, Aless?"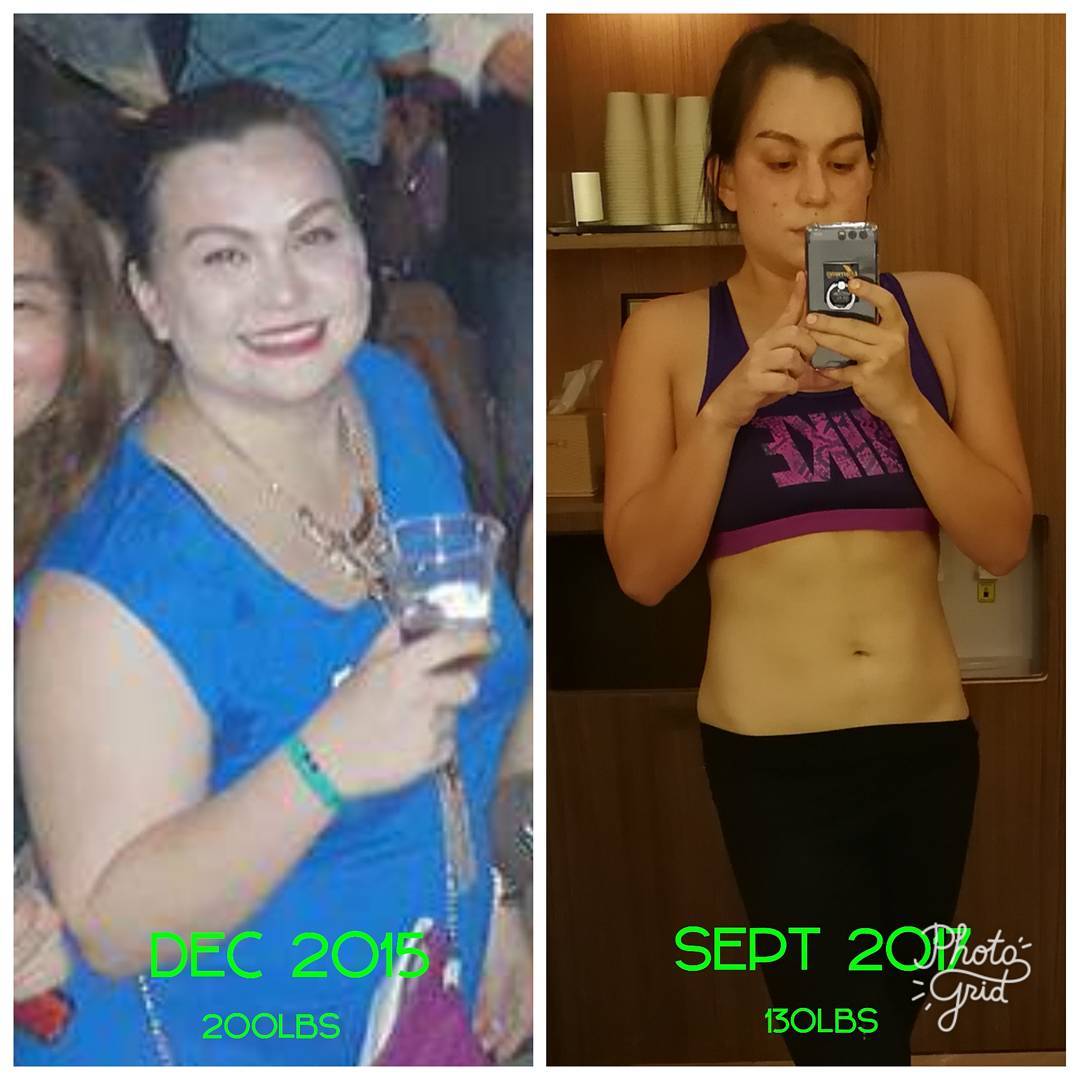 Where it all began
Aless takes us back to the year 2015, when she still weighed 200 lbs. She shared that all she did was work, hangout with friends, and go home. She was so driven and determined to build her career, she said yes to almost every project offered to her. "So my life was work, I was also still smoking then, and my outlet in life was to have a drink before going home," she recalls, also realizing that she gained so much weight from corporate work, as she was only 120 lbs when she started working in 2012.
Aless was a varsity swimmer back in high school. But when she started the corporate life, she always thought that it would be easy for her to go back to swimming for every day fitness. Besides being focused on work, Aless absolutely loves food, especially sweets. She quipped that, she is the type of person who would eat a slice of cake for lunch, and another slice of cake for dinner. And like myself, we both always have room for dessert. Through the years, she realized she became complacent, telling herself "I can make time to swim naman, madali na lang yan," until four years had gone by and she was 200 lbs.
The wake-up call
Sometime in December 2015, Aless woke up with a startle in the middle of the night. She said that she felt something strange, "parang pulikat crawling from my feet to my legs, up my body and then my head!" So she immediately gathered herself and went to the nearest hospital's emergency room to get checked. The prognosis was that it was an isolated case of hypertension. She mentioned that she does not recall having any other similar feeling, that night she felt the cramps all over her body. She also noted that she did not feel any other symptoms. However, this was enough for her to decide that in a couple of weeks, on the year 2016 she will start being healthy. "So nung January 2016, Day 1, I started!"
Day 1 and never stopped
From January to March 2016, Aless went back to swimming. She felt lucky to have that varsity background, as it allowed her to do the drills she used to do. Along with this, Aless also started counting her calories. She made a journal of what she used to eat every day and realized she would consume 4000 calories a day. From there she practiced mindful eating. Her 4000 became 3000 calories, and then later on became 2000 and so on. She focused on quality meals and whole foods.
A few weeks into this, her then boss found out about her swimming and gifted her with an Aquathlon registration slot in March. Similar to most multisport athletes who get hooked, after joining her first race, Aless instantly got fired up. Seeing supportive comments on social media, after she posted about it also kept her going. She continued to join races, doing only the swim portions as she still wanted to lose more weight to avoid injury.
By August of the same year, she was able to witness her first Ironman 70.3 in Cebu. She was there for work, too, as part of their company's marketing team. The same boss who encouraged her to join aquathlons is a triathlete herself and represented the company's own triathlon team. Aless recalls that it was thrilling to see her boss from the starting line and transitioning to every sport. She watched all throughout the day and seeing her boss cross the finish line inspired her. She wanted to go through all of that and cross the finish line, too! She remembers that she asked her boss "How do you do it?? You're already a VP, you have a family, and you train three sports amidst all of that. Wow!"
After that, Aless bought herself the cheapest workable road bike she could find, a Trinx that cost her only PhP10,000. With this, Aless would bike around BGC on weekends. This is important for all beginners out there, we don't have to start with something grand and expensive right away. "Hindi lang yan nadadala ng mahal na bike, nasa cyclist din yan," an advice given by long time triathletes.
Because Aless was very close to her boss and was happy that she was instantly interested to get into triathlon, her boss brought her along training on weekends. "Camp Aguinaldo, Alabang. Kung saan ang boss ko, I was there!" By November of 2016, Aless did her first Sprint triathlon distance by TriUnited.
Hard work and determination
After her TriUnited race, Aless took things more seriously. Before doing a 70.3 IM, she knew she needed to upgrade her gear and fitness. In 2017, Aless continued to join Aquathlons and fun runs while saving up for a race bike. She joined relays wherein she would participate as both swimmer and runner. To help her save up for a better bike, she hustled on side jobs on some weekends. Finally she was able to buy her first tri-bike, an Argon.
At this point, Aless also got herself a coach as she believes in following a structure/program (Hi, Coach Norman!). By November 2018, she joined her first standard distance, Blackarrow 5150 in Subic. With Coach Norman's encouragement and five months of training, Aless did her first IM 70.3 in Davao on March 2019. She remembers asking how much time was needed and Coach Norman said "Just allot one hour on weekdays and two to three hours on weekends. Kaya mo yan." And indeed, kinaya niya.
The most fascinating thing about this is that in the same year, Aless braved it all, put in the hard work in the next nine months, joined bike races in between, finished her first full Ironman in Australia with a respectable time. "Wow, you did it well and your progress was so fast!" I couldn't help telling Aless, when we had our kwentuhan session. She laughed and said, "I'm thankful for Coach Norman's encouragement. He helped me a lot. And through it all, I was really willing to put in the work."
A day in the life of a triathlete normally looks like this: Wake up early for a run and/or a bike ride, go to work, have a quick healthy lunch and sneak in a quick nap. If it's race season, we normally do a workout after work, and then sleep early. Aless recognized that there were things she needed to give up, too. "Do I binge watch something on Netflix or sleep this off? Itong food ba na to makakatulong sa training ko or hindi?" these are questions she would ask herself. And the answer is easy for her "Lahat ng bagay naka paling doon sa goal mo. Crossing the finish line makes it all worth it. Knowing I have family and friends waiting for me at the finish line makes it all worth it."
Looking back, Aless proudly shared to me that she used to have an 8:00 min pace, but now she runs a 6:00-6:30 min pace. A lot of people have asked and continue to ask her how did she do it, how does she keep doing it? Discipline and a lot of prayers helped her get to where she is now.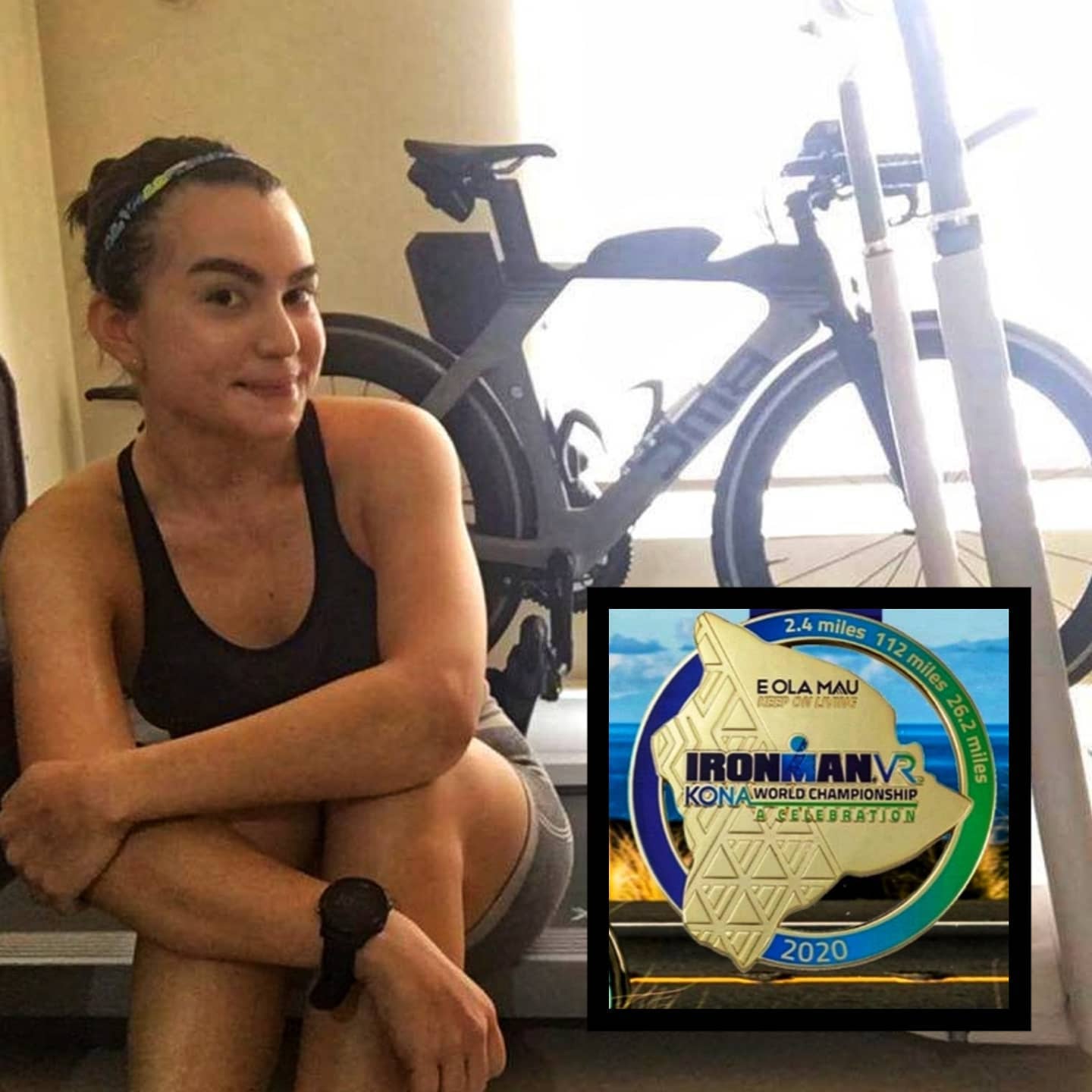 What keeps Aless going
When family and friends see her progress and get inspired, Aless gets inspired too. Everyone close to her saw her work hard, so they witnessed her transformation. She wants to keep showing up for them and for herself, i.e. work to be better and help other people who want to do the same. Also, she adds that once you get into it "You really do want to beat yesterday (sabi nga ni Garmin haha!). Appreciate your progress and do better every day."
Moreover, Aless always reminds herself to "Dig deep, bakit ko ba ito ginagawa? I want to be better. I was at the worst shape in my life, pero may kaya pa palang gawin." She used to tell herself that maybe she would never lose weight again. That in our late 20s, it's almost impossible to lose all that weight. But now that she's here, she is determined to keep progressing, to keep getting better.
Most challenging moments and how to overcome it
It was during one training day in October 2019, when she was training for IM Australia. She was supposed to bike 120 km and run 10 km after. It would have been fun or easier to finish, if she had teammates or friends with her. But it was a Sunday and everyone else had joined the New Clark City Triathlon. Aless had to do it alone. Apart from that, the day before was a Kenyan day, which means that she had run 10km three times on Saturday.
Feeling a little tired from Kenyan day and biking alone, Aless said "Mag-isa ako, kinain ako ng thoughts ko. Bakit ko ba to ginagawa?" Biking in Clark, alone on a Sunday, feeling the hot sun beat on her back and neck, knowing she needed to do another 10km run after that, "Hirap na hirap na ako. Ang init. Naiyak ako while biking. I remember, I felt tears from my eyes." After 100km, she stopped biking. She could move and could not continue. She called a friend and cried, "Alam ko gusto ko siya matapos, pero feel ko hilaw pa ako for this, for a full IM." After hearing her out, her friend said to her, "Bakit mo nga ba ito ginagawa?" Then Aless answered, "For myself and to inspire people that we can all endure anything we put your mind to."
Asking for rest does not equate to weakness. If you ask your Coach for rest s/he will give it to you, s/he will not take it against you. When the going gets tough, go back to your center, go back to your why. Also, because Aless was aware of how many people she has touched in her journey, she knew that she also needed to be honest with them with her vulnerability. "Let them know what happens in the dark days. It's even more inspiring when you overcome the dark days."
We are not our best 100% of the time
When we're a newbie in a sport, it's normal to be overly affected by our bad days. Eventually as time goes by, we learn to accept that some days it's just not our day. Through it all, Aless learned to have a more positive outlook in life. When we have a bad day, or a bad week, or a bad month "Don't ever think it's back to 0. Dahil alam mo sa sarili mo kung ano yung tunay zero mo." Knowing where you came from, where you started, will remind you that you are always moving forward.
When you feel like quitting, always go back to your why! "200 lbs nga nag swim ako e, ngayon pa ba ako mag give up?" That's what Aless always tells herself when she is tired. "And more importantly, give yourself some grace. Pray to God for grace, because it's okay to rest." Talk to a friend, be honest with your coach, and always go back to your whys.
The Fitness Community will always have your back
When asked about one of her best realizations, Aless said that the first and most important choice you will make is either "Day 1 or one day?" She urges those still doubting themselves to just start. Even if you feel like you are alone in your Day 1, "You will always have the fitness community behind you. Whether close friends kayo or hindi, the fitness community will always be there. Don't be afraid to try things because you will gain friends and attract like-minded people who have the same passion."
Related: Join the Pinoy Fitness Facebook Community here – https://www.facebook.com/groups/pinoyfitness
True to her words, I am one of the people she has inspired. The positive and encouraging energy of Aless, her honesty, all of this inspires an aspiring triathlete like me. I'm pretty sure that the whole Pinoy Fitness Community is definitely inspired.
Maybe tomorrow is your Day 1. You can count on us, your Pinoy Fitness Community, to be with you in your journey!