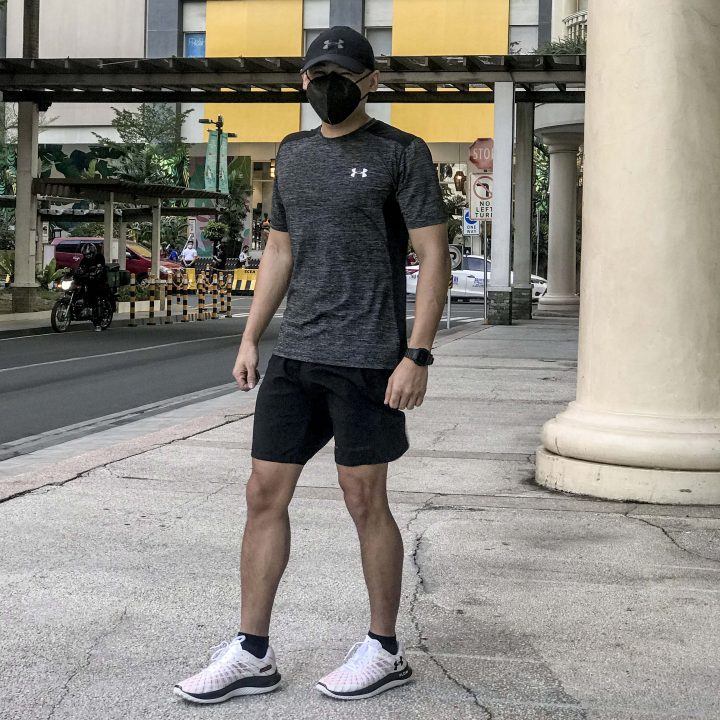 In a landscape full of different shoe choices for runners, Under Armour is a brand that is more widely known for its performance apparel than its footwear. With that being said, Under Armour's FLOW Velociti Wind aims to establish itself in a big way. UA's newest shoe is designed to be lightweight and durable, made for runners who need a balance of flexibility and cushioning.
It certainly is refreshing to see a brand new concept enter the running market, and the UA FLOW Velociti Wind debuts with new technologies: UA FLOW and UA Warp – alongside other established features such as Bluetooth connectivity that feeds data into the UA MapMyRun application.
In this UA Flow Velociti Wind review, we will dive into the ergonomics and technology of the shoe, its aesthetics and practical applications.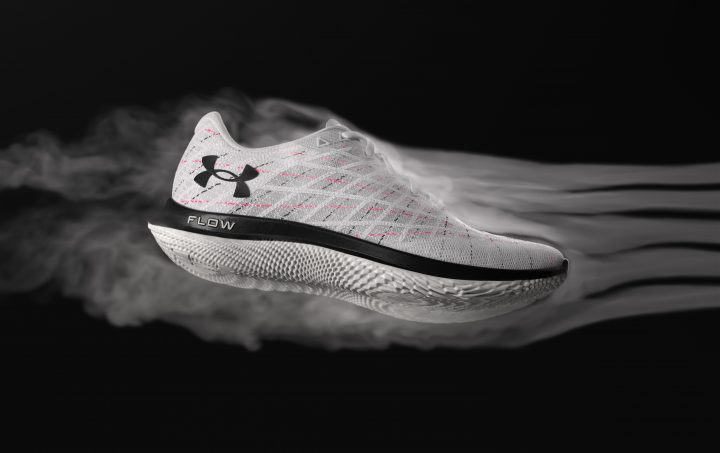 THE UPPER
This shoe looks strikingly different, with UA's WARP upper catching the eye. What differentiates the upper from other shoes on the market is the use of supporting tape that molds to the foot, in-stead of adding a solid piece of fabric. UA states that the "supporting tape acts like seatbelts on the foot, placed precisely where our biomechanists found them to be most helpful for a runner". This means that choke points are eliminated, with the tapes providing tension when you need them and relaxing when you don't – the horizontal tape provides stability and the vertical tape helps with toe-off.
The execution of the Warp upper is amazing, with a fit true to its size, extremely comfortable and highly breathable – perfect for our climate here in the Philippines. The mesh allows air to easily pass through it and aside from being ultra-soft and quick-drying, it has a more natural feel to it as well. However, due to its form-fitting nature, I would advise wearing thin socks with this shoe.
The tongue of the shoe is lightly padded, so there were no issues with slide and throughout my run, my feet felt securely locked-in with no slippage. The laces are flat and slightly stretchable, and plus points to UA for including an extra set of laces – uncommon with running shoes these days.
Runners can delight in the hard internal heel counter that adds structure and support and on top of that, the cushioned collar didn't rub against and irritate my ankles at all. Another nice touch from UA are the reflective strips on the heel for visibility from the rear for those night runs.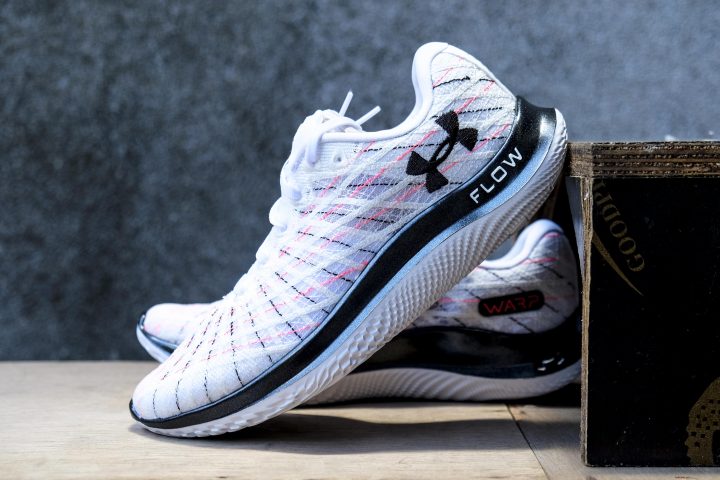 THE MIDSOLE
UA explains that the "UA FLOW disrupts the design of a traditional running shoe by completely eliminating the rubber outsole, reducing 2-3 ounces of weight." The UA FLOW is the lightest mid-sole technology in UA's lineup, which provides runners with high traction under wet and dry condi-tions.
The lightweight midsole was evident on my run – the singular-foam compound offered a firm, re-sponsive ride with great toe-off. I actually found out I was picking up my pace accidentally, with the shoe propelling me forward into breathlessness. As if running with a mask wasn't hard enough!
For data-driven runs, the Velociti Wind comes with UA's sensor in the right shoe midsole. The sen-sor stores cadence, distance run, pace and stride length which is accessible with the UA MapMyRun app.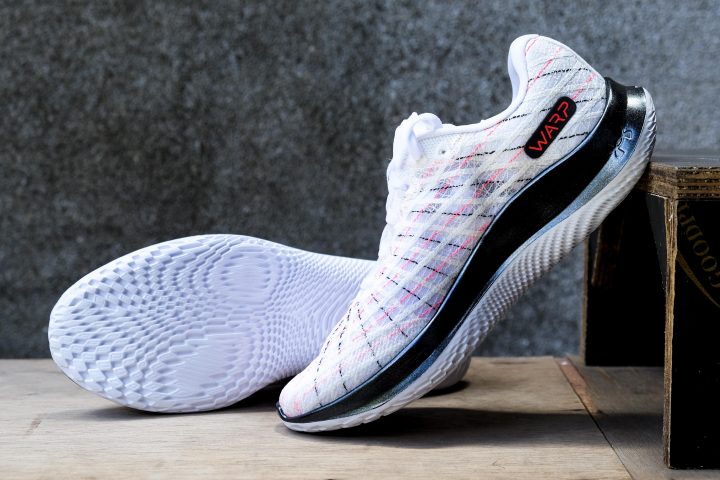 THE OUTSOLE
Traditional running shoes come with a layer of rubber for the outsole, and by removing this, UA was able to lighten up the shoe significantly. To save weight, the pattern has grooves cut into them, which improves traction and flexibility. I took this photo after my run and there were no particles embedded in the grooves, and traction indeed was great, especially on turning and directional changes. The durability remains to be seen, but Under Armour said that the shoe had 11,000 miles of testing, so I'm pretty confident about that aspect.
The absence of that rubber outer layer added to the responsiveness of the shoe and made my run feel more engaging, as I had a high level of ground feel. However, due to its high ground feel, I had to be mindful of my foot placement and stride.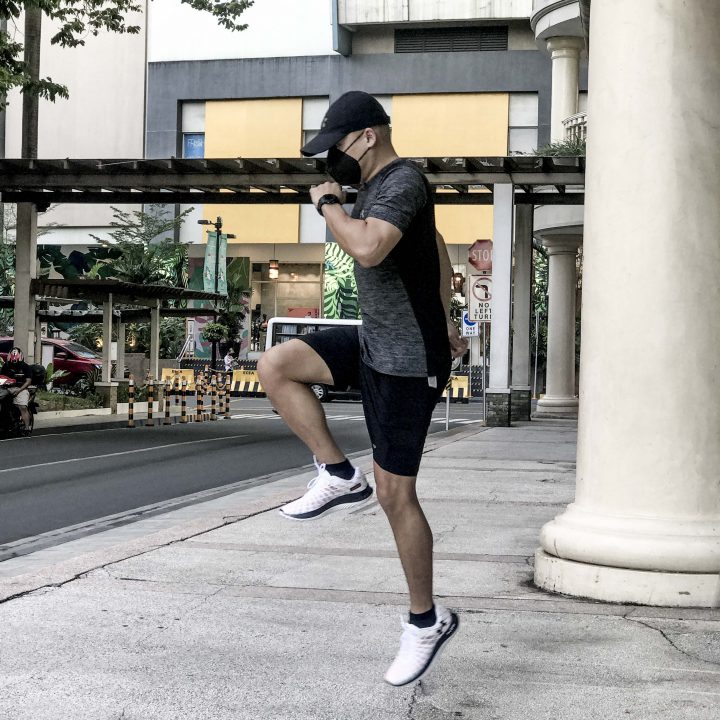 FINAL THOUGHTS
UA Flow technology makes its debut in the running category with the Flow Velociti Wind, a high-performance shoe offering.
Overall, I had a remarkable experience with this shoe. There's a bunch of things to like about it – an amazing upper fit, a stable ride and great ground responsiveness.
The casual runner may benefit from its comfort and stability, as well as the data from the UA MapMyRun app. For experienced runners, this would be a great addition to your arsenal for those speed and tempo runs.
As a plus for those who are into jump rope, this shoe is absolutely amazing for speed jumping and freestyle! The responsiveness and lightweight nature of the shoe was great for running in place, and that snappy toe-off was perfect for speed singles and doubles. My jump rope workout was capped at 15 minutes, so if any of you get this pair and use it for prolonged jumping, I'd love to hear about it.
Is there anyone else here who is interested about buying themselves a pair of the UA Flow Velociti Wind? Share your thoughts with us at the Pinoy Fitness Community Page!