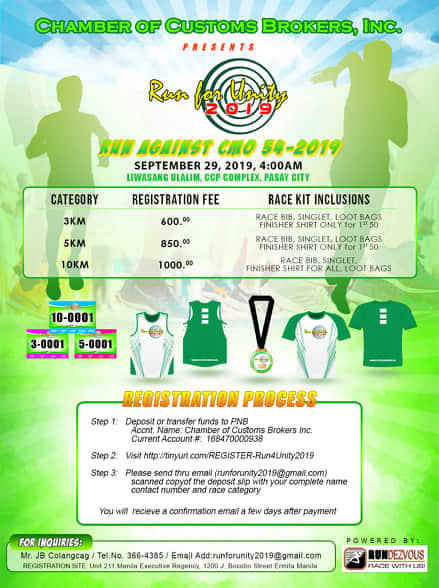 Being social beings and belonging in groups is human nature. But in order to thrive and achieve sustainability requires more than numbers. Unity has become the single most important factor in people-management and nation-building. Unity is also central and advocated by our customs brokers, fused together into umbrella organization, the Chamber of Customs Brokers Inc or CCBI.
CCBI is an organization of professional Customs Brokers that strengthens and protects the profession thru dynamic and responsive leadership, for the benefit and well-being of its accredited members. An on-going project is to raise funds for the improvement of accreditation and licensure services, as well as scholarship programs for deserving candidates.
In a show of force and become an example of unity-in-action, CCBI will stage the first Run for Unity 2019 on September 29, 2019 at the Liwasang Ulalim, CCP Complex, Pasay City.
Run for Unity
September 29, 2019
CCP Complex, Pasay City
3K|5K|10K
Organizer: RUNDEZVOUS INC
Registration Fees:
3K – P600.00
5K – P850.00
10K – P1000.00
– Inclusive of a race bib/race singlet
– Finisher Shirt – 1st 50 of 3KM, 1st 50 of 5KM and all 10K finishers
– Finisher Medals for runners
Registration Venues:
1. Deposit or transfer funds, of your desired category's registration fees, to the following bank account:
Account Name: CHAMBER OF CUSTOMS BROKERS INC
PNB CURRENT ACCOUNT NO 168470000938
2. Write your name/category on the deposit slip or transaction slip, and send a screenshot of your proof of payment to this email address:
3. You may go ahead and proceed to this online link: www.tinyurl.com/Register-Run4Unity2019
4. A registration admin will match your registration form and payment details. You will receive a confirmation email a few days after payment. This email will provide instructions for claiming and distribution or race kits as well as other pertinent race details.
Inclusion:

For More Information:
Call: JB Colangcag – 3664385
Email: [email protected]