Last May 2, 2019, Nike released the new addition to the React Running Shoes Family – the Nike Phantom React Flyknit, that is equipped with a minimalistic look and a dynamic fit!
We know how much runners loved the previous Epic React, so let us share with you the 3 things that we love about this new and improved version!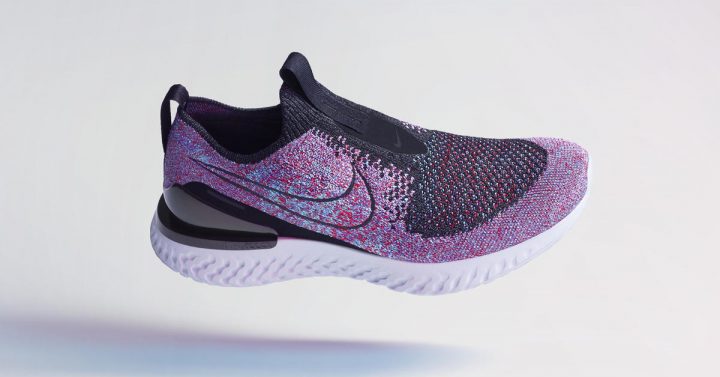 1. It has a lace-free design that creates a more dynamic fit!
The biggest change that Nike did in the Phantom react is to completely eliminate the laces of the previous Epic React thereby giving runners a more snug upper fit and sock-like feel, with a minimalistic look.
What Nike did here is to include an Elastic Flyknit Yarn by the tongue and along the collar of the shoes. This Flyknit Yarn is what creates a seamless snug fit with the foot. In addition to this, non-elastic yarns are also sewn in the shoes to add structure and stability!
Of course, stability is a very important criterion in running shoes, that's why a slightly lowered TPU heel piece is present to provide even more stability and thereby create a smooth heel-to-toe transition. All these innovations are done with a runner's performance in mind!
The result is a slip-on style Phantom React that provides a snug, secure, sock-like fit within a breathable Flyknit upper that takes comfort, easy-wear and lightweight performance to the next level.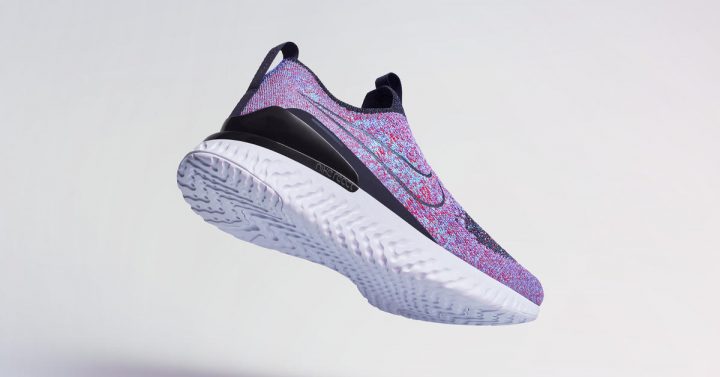 2. It's called Phantom React for a Good Reason!
Whether you're looking for a new pair that you can use for training running or a pair just for casual wear and indoor running, the Nike Phantom React is sure to catch your attention with its unique multi-color knit!
But more than the eye-catching design, the combination of a laceless design in a full Flyknit construction meant having an upper that is so strong that it locks your foot in place for an incredible fit!
How they mixed black, grey, purple, blue, and other colors in the "Purple Confetti" lead colorway, is enough to make runners and sneakerheads drool! But the color combination and the removal of the laces was actually chosen to provide an effect where the upper "disappears" during a run, hence the name "Phantom".
3. Same Epic React Performance!
But of course, the reason we initially fell in love with the Nike Epic React Family is because of the performance that the shoe can bring when it's game time already! The Epic React foam is Nike's most responsive foam to date, totally to 13% more energy return than the Lunarlon Foam. Not to mention the fact that it is also 5% lighter and 11% softer than the Nike LunarEpic Low Flyknit 2.
Energy return just really means more cushioning for us runners and a more comfortable running experience in general. And to have that same performance with an all-new dynamic fit and laceless design is something we are quite excited for!
The Nike Phantom React will be available in the country for PhP 7654 at the following Nike stores: Taguig Park Fort, Makati Park, Glorietta 4, Greenbelt 3, Makati Park Circuit, Manila Park, Eastwood, Manila Park Trinoma, Manila Park UP Town Center, Manila Park Ermita, Manila Park SM Fairview, Manila Park MOA, Commercial Door Park Ayala Center Cebu, Manila Park ATC, Makati PS Glorietta, Makati PS Shangrila, Makati PS Rockwell, Manila PS Trinoma, Manila PS UP Town Center, Manila Intersport Veris, Taguig Toby's Makati Toby's Glorietta, Manila Toby's Megamall, Manila Toby's Greenhills, Taguig Runnr BGC.
Let us know what you think about this new Nike Phantom React! Would you cop or drop this release?