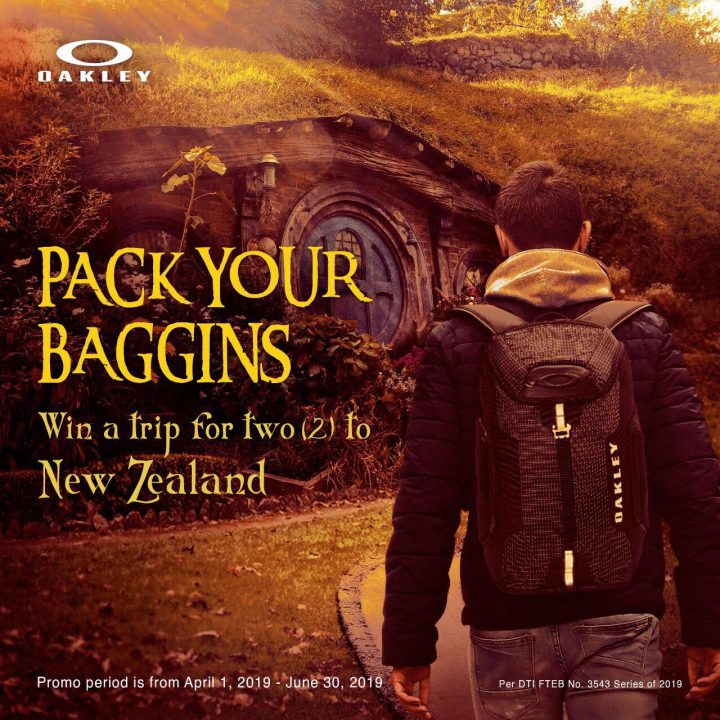 Whether you're a runner, a triathlete, or an OCR enthusiast, you know for sure that the go-to brand for the most stylish and sporty eyewear is Oakley. And if you've been wanting to treat yourself or someone you love to an Oakley eyewear, now is a perfect time!
The famous eyewear and sports apparel brand just launched its "Pack Your Baggins" promo where you get a chance to win an all-expense-paid trip for 2 in New Zealand which includes roundtrip ticket, meals, tour trips, and accommodation for two!
To qualify for the promo, all you have to do is to buy any regular priced Oakley eyewear* and you will automatically get a raffle coupon. Write your name, address, mobile number, and affix your signature on your raffle coupon and then drop your entries at drop boxes on all Oakley authorized stores and dealers nationwide!
The promo runs from April 1 to June 30, 2019, and the final draw will happen on July 14, 2019, where four grand winners will be awarded an all-expense-paid trip for two in New Zealand! There will also be additional winders of Oakley products on the Grand Draw! Two lucky winners will each be given an Oakley backpack and another two winners will get an Oakley eyewear as their prize!
Don't forget to share your experience in using Oakley products using the hashtags #OakleyPh and #OneObsession on your posts in social media.
*Discounted items are not included