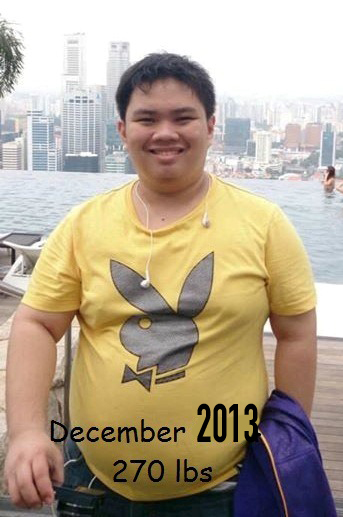 A Man's Journey in Losing 100+ lbs in 6 months
by: JC Esguerra
I'm JC, male, 5'5", 20 years old. All throughout the last 19 years of my life, I've always been overweight. From age 16-19, I was obese 2 with a body fat of more than 40%. My highest recorded weight was 270lbs (December 2013). I've heard every possible insult about my weight from "Fat guy", "Tabachoy", "Wag kayong kakain ng marami kundi matutulad kayo kay JC", etc. Even if it came from my friends and family, it hurt a lot. It hurt so much that there was a time that I don't care about their comments anymore. I feel unwanted and unloved. I just told myself that I'll just enjoy my life even if it ends up shorter than expected. I wanted to eat every food that will satisfy my appetite. I started the different vices in life. I wasn't able to control my vices. I was heading down and down the road as the time passed.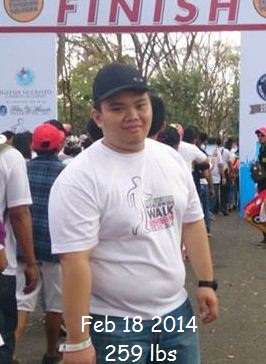 The turning point in my fitness life was when I started feeling chest pains and had difficulty breathing. That was when everything fell apart for me. I realized how badly I have let my body suffer from all those years of excessive eating and the 2 years of vices. It was February of 2014 when I decided to live a healthier life. I was 259 lbs back then. I started with cutting calories and walking/jogging on the treadmill 10 minutes a day with 20 minutes of lifting weights and 10 more minutes of biking every afternoon. Back then I was so happy to peak at 6km/hr (10mins/km pace). By the end of February, I loss 15 lbs. I was so happy with my progress that I decided to kick it up a notch.
On March 3, I started to avoid eating white rice and replaced it with brown rice (2-3 cups a day), wheat bread and whole grain cereal. Ever since that day I also started to avoid soft drinks, and all the other bottled juice drinks in the market. As of this writing, I've only took water and electrolytic drinks since March. I also started to alter my diet to non-fried meats, vegetables and fruits. In addition to my walking, lifting and biking workout in the afternoon, I also added playing basketball every morning. At days were I find it hard to lift weights and jog, I do the Zumba workout "Exhilarate". I loss 44 lbs in March and April. I became addicted to working out and breaking a sweat. I knew at that time that I have found my path to a healthier life and that nothing's gonna stop me to reach my fitness goals. I've changed my habits. I have a new lifestyle.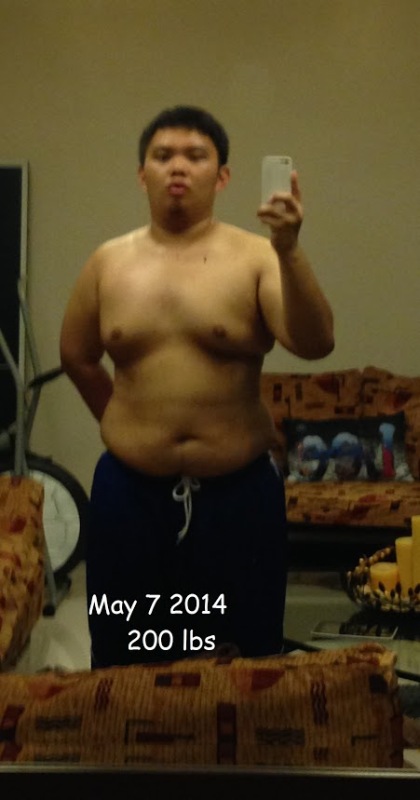 For the month of May, I broke our treadmill and stationary bike (I'm still really heavy that time and the machines just broke due to everyday use by a 260lbs guy for 3 months). Because of that and my "new" body, I decided to increase the difficulty of my workouts again. That was when I started the Lean P90X3 workout by Tony Horton. It was my way of challenging and pushing myself to the limits every day. I continued playing basketball on mornings and some Zumba on rest days. By the end of May, I loss 15 lbs. and my weight was 185 lbs. My goal weight was 159 lbs before the start of classes in my college on August 2014.
When June started, my friends invited me to run at GOLD RUSH 24K (September 14, 2014). I knew it was the perfect commitment for me to continue my progress and to finally get to my goal weight. So for the next 3 months, I continued some workouts on P90X3, playing basketball every morning and started training for finishing 24 km.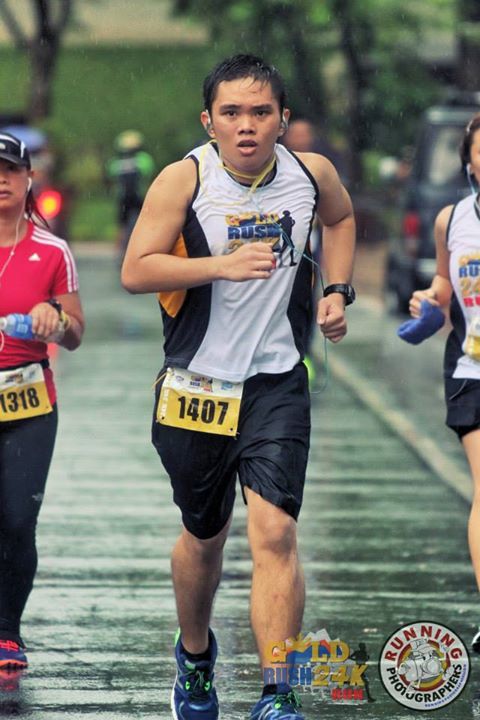 By August 2, 2014, my weight was 159 lbs. I was able to lose a 100 pounds in less than 6 months. I finished Gold Rush in 2 hrs and 44 mins.
Everyone I know was shocked when they finally saw me at the start of classes. My friends and family was congratulating me about my success. Some of my friends also started to work out and live a healthier life. I'm happier than ever. No words can explain how grateful I am to God, my friends, family and everyone who supported me along my journey. I will forever cherish in my life the time when I loss 100 lbs and never looked back.
As of this writing, I am 152 lbs and currently training for my first marathon this coming Condura Skyway Marathon (Feb. 1, 2015).
And to those out there who want to cut off a few pounds and live a healthier life, here are my tips:
1. The first step is discipline and changing your habits. The next is making a new life style.
2. It is hard and it will get harder as time passes but you have to endure it.
3. When you feel like giving up, find in yourself the courage and motivation to finish the last few steps, the last few reps or the last few pounds because that is when you know you have exceeded your limits. That is the best feeling in the world.
4. Lastly, pray to God so that he can give you the guidance and strength that you'll need.
Remember, "You don't always get what you WISH for, but you always get what you WORK for."
Thank you for reading my story.
"Quit making excuses, putting it off, complaining about it, dreaming about it, whining about it, crying about it, believing you can't, worrying if you can, waiting until you are older, skinnier, richer, braver, or all around better. Suck it up, hold on tight, say a prayer, make a plan & JUST DO IT." — END
Inspired? Share this to a Friend.
–
Want us to share your Story?? Submit it – Click -> Share Your Story!