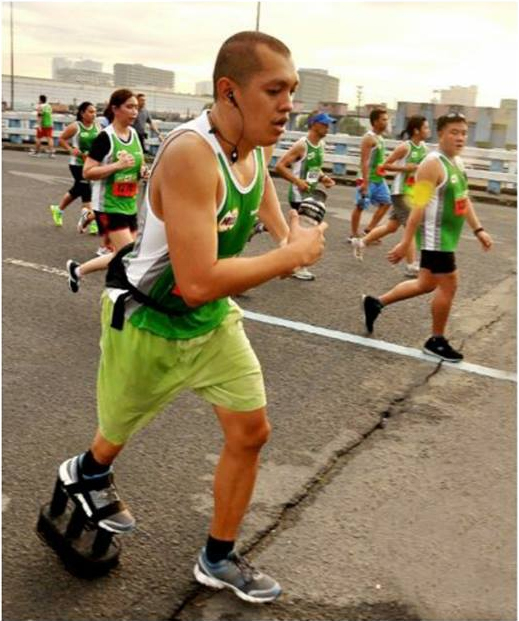 What's Your Excuse? : An Osteomyelitic's Journey to 42K
by: Joel Quizon
Ernest Carual finished his first successful 10K in July 2013, merely months after he turned to running to help improve his physical state. A year and a month later, the now famous runner, is preparing to conquer his next and biggest feat—a full 42K marathon.
It's easy for one to think that Ernest's story is nothing out of the ordinary. Regular guy meets runner; runner invites regular guy to try running; regular guy eventually falls in love with the sports and a year later has fully immersed himself into it, bringing along a couple more people.
But what makes Ernest so different from the thousands of people now getting into the activity is that he is no regular person at all, at least physically. Ernest had osteomyelitis as a child. A bone infection that has left his right leg about 15 inches shorter than his left, Ernest, one could say, is the last person you'd expect to try running.
Taking the First Step
"If I run, will you guys join as well?"
Thinking that Ernest was only kidding when he spoke these words, his friends were caught between amazement and surprise when he showed up during their first practice run a week after the group greeted this question with a resounding 'yes'. They finished their first 3K that day and have since joined casual running events on a monthly basis.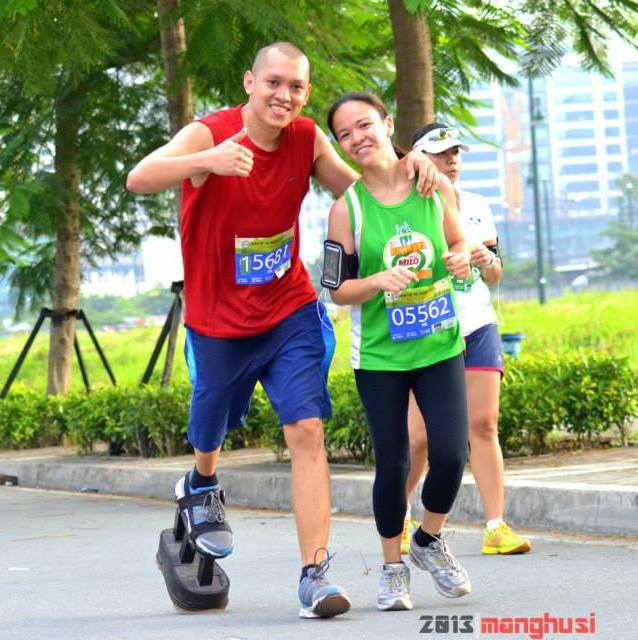 Facing the Challenges
Due to his physical limitations, it is to be expected that Ernest ran into a couple of challenges at the start of his journey. But he was determined not to let hindrances get in the way of reaching his goal.
"I cannot do most of the usual training activities or exercises [that other runners do] as they require both of your feet to be leveled on the ground. So I had to be creative in training both of my legs to prepare for a run," explains Ernest.
Saying that his right leg is more susceptible to pain, he adds that a customized routine based on listening to what his body is saying is the key to his success.
"I do a couple of weight trainings in the gym for both of my legs, but I'm careful not to put too much weight on even though I feel that my left leg can still handle more. The reason for this is that I am careful about my right leg not being able to take the load and [the activity] causing it injury rather than making it stronger."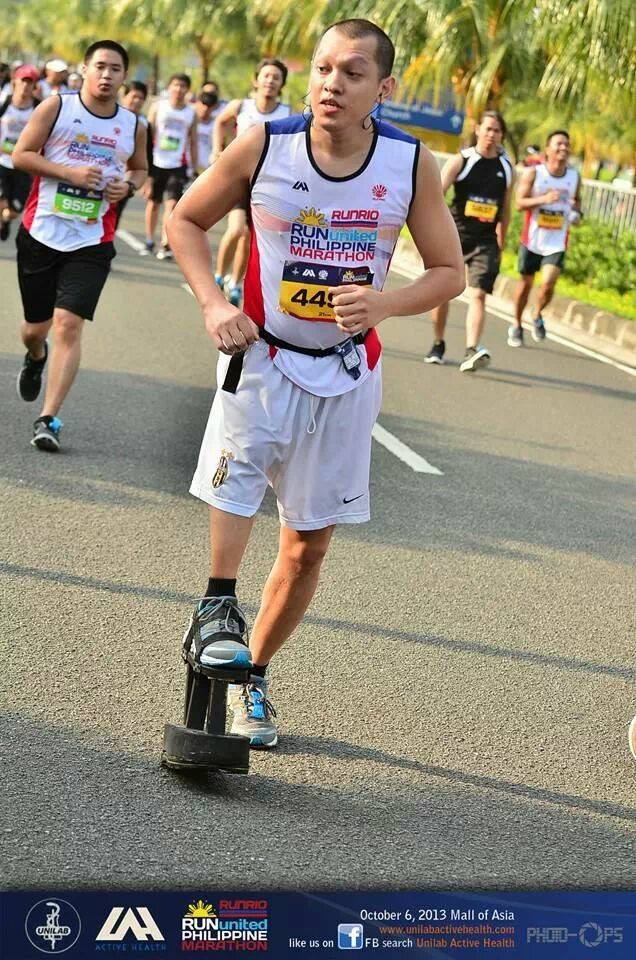 Upping the Game
Just a week after he finished his first 10K, Ernest was still very much pumped up; his eagerness stemming from achieving something he never thought he'd be able to in this lifetime. He registered for a 21K run and has dedicated more time to practicing, even changing his training venue from the plains of Bonifacio Global City to the more challenging McKinley Hills.
Today, Ernest has participated in 19 events and has run more than 315 race kilometers. He is currently preparing for his biggest one yet and says that nothing can stop him from conquering a full marathon in RUPM this coming October. He has even prepared a more comprehensive scheme for it.
"I plotted a nine-week training plan for me and my wife for our first full marathon in October," says Ernest. "This includes training in San Mateo, the famous Shot Gun. I believe that this particular training ground helped us a lot to prepare for our 32K run last June."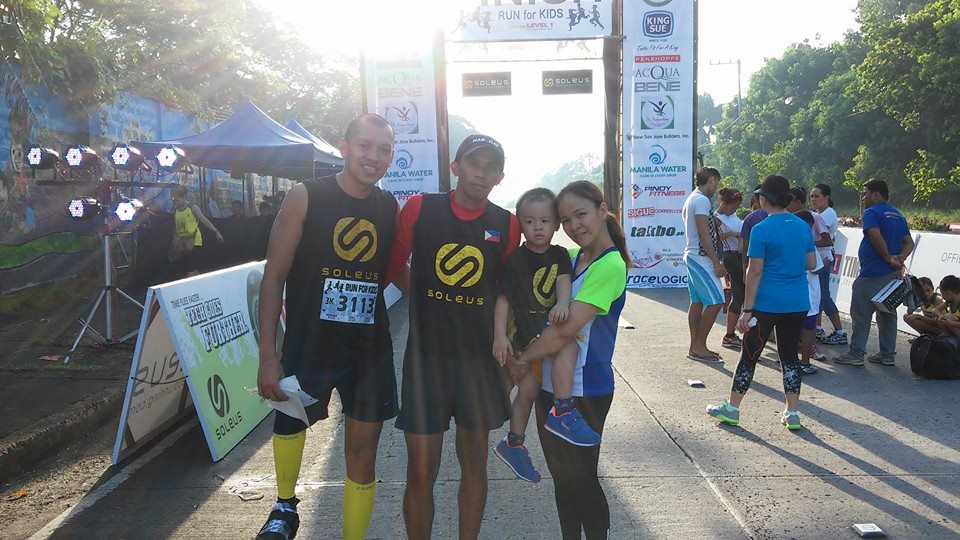 Reaping the Rewards
Confidence is just one of the many things that Ernest gained through running. Sponsorships also came along, of course. Most notably, being part of Team Soleus, an international manufacturer of running gears and gadgets, who has sponsored most or Ernest's runs. However, Ernest feels like these are not the better of the rewards he got from his newfound love.
"My wife and I decided to run primarily for health reasons. We rather spend our hard earned money on gears and buying fruits, vegetables, fish and eggs rather spending them to buy medicines or settling hospital bills. We realize that we are not getting any younger, and we would like to make sure that we will be here for our son for as long as we can."
He also adds that gaining friends that make him feel at home make all the hard work feels so much worth it.
"I have never been overwhelmed my entire life with the amount of cheers and appreciation by people who love running the same way that I do. I have gained friends more than I can imagine. Currently I think that 70% of my Facebook friends are all from the running community. Blessings indeed poured in because of them. Because of them I was able to go places that I have never been before like the Corregidor Islands," he ends.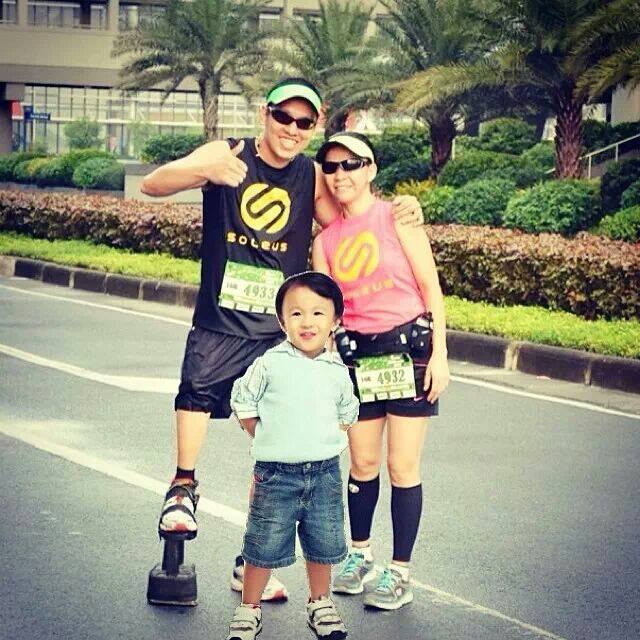 Ernest's story proves that hindrances are only as good as one wants them to be. He challenged his own excuse and came through a champion. His is a journey that embodies Rikki Rogers' famous quote, "Strength doesn't come from what you can do. It comes from overcoming the things you once thought you couldn't."
At the end of the day, the choice to either give up or continue on one's journey to success belongs to that person alone. Luckily in his case, Ernest's choice was to keep pushing forward; and it's a choice Pinoy Fitness wishes everyone would make. –END
Update: Ernest just completed his first Full Marathon at the Unilab Active Health Run United Philippine Marathon last October 5, 2014!
For Instant Updates – Follow US!
https://www.facebook.com/pinoyfitness
https://www.twitter.com/pinoyfitness
https://www.instagram.com/pinoyfitness
PF Online Community -> https://members.pinoyfitness.com
PF Online Shop -> https://shop.pinoyfitness.com
Like this Post!? Share it to your friends!