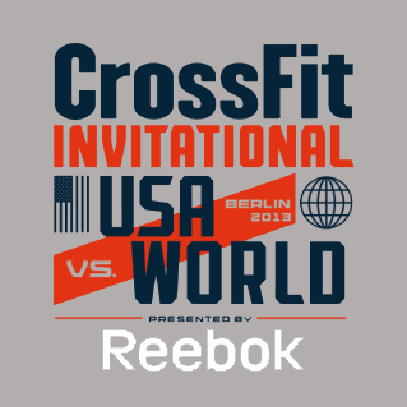 Attention Crossfitters! Crossfit Team US is set to battle it out with Crossfit Team World in the Ultimate Crossfit Showdown in Berlin this coming October 26, 2013! Don't miss it!
Check out the official Press Release below.
TEAM USA TAKES ON TEAM WORLD IN ULTIMATE CROSSFIT® SHOWDOWN IN BERLIN
Elite CrossFit athletes go head-to-head at theCrossFit Invitational, USA vs. World, presented by Reebok
PHILIPPINES, OCTOBER 10, 2013 – Some of the best CrossFit athletes from around the world will gather in Berlin at the end of October to take part in the CrossFit Invitational, USA vs. World, presented by Reebok. The unique competition sees athletes from the USA take on a team of top athletes from across the globe in what is billed to be the ultimateCrossFitface-off.
Aired live on Eurosport at 19:00 CET on Saturday 26th October, the CrossFit Invitational will be hosted in front of a sell-out crowd at the Tempelhof Airport, Berlin. The teams, who will be led by the 2013 Fittest Man and Woman on Earth, Rich Froning and Samantha Briggs, will go head-to-head in a series of workouts, which will not only test the athletes' physical skills but also their ability to work as a team. And, in true CrossFit fashion, the workouts will not be revealed until 24 hours ahead of the event. The athletes in each team are:
TEAM USA: Rich Froning, Jason Khalipa, Ben Smith, Talayna Fortunato, Lindsey Valenzuela, Valerie Voboril
TEAM WORLD: Samantha Briggs (UK), Camile Leblanc-Bazinet (Canada), Kara Webb (Aus), Chad Mackay (Aus), FrederikAegidius (Denmark), Albert-Dominic Larouche (Canada)
"I'm really looking forward to showing Team USA what we've got," said Samantha Briggs, 2013 Fittest Woman on Earth. "Even though I compete as an individual, I always train with a partner or team, so I'm used to working together with other athletes. I also find working as a team pushes you much harder because you don't want to let anyone down!"
Rich Froning, 2013 Fittest Man on Earth, said: "I competed at the Invitational last year in London and this competition is a hell of a lot of fun. It's great being with a team as you all support each other and get each other through every workout. All I'm gonna say is, Bring. It. On!"
"Team competition is not uncommon in CrossFit, but the two teams competing in Berlin are on a completely different level", said Justin Bergh, General Manager for the CrossFit Games."These are the most decorated individual athletes in the game. The fitness and talent, not to mention the desire to win, on both sides is going to make this an incredible contest. We're excited to work with our partners Reebok and Eurosport to share this unique event with the entire world."
Reebok has been the title sponsor of the CrossFit Games since 2011 and is constantly working with athletes to produce footwear and apparel that is designed to perform for them. All athletes competing at the CrossFit Invitational will be given specially designed gear, including the Reebok CrossFit Nano 3.0. The shoe is a competition-level evolution of the popular platform, and was worn by all 600 athletes, including winners Rich Froning and Samantha Briggs, at the 2013 Reebok CrossFit Games.
"We are really excited to be able to deliver quality performance product for these top level athletes," said Chris Froio, Head of Training at Reebok. "They put their bodies under extreme pressure when they compete and they need the right apparel and footwear to keep up with them. The CrossFit Invitational, USA vs. World, presented by Reebok is going to be a fantastic competition which I can't wait to see!"
The Reebok CrossFit Nano 3.0 is available at https://shop.reebok.com and https://www.shopcrossfit.com
For more information about the CrossFit Invitational, USA vs. World, presented by Reebok, go to https://games.crossfit.com.
For Instant Updates – Follow US!
https://www.facebook.com/pinoyfitness
https://www.twitter.com/pinoyfitness
https://www.instagram.com/pinoyfitness
PF Online Community -> https://members.pinoyfitness.com
PF Online Shop -> https://shop.pinoyfitness.com
Like this Post!? Share it to your friends!