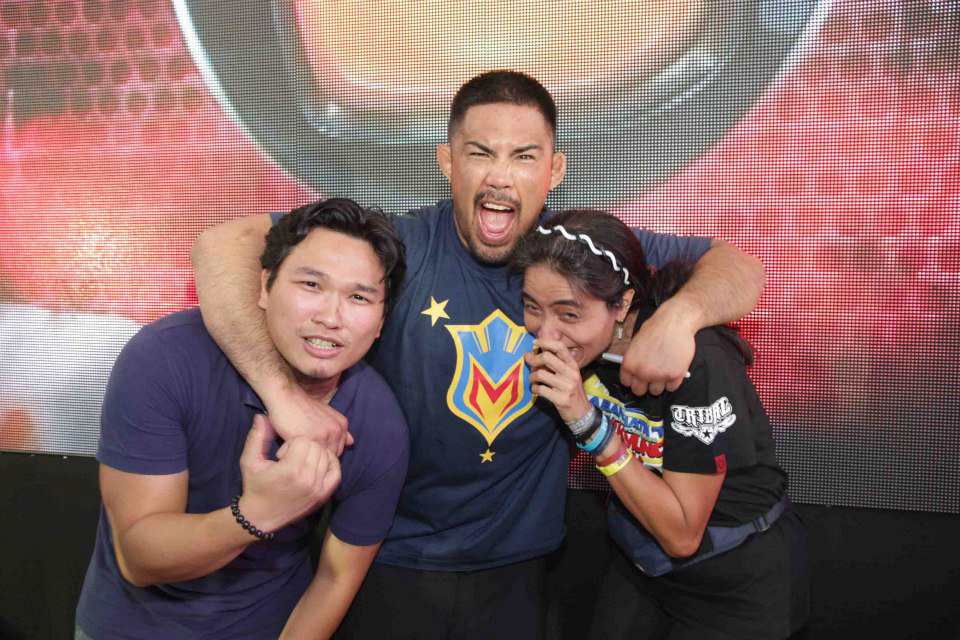 MMA Wrecking Machine Mark Muñoz – More Fun to be Pinoy!
Words by: Ms_Mars
Photo Credits: Ms_Mars, ABS CBN PR, Team Muñoz, Jude Bautista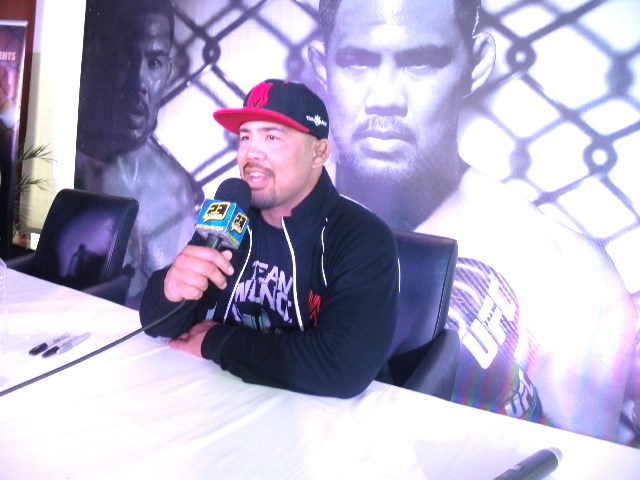 It's not everyday one gets to meet an international MMA (mixed martial arts) fighter. Especially if that fighter is a fellow Kababayan doing great overseas and dubbed as "The Filipino Wrecking Machine", let's give it up for UFC middleweight star and top contender Mark Muñoz!
Muñoz recently flew in town direct from California courtesy of Balls Channel for a weekend of wrestling/MMA clinics and demos at a selected university and fitness venue and an open public training at a popular mall.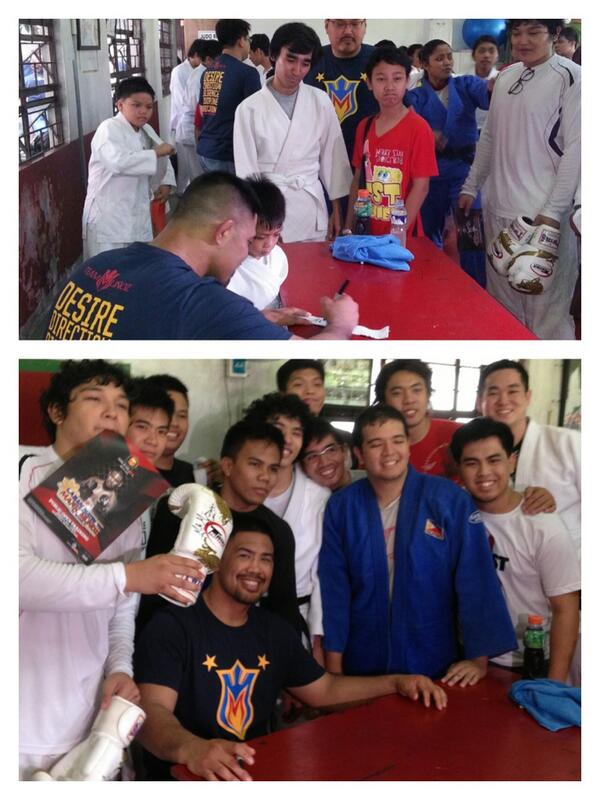 Meeting the Media
We got the chance to meet and mingle with Mark during a special presscon Balls Channel put together at Restaurant 9501 of ABS CBN Compound. In fact, he was very happy and thankful to be back again here. Mark was born in Japan 35 years ago to Filipino parents. He understands Tagalog and converses in bits with it.
"My dad is from Bicol and moved to Pasay while my mom is from Sta. Ana, Manila," he shared. Since his father worked for the Navy, they later on migrated to California where he and his own family are now based. "I met my family here in the Philippines for the first time last year and we were like 50-60 in the restaurant and it was so much fun! Looking forward to meeting more," Mark beamed.
When asked what he misses about the Philippines, Muñoz was quick to roll out in slangy Taglish a litany of popular Pinoy dishes from menudo, pinakbet to kare-kare, halu-halo, adobo, dinuguan, lechon and even chicharon! Sports emcee Boom Gonzales hated to cut the list and joked that Mark could actually be ordering these as we all burst into laughter. He also recalls that everytime his mom visits him at his place, she would cook not for 6 people but for a really big group!
Mark currently resides in Southern California with his very loving and supportive wife, Kristi together with their sporty kids Trent, Erynn, and Elyse. Pretty soccer player and eldest daughter 14 year old Alexa tagged along for the first time alongside her Aunt Rheena (Mark's sister and manager) with some Team Muñoz crew. Muñoz is also proud that his children are all sports-lovers.
Joined in the VIP table by Mr. Mark Fischer EVP & Managing Director of UFC Asia and Ms. Jojo Estacio-Neri , Balls Channel Head, Mark is impressed by the growing number of MMA fighter hopefuls in the Philippines and looks forward to train with Eduard Folayang. A wrestling champ back in the days, "I'm going to teach him great wrestling! It's a good foundation along with jiu jitsu, kickboxing and other martial arts."
Mr. Fischer forecasted, "I predict, but won't guarantee that we will come up with a UFC fight here in the Philippines in 2014." He warned though, that no commitments at this point. "But I'm going to talk to Dana White and the higher ups about this possibility and Mark here will definitely be on that card."
Meeting Fans & Supporters at SM Mall of Asia – Music Hall
Last March 10th, thousands of fans flocked at MOA and witnessed Muñoz's serious skills as he publicly took down sparring-mate, former fighter Chris Wong of ABS CBN Sports Division. The demo roughly lasted 25 minutes and in it, Mark emphasized the importance of wrestling, kickboxing and mixed martial arts fighting once a fighter is inside the Octagon. He also focused on proper use of the ground and pound technique that is essential in taking an opponent down.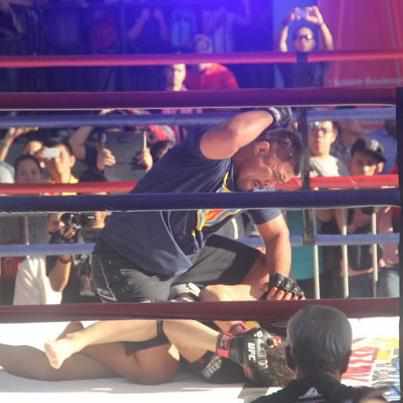 A day before his open public demo, Muñoz held a wrestling clinic with the members/students of the UP Judo Club and UP College of Human Kinetics. While UFC and MMA celeb afficionados Marc Abaya, Rocco Nacino and Richard Gutierrez were among the audience during his MMA clinic at Ultimate Fitness in Ortigas, Pasig.
EVP Mr. Fischer gave a brief statement of appreciation to all MMA fans and reiterated working on plans of RP UFC 2014 and was impressed of our MOA Arena. In between the program, event hosts Boom Gonzales and Mia Cabalfin handed out prizes courtesy of Balls Channel during the trivia portion plus a number of luckier fans got their rare chance of meeting, greeting and having their photos taken with Mark who was still consistently all-smiles after giving it all during the demo.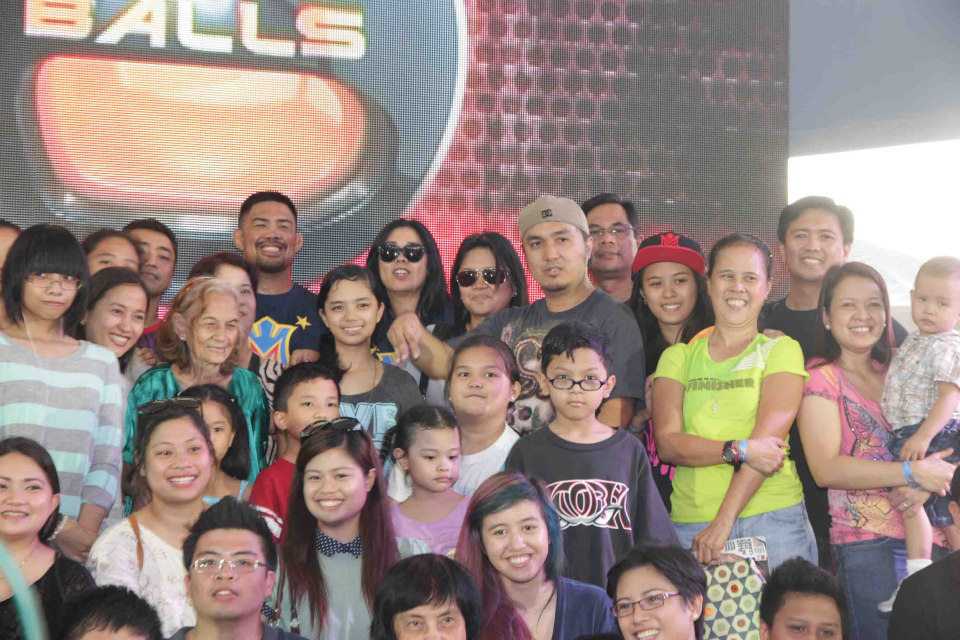 He kept saying "Mahal ko kayo!" to the crowd and declared to his fellow kababayans that he is 100% proud of his roots and honoured to carry our RP flag in all his UFC fights. Mark stressed, "I love the people in the Philippines. Your hospitality, generosity, being caring and being resilient especially during the Habagat floods of last year wherein we helped raise funds for our affected kababayans." Mark also shared the 5 D's in his life which he imbibes: Discipline, Desire, Diligence, Direction and Dedication. He also promised to be back soon to teach and train more Pinoy MMA hopefuls.
Even Mark's relatives were present in the audience which for him was a very special personal moment. It was great delight seeing all of them pose for a grand family picture from the youngest to eldest. He even invited everyone to get inside the ring and do the Harlem Shake with him and it was caught on video. Very Pinoy! Deep inside for Muñoz, it is really more fun in the Philippines!
Other UFC fighters who already had their RP visits were: BJ Penn, Chuck Liddell, Brandon Vera and Georges St-Pierre aka GSP who recently defended his welterweight crown against contender Nick Diaz for UFC 158.
Looking Ahead – UFC 162
Muñoz is slated to clash with Tim Boetsch inside the Octagon on July 6 in Las Vegas for UFC 162. "I'm going to improve on my striking, work on different angles. This is not going to be a boring fight," he assured. Mark thinks positively, will train harder and looks forward to beating Boetsch after slipping a match against Chris Weidman last year.
UFC 156 will also feature upcoming matches from: Anderson Silva vs Chris Weidman, Roger Gracie vs Tim Kennedy, and Rafael Cavalcante vs Thiago Silva.
Mark Muñoz is really a great force to reckon with and grateful on his humble beginning. Gentle, nice and kind outside the Octagon but fierce, dangerous and unforgiving once inside. He undoubtedly deserves being dubbed, The Pinoy Wrecking Machine. May your tribe increase, kabayan!
Many thanks to Mr. Chris Wong, ABS CBN Sports Division; Ms. Kathy Solis, ABS CBN PR Manager and to PINOYFITNESS for the chance to cover this media tour.
For Instant Updates – Follow US!
https://www.facebook.com/pinoyfitness
https://www.twitter.com/pinoyfitness
Like this Post!? Share it to your friends!