[ad#square-middle]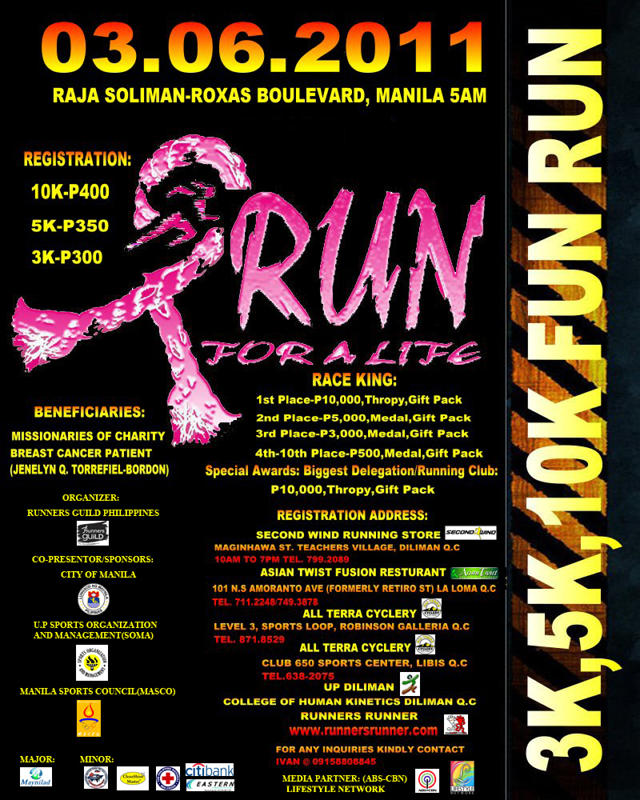 Pax et Bonum! The Runners Guild Philippines and the UP Sports Organization and Management (SOMA) with the participation of City of Manila and Manila Sports Council (MASCO) advocate the organization of different activities that deepen the spirit of physical wellness, camaraderie and nationalism in our community. This coming year, they proudly present a big scale running event (2000 to 4000 participants) that will boost the athletic capabilities and physical fitness of our countrymen.
The running event is entitled the first RUN FOR A LIFE to be held on 6th of March 2011 at the Raja Soliman – Roxas Boulevard, Manila. Aptly named as such, the event embodies our endeavor to provide a great assistance to our kababayan through our chosen beneficiaries.
Run for a Life
March 6, 2011 @ 5AM
RAJA Soliman-Roxas Boulevard, Manila
3K / 5K / 10K
Registration Fees:
10K – Php 400
5K – Php 350
3K – Php 300
Register Online:
Online registration powered by RunnersRunner.com
Registration Areas:
Second Wind Running Store
Maginhawa St. Teachers Village, Diliman Quezon City
10am to 7pm Tel. 799.2089
AsianTwist Fusion Restaurant
101 N.S. Amoranto Ave (formerly Retiro St)
La loma QC Tel. 711.2248 / 749-.3878
All Terra Cyclery
Level 3, Sports Loop, Robinson Galleria
QC 871-8529
All Terra Cyclery
Club 650 Sports Center, Libis, Quezon City Tel 638-2075
UP Dliman
College of Human Kinetics
Diliman QC.
Beneficiaries:
Missionaries of Charity
Breast Cancer Patient- Jenelyn Q. Torrefiel-Bordon
For more info contact Ivan @ 0915-8808845 or email @ [email protected]
also visit our fanpage @ https://www.facebook.com/#!/pages/Run-For-a-Life/170125053028829