[ad#square-middle]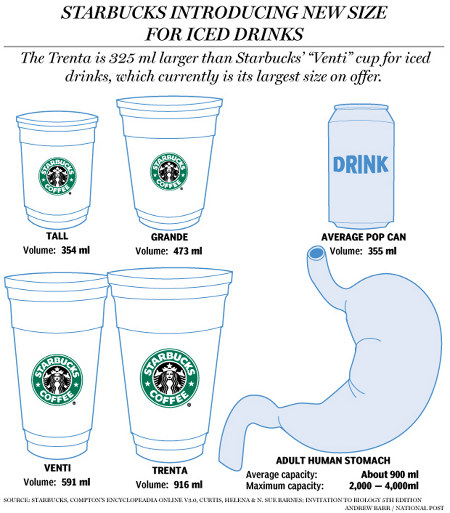 Special alert for people who needs caffeine to boost up their daily routine! Is the Venti size not enough? Then let me introduce to you the Trenta! it's the 4th size cup of Starbucks and will be the biggest drink size and this will debut in all Starbucks US Coffee shops by May 3, 2011.
If you can't wait to try this new size and will be traveling to the US soon, The Trenta size will be available to 14 states, including Virginia, Georgia, Florida, Texas, Hawaii and Arizona, on January 18 and in California on February 1.
Worried about the calories of the new BIGGIE size? The world's biggest coffee chain said unsweetened drinks in the new size will have fewer than 90 calories and that sweetened versions will have less than 230 calories.
Now I wonder when this will reach the Philippines? Hmmmm
Source: Yahoo News