[ad#square-middle]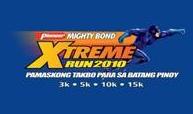 Congratulations to those who participated in the Pioneer Mighty Bond XTreme Run 2010. Race Results and Photo Links will be available for download here as soon as the organizers released them.
View Online Results Here: https://itemhound.com/results

For now please feel free to post your feedback and suggestions here
Visit the Pinoy Fitness List of Events Page to know more about upcoming events..