[ad#square-middle]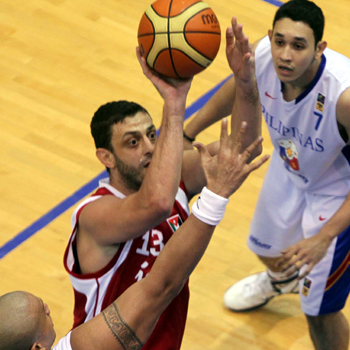 BEIRUT, Lebanon – With their PBA reinforcement playing his role rather well, Philippines played well within themselves and earned a 75-71 win over defending champions Jordan in a Group 'B' game on Monday.
Philippines, thus won their second game for the second successive night, and are now 2-1. Jordan, who are using this event as a part of their preparations for the 2010 FIBA World Championship, have suffered their second successive loss.
Asi Taulava, brought into the line-up for this competition "to add size", returned a double-double – a dozen rebounds with a Baker's Dozen points – to lead the Philippines charge.
"He (Taulava) has definitely added size. He's responded well to the team not too bad. I think we can look at using him in the long term too," Philippines coach Toroman Rajkov said.
Marnel Baracel was the SEABA nation's leading scorer with a 16-point haul.
Chris Tiu scored 13, and Mark Barocca returned an incredible 80% on the paint (4/5) in his 12 points.
Rasheim Wright, yet to gain full match fitness began to find his touch – something that pleased Jordan coach Mario Palma for the long term – and had a game-high 17 points.
"It's alright. Am getting to feel better," Wright said.
Sam Daghles had 15 points and Ayman Idais had 11.
The two Zaids in the Jordanian line-up – Abbas and Al-Khas both pulled down 11 rebounds each.
"Such defeats don't really matter. What we have to introspect is, if we did what we expected to do right," Palma said.
"I think our outside shooting has been very bad so far," Palma said.
Jordan converted a mere five attempts in three-pointers out of the 28 times they tried from the perimeter.
The Scores:
Philippines 75 – Baracael 16, Taulava 13 (12rebs), Tiu 13, Barroca 12, Casio 8, Ababou 5, Lassiter 4, Aguilar 4, Ballesteros 0.
Jordan 71 – Wright 17, Daghles 15, Idais 11, Abbas 9, Alawadi 7, Soobzokov 5, Alkhas 4, Alnanjjar 3, Hadrab 0, Abbaas 0, Zaghab 0, Yacoub 0.
Quarters: 12-18, 32-32, 53-48, 75-71
Source: https://www.fibaasia.net/