[ad#square-middle]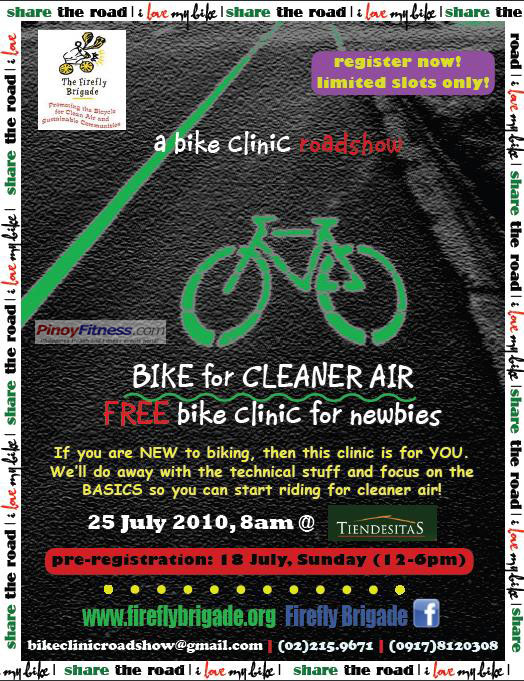 Always wanted to try biking but you're too shy or don't know where to start? Firefly Brigade presents…BIKE for CLEANER AIR – a FREE bike clinic for newbies (only)! In this clinic, no question is considered "stupid" nor "funny". As long as it's related to biking, we'll help clear your doubts. You'll be riding in no time!
Bike for Clean Air 2010 – FREE Bike Clinic for Newbies!
July 25, 2010 @ 8AM
Tiendesitas
To register for this free clinic, send an email to [email protected] with the following details:
What's your name:
How old are you:
Where do you live:
What do you do:
Do you have a bike:
What is your bike (road/mountain/folding/cruiser/dunno):
What do you expect from the clinic:
Limited slots available for this free clinic so REGISTER now! There will also be a 1-day registration on 18 July 2010 (12nn-6pm) at Tiendesitas.
Help spread your infectious love for biking to your friends and family.
For more details, check out the Firefly Brigade Facebook account or www.fireflybrigade.org.
Bike Clinic Roadshow FAQs
What is this about?
It is a FREE clinic on the basics of bike riding.
Who should attend this activity?
The Bike Clinic is especially designed for newbies – those who want to try riding a bike but do not know how to start. Biking
may seem overwhelming with all the jargons and technical stuff but we'll do away with that and just focus on the BASICS.
Everyone is welcome – guys and girls, kids and adults, students or professionals! If you are new to the wonderful world of
biking and still have doubts, concerns and fear, we will do our best to clarify your doubts, address your concerns so you can
face your fear and start riding safely and smartly!
Note: Children who are joining the Bike Clinic are expected to be guided by their adult companion.
I'm not really a bike newbie, but can I accompany my "newbie" friend to the clinic?
That's perfectly fine. If your presence can encourage your friend to join the clinic, by all means, you are also welcome to join.
When will this be held?
Save the date: Sunday, 25 July 2010. Bike Clinic will start by 8 AM and is expected to finish by noon.
Where is this Bike Clinic happening?
Look for us at the stage area of Tiendesitas, Ortigas, Pasig City.
What do participants need to bring?
· Notepad
· Pen
· Water
· Helmet (if available)
· Bike (if available)
· Enthusiasm
· Energy
Are food and drinks included?
Sorry, food and drinks are not included. There are several concessionaires in Tiendesitas you can buy from. Feel free to share
with us.
Do participants need to register?
Yes, we encourage interested participants to register so that we can properly manage the clinic. Registration can be done by
emailing [email protected] or dropping by Tiendesitas on 18 July for an on-site registration. Remember, this clinic
is absolutely FREE!
Why is this clinic free?
This clinic is a project of Firefly Brigade – a non-stock, non-profit, and SEC-registered citizen's volunteer action group which
works for clean air and a habitable, people-friendly environment in our cities. By conducting free clinics, we are encouraging
more people to go ride a bike. For more on the Firefly Spirit and Guiding Principle, you may check out www.fireflybrigade.org.
What to expect from this clinic?
Here's a peek at what you can learn by attending this clinic:
· Parts of a Bicycle
· Selecting a Bike; Types of Bikes
· Bike Sizing and Fitting
· Proper Attire for Biking; Helmet Fitting
· Riding and Common Dangerous Situations
· Managing Gears
· Bike Maintenance
· Fixing a Flat Tire
· Basic First Aid
Why is this called a roadshow?
We will be doing the Bike Clinic in other areas as well. We want to be able to conduct the Bike Clinic to as much people as we
can. We will be posting the schedule of the bike clinics so that you can mark your calendars and invite your friends and family
to attend.
Is there a need to bring a bike?
For participants that already have a bike, please bring it to the clinic. Don't worry about parking. Tiendesitas is a bike-friendly
place and there are bike parking racks available.
There will be a short ride around the vicinity of Tiendesitas after the lecture. Please bring drinking water and don't forget your
helmets. We strictly follow the rule: No helmet, no ride.
I don't have a bike yet, can I still join?< Yes, of course you may still join the clinic even if you do not have a bike. We may be able to teach you a thing or two which can help you decide the best bike for you.