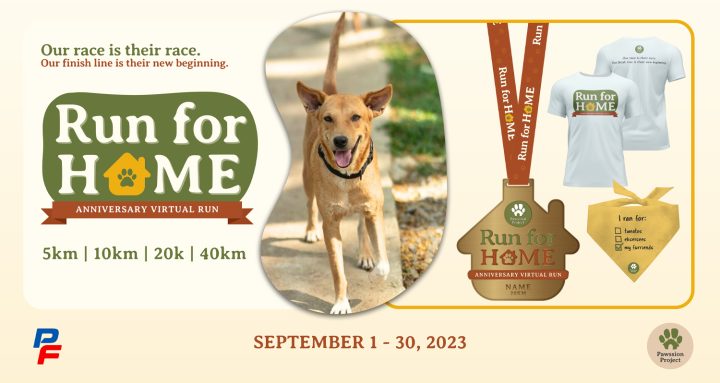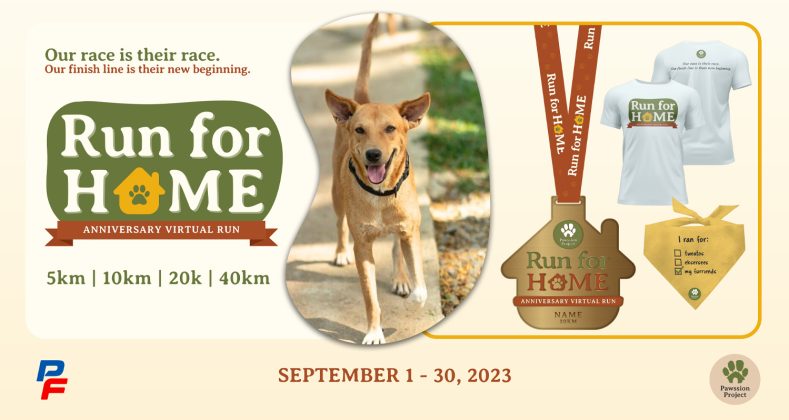 Greetings, animal lovers and compassionate souls!
We are thrilled to introduce the "RUN FOR HOME" virtual event, a heartwarming initiative dedicated to our furry friends at the PAWSsion Project shelter in Bulacan. As some of you may know, this shelter has been a beacon of hope for over 300 cats and dogs, providing them with love, care, and a safe haven. However, recent challenges have cast a shadow over their future, and they need our help now more than ever.
The land that the PAWSsion Project shelter calls home has been sold, and the fate of these innocent lives hangs in the balance. But here's where you come in! By participating in this virtual run, not only will you be promoting health and fitness, but you'll also be playing a pivotal role in securing a brighter future for these animals. Every stride you take, every kilometer you conquer, brings us one step closer to finding them permanent homes and ensuring they continue to receive the love and care they deserve.
Proceeds from this event will go directly to the PAWSsion Project, aiding in their mission to rescue, rehabilitate, and rehome animals in need. Whether you're an avid runner or just someone who wants to make a difference, this is your chance to be a hero for our four-legged friends.
So, lace up those running shoes, spread the word, and let's run with purpose! Together, we can give these animals the loving homes they've been dreaming of.
Join us in the "RUN FOR HOME" virtual event and be a beacon of hope for the Pawssion Project. 🐶🐱❤️
PAWSsion Project : Run for Home Virtual Run
September 1–30, 2023
5K|10K|20K|40K
Anywhere in the Philippines
Registration Fees:
Early Bird Rate (Until August 31):
Medal Only – P495
Medal + Shirt – P895
Medal + Shirt + Bandana – P1,295
Regular Rate (Sept 1-10):
Medal Only – P595
Medal + Shirt – P995
Medal + Shirt + Bandana – P1,395
– PLUS P100 Delivery Fee
– FREE Medal Engraving until August 31
– Entitlements will be delivered 4-5 weeks after the event ends on September 30, 2023
– International runners are welcome, but we require a valid Philippine address to deliver the finisher entitlements.
Registration Venue:
1. Google Play Store – Click Here
2. Apple Store – Click Here
Payment Details:
1. Register to the event via the PF Atleta App
2. Wait for confirmation Email
3. Deposit Payment via:
BDO
Account Name: PINOYFITNESS INC.
Account Type: Savings
Account No: 00-742-001-6795
East West Bank
Account Name: PINOYFITNESS INC.
Account No: 200003486744
BPI
Account Name: PINOYFITNESS INC.
Account Type: Savings
Account No: 3211-0912-57
GCASH
Mobile Number: 0936-934-2528
4. Email Deposit Slip together with your PF Atleta Transaction ID to [email protected]
Shirt: (Mock-up Design)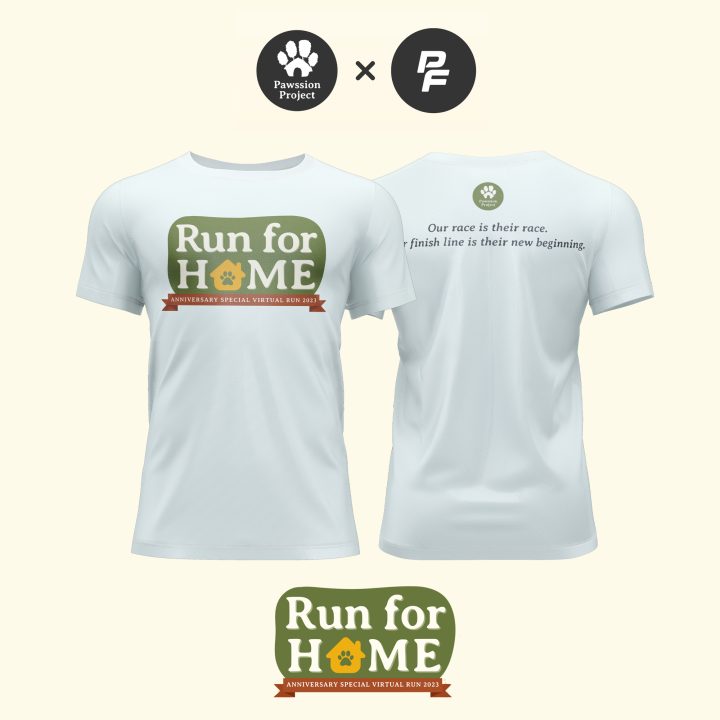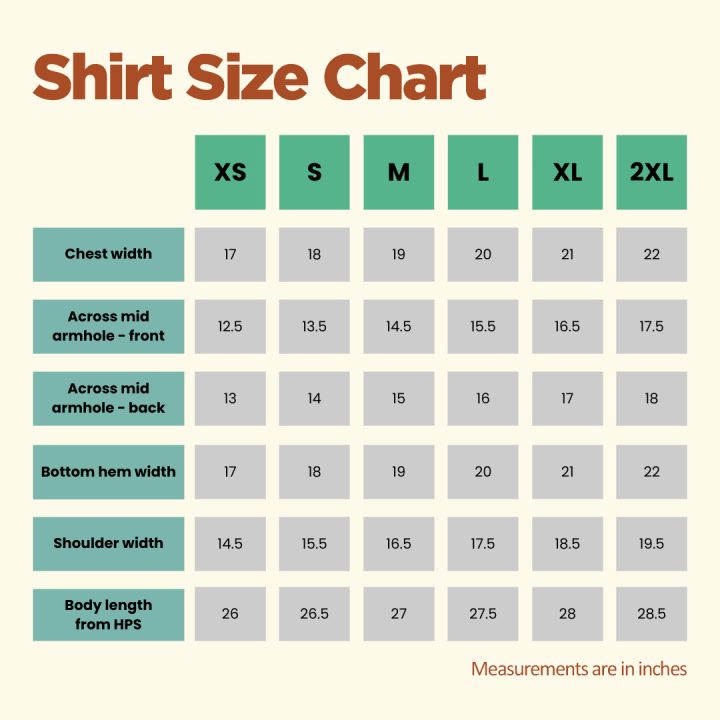 Medal: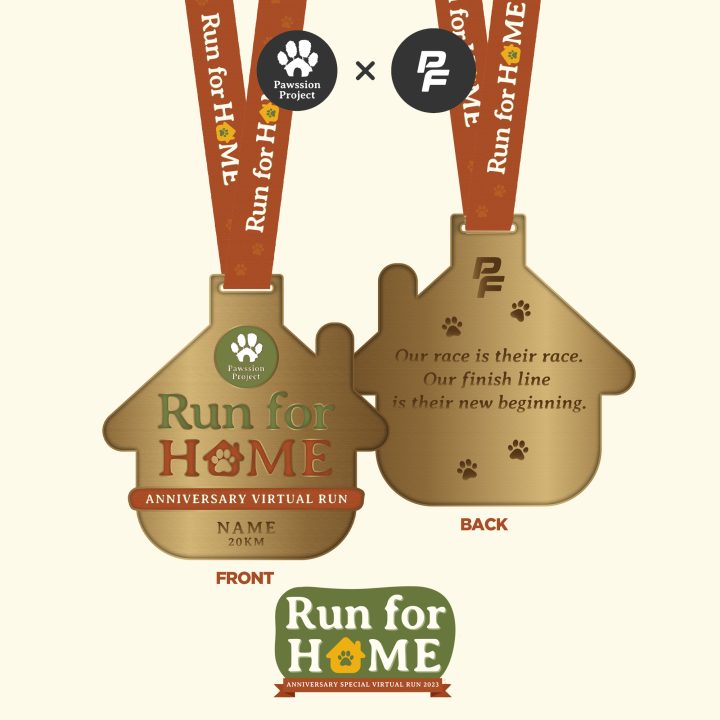 Note: Register on or before August 31 to get your Finisher Medal Personalized for FREE!
Doggie Bandana: (Mock-Up)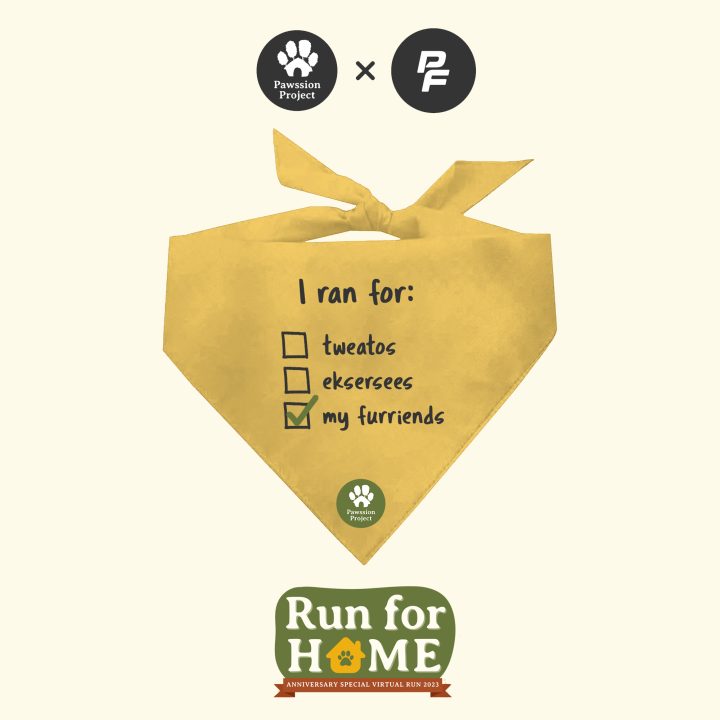 Want to add to your donation or opt-out of the Virtual event and just donate directly to PAWssion Project? You can do so by depositing your donation to the following accounts:
Unionbank: Pawssion Project Foundation Inc. | 002790018188
BPI savings: Pawssion Project Foundation Inc | 9251000737
PayPal: [email protected]
PayMaya: 09667189347
GCash: 09289971868 / 09778210271
How does a Virtual Race work?
– Choose and Register on a Virtual Race
– Use a GPS-tracking running app, watch or treadmill
– Track and Finish the Race
– Take a photo of your result
– Submit your Run
Rules:
– "No completion, no reward" policy; This race is based on honour system, periodic checks will be done on the submissions.
– All GPS-based App and Treadmill Submissions are allowed.
– Account will be suspended if fraudulent results are found.