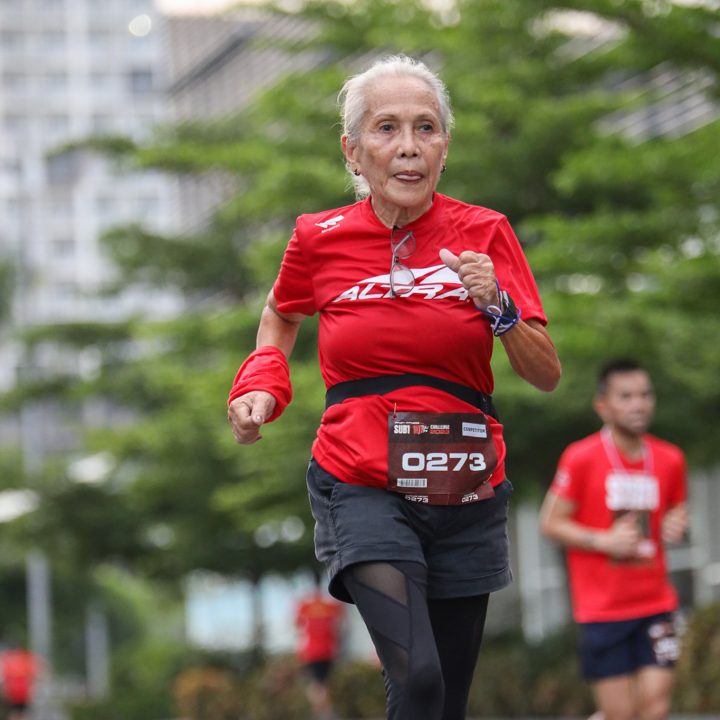 It's now the half of the year and by this time we have joined several runs and races in and out of Metro Manila. As most of our post-pandemic races came during the beginning of 2023, we were all amazed and delighted to see the strong Nanay Rosalinda. Lots of runners have shared this post of Nanay Rosalinda, who joined the Pinoy Fitness SUB1 10KM challenge. I, myself, happily shared it with the caption "Nanay Rosalinda runs faster than me." But who is this woman who has been stunning the running community for years? If you're new to running or still thinking if you should start, keep reading. If you've been running and you're wondering if you should keep going, this article is also for you.
Nanay Rosalinda turned 76 early this year. In her younger years, she did admin work for pharmaceutical companies. She recalls that her longest work was being a liaison secretary for a Japanese company. She retired in the 1980s to focus on taking care of her children. During those years, Nanay Rosalinda enjoyed her free time resting from an office job. In fact, she quipped that this was probably the most enjoyable and worth while job: taking care of their four children and helping her husband manage the household and his clinic. She proudly mentions that two of her children followed their father's footsteps in the field of dentistry.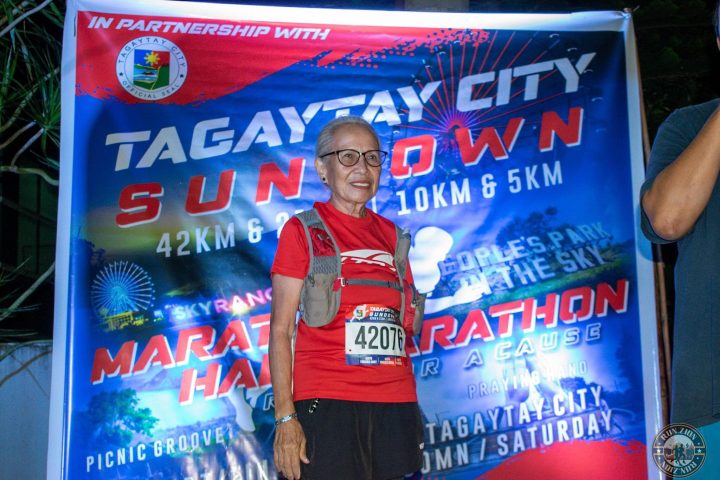 Nanay Rosalinda and her husband were married for 47 years, until he passed away. Since then, she has been thankful to running since "nalilibang ako sa running nung nawala siya." She was 65 years old when she started running. Nanay recounted to me that it was her son who enjoined her to exercise with them as it was her son's family bonding to exercise and run regularly. Nanay added with a soft laugh, "Niyaya ako kasi wala daw akong exercise, bahay-office lang. Dati ayaw ko nga mag suot ng rubber shoes at jogging pants."
Like any other runner, Nanay shared that her journey started with walking, "nung una walking walking lang kami.. unti-unti dinagdagan ng konting running." After a few months, she and her son joined a 5KM fun run together. She remembers quite vividly that she experienced a lot of body aches and muscle soreness after her first 5KM and even thought to herself that she would never run again.
It was with the loving persistence of her children that she continued to run. Two days after her first 5KM, her son invited her to go jogging again. She was laughing when she said, "Niyaya ako ulit, sumama naman ako! Mapilit yung anak ko. Sumasama naman ako. Hanggang sa nasanay na ako, nagustohan ko na." After a couple of months, Nanay Rosalinda started running on her own, "natuwa na ako kahit mag-isa." She mentions that beginnings are normally the slow and hard parts. But once you get the hang of it, you realize how much joy running can give you.
When I asked her why she loves running, with a big smile she said, "Masaya ang running. Makaka meet ng bagong friends, lalo na sa running community. Masarap pakinggan yung mga cheer!" Now at 76 years old why does she still run? Her goal is now to motivate and inspire others to do the same. Nanay has been running three times a week, for 11 years, and she proudly shares that she never stopped or paused since she started, "hinahanap ko siya. Hindi masaya huminto, kasi parang back to scratch."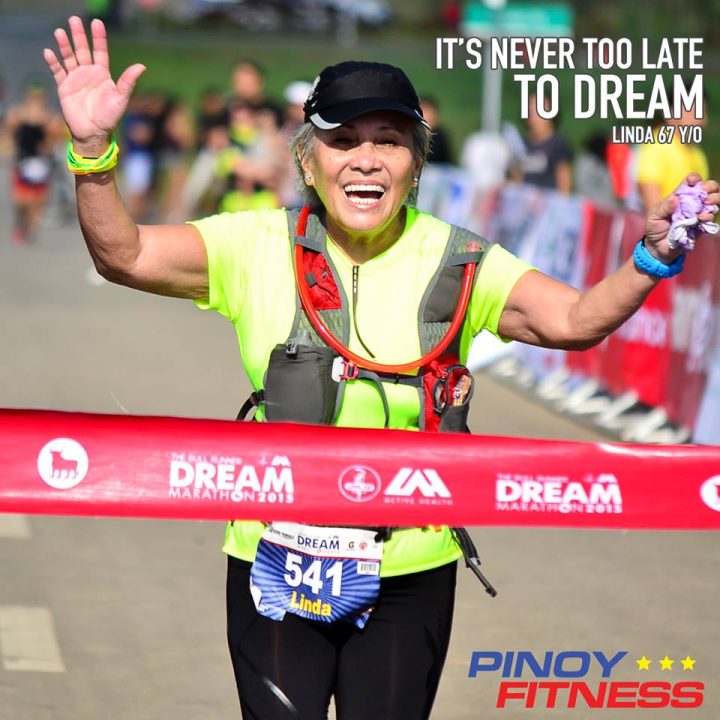 In those 11 years of running, she gradually increased her mileage. Realizing that she will be joining more races, Nanay got a coach to guide her. Coach Anna Hababag has been working with Nanay Rosalinda through her running milestones. Can she still count the marathons she has joined? "You will never forget your first!" Nanay Rosalinda's first marathon was The Bull Runner Dream Marathon in 2015. She remembers experiencing cramps halfway through it, "akala ko hindi ko matatapos." Since she knew that she was halfway done, "ilang KM na lang, sige ituloy na lang," she kept telling herself to just keep going. There were moments when she thought she would not finish, but she was proud of herself for enduring the cramps, she eventually crossed the finish line.
Nanay Rosalinda did not stop there. Soon after that, she joined her first ultramarathon. She forgets the name of the race, but she remembers that she ran from Tagaytay to Batangas. After that she joined every other ultramarathon, "I have ran from Tagaytay to Imus and Tagaytay to Maragondon." She happily recalls a 50KM run from Sampaloc, Manila to Antipolo, Rizal. Nanay Rosalinda has been inspiring the Philippine ultrarunning community for years.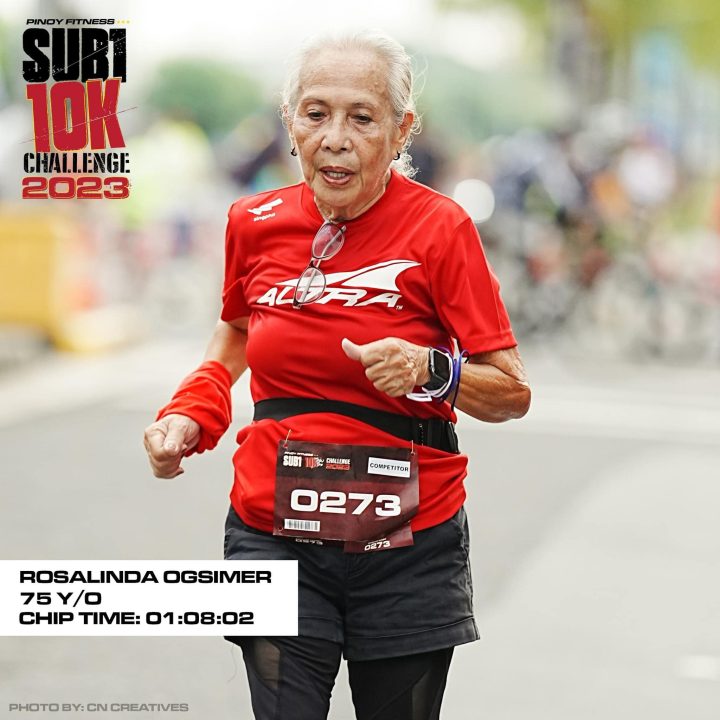 Along with her incredible endurance, comes Nanay Rosalinda's unbelievable speed. We all loved her appearance at the Pinoy Fitness SUB1 10KM challenge. When asked how she is able to run fast, she humbly shared "Depende sa kundisyon, kailangan may training." Running alongside with her coach made her faster and a bit more competitive. She jokingly shared "Nagtaka nga ako, kung kailan ako tumanda saka ako bumilis." She never thought she could run a 5:48 min/KM pace, but she was able to do it with consistency and training, "push yourself and you'll get there," she added.
This 2023, Nanay Rosalinda ran the Milo half marathon in March and the Cabanatuan to Dingalan 65KM run in April 30. She also left us in awe when she joined the Pinoy Fitness SUB1 10KM Challenge in May 14, and then bravely finished the Imus 55KM Ultramarathon in May 20. On June 11, Nanay joined the MNL Run Freedom Run finishing 16KM. Even the best have their unlucky days, that during the Tagaytay Sundown Marathon on June 24, Nanay unfortunately only finished half due to a stumbling accident. Thankfully, Nanay only has some minor scratches and bruises, but she was still advised to rest for at least one week. This second half of the year she is now preparing for a 50KM run on July 22, BOTAK's 50KM Ultramarathon on October 1, and the Bataan Death March run of 102KM on November 26. In all her activities, she is proudly being supported by Altra Running Shoes.
So how does a 76-year-old stay healthy to keep running? Nanay says that she has no special diet. She just eats what she likes, in moderation. Her usual pre-race meal is a peanut butter and banana sandwich, while her race nutrition is normally composed of water, soda, Gatorade, crackers, banana, or whatever is being given in aid stations. Her favorite post-race meal is carbonara and halo-halo. On non-running days, Nanay does strength and conditioning through body weight exercises. On most days, she trains on her treadmill, "no excuses, kahit hindi pwede lumabas ng bahay, dapat mag-exercise."
More than anything, it makes her happy and the challenges keep her busy.
What has Nanay Rosalinda learned in her years of running? More than anything, it makes her happy and the challenges keep her busy. She gladly adds that it, of course, makes her fit and healthy. "Happy happy at nakaka enjoy, kaya laging naka smile ako sa pictures!"
Did Nanay always think she would run this long? No. She never thought that she would even start. Nanay Rosalinda is most thankful for her son, "Salamat sa anak ako sa kakapilit. Di ko alam kaya ko pala. Kaya kailangan subukan muna bago ka umayaw. Kasi kung hindi, ano gagawin ko, pa higa higa lang at pa tayo tayo sa bahay?"
"Sa mga katulad ko, kailangan subukan mo muna bago ka umayaw. Unti unti lang, huwag mong biglain, observe. Kahit lakad lang, ilang minuto lang. Kapag makapag adjust ka na, hahanapin mo na yon."
So her advice to the youth is, "Find time to exercise. Matuto magdisiplina ng sarili. Running will teach you perseverance and focus." Her advice to people her age is, "Sa mga katulad ko, kailangan subukan mo muna bago ka umayaw. Unti unti lang, huwag mong biglain, observe. Kahit lakad lang, ilang minuto lang. Kapag makapag adjust ka na, hahanapin mo na yon." One of the motivations that Nanay has is if persons with disabilities join Paralympics, what is her excuse, age? "Ang PWD nakakatakbo nang may kulang, isang paa, ang bilis tumakbo, may obstacle pa nagawa niya… Ako edad lang ang laban ko. Nakakahiya sa may kapansanan."
With this, Nanay Rosalinda urges us to keep aiming for the finish line, "walang kapalit ang feeling in a finish line, masaya! Plus pa diyan ay yung lalapit yung mga tao, ilalagay yung medal, magpapapicture, the whole community cheering you, photographers, gaganahan ka talaga kapag may photographer, gagandahan ang ngiti, bibilisan pa ang takbo."
If you haven't tried running or exercising, now is your sign to try! In the loving words of Nanay Rosalinda, "maghanap ng oras para makapag-exercise.. sa umpisa lang naman mahirap." And her message to fellow runners is, "Don't stop! Tuloy tuloy lang. The running community is right here for you."
Get to know Nanay Rosalinda more and show some support through her YouTube channel: Nanay Rosalinda the Running Lola – Ultramarathonner and follow her on Facebook: Rosalina Ogsimer.