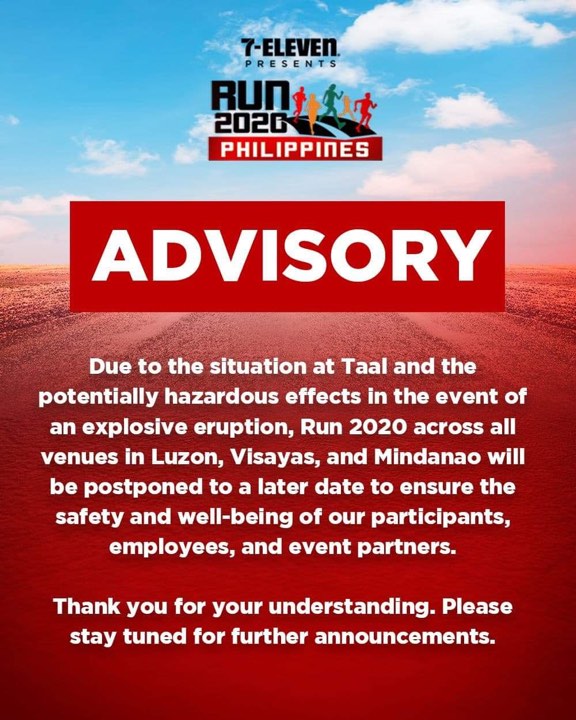 Ready, Set, RUN! Now on its 8th year, 7-Eleven Run 2020 promises to be an exciting event for both professional and recreational runners.
After the first successful simultaneous run in 2018, 7-Eleven held the second installment of the race in three locations across the country with over 30,000 runners participating. Each year, 7-Eleven Run winners are sent to compete in an international marathon in Asia, all expenses paid. Last year, runners were sent to the Laguna Phuket Marathon in Thailand where some of them placed at the top spots.
This Run 2020, more cash prizes are at stake and runners can expect new race categories such as 1K run, 21K relay, and 42K relay. Invite your family, friends, and loved ones and join in the fun on February 2, 2020!
7-Eleven Run Series
February 2, 2020 POSTPONED
Manila, Cebu, Davao
1K|3K|5K|10K|16K|21K|32K|42K
Organizer: 7-Eleven
Registration Fees:
42K – P1500
42K Relay – P2000
32K – P1200
21K – P1000
21K Relay – P1600
16K – P800
10K – P700
10K Buddy – P1200
5K – P600
5K Buddy – P1000
3K – P500
1K – P400
Registration Venues:
1. Manila Online – Click Here
2. Cebu Online – Click Here
3. Davao Online – Click Here
7-Eleven Run 2020 Promo: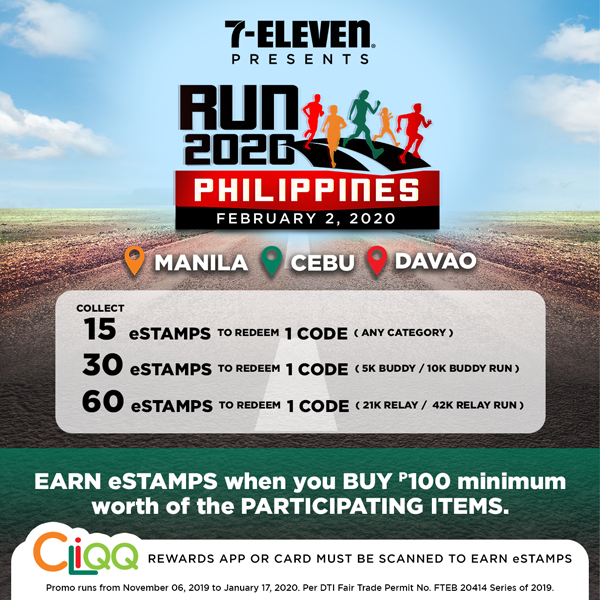 Promo Mechanics:
The promotion starts on November 13, 2019 12:00 AM and ends on January 14, 2020 11:59 PM (Philippine Time).
This promotion is open to all members of Philippine Seven Corporation's (7-Eleven Philippines) loyalty program, CLiQQ (formerly Every day! Rewards) Rewards card holders.
CliQQ Members must have a complete name, contact information, and address. Members can update their contact details through the CLiQQ reward website: www.cliqq.net
Promotion is open to all residents of the Philippines above 13 years of age except employees and family members of Philippine Seven Corporation Franchisees, Suppliers, and Agencies including their relatives up to the second degree of consanguinity or affinity. Foreigners must be residing in the Philippines for at least two years.
CLiQQ customers can join the promo when they purchase P100 worth of the participating items in a single transaction at any 7-Eleven store and have their CLiQQ Card or App Barcode scanned before payment.
Customers can earn instant eRaffle entries when they purchase the following booster items:
| | | |
| --- | --- | --- |
| Item Description | Quantity to Purchase  | E-stamp to be earned |
| Summit Natural Drinking Water 500ml. | 3 | 1 E-STAMP |
| Sip Purified Water PET 500ml | 3 | 1 E-STAMP |
| NaturesSpring Purified Drinking Water 500ml | 3 | 1 E-STAMP |
| Le Minerale Mountain Mineral Water PET 600ml | 3 | 1 E-STAMP |
| Absolute P.Distilled Water 500ml | 3 | 2 E-STAMPS |
| Natures Spring Distilled Drinking Water 500ml | 3 | 2 E-STAMPS |
| Wilkins Distilled Water 500ml | 3 | 2 E-STAMPS |
| Kopiko 78 Cafe Latte Pet Bottle 240ml | 3 | 2 E-STAMPS |
| Kopiko Iced RTD Brown Coffee Bottle 240ml | 3 | 2 E-STAMPS |
| Kopiko Iced RTD Blanca Bottle 240ml | 3 | 2 E-STAMPS |
| Kopiko Iced RTD Black Coffee Bottle 240ml | 3 | 2 E-STAMPS |
| Summit Natural Drinking Water 1Liter | 2 | 2 E-STAMPS |
| Natures Spring Purified Drinking Water 1L | 2 | 2 E-STAMPS |
| Sel 70361 Cornetto Cone Vanilla 105ml | 2 | 2 E-STAMPS |
| Selecta Cornetto Rocky Road 110ml | 2 | 2 E-STAMPS |
| Cornetto Pooh Ube Keso 110ml | 2 | 2 E-STAMPS |
| C2 Green Tea Apple Sugarfree 355ml | 2 | 2 E-STAMPS |
| Aquafina Purified Water PET 1L | 2 | 2 E-STAMPS |
| Gulp 16oz Pepsi Blue/Gatorade/Lipton/MtDew | 2 | 2 E-STAMPS |
| Wilkins Pure Purified Water 1L | 2 | 2 E-STAMPS |
| Natures Spring Distilled Drinking Water 1L | 2 | 2 E-STAMPS |
| Absolute Distilled Water 1 ltr. | 2 | 2 E-STAMPS |
| Cornetto Disc Nutty Chocolate 115ml | 2 | 2 E-STAMPS |
| Cornetto Disc White Choco n Cookies n Cream 115ml | 2 | 2 E-STAMPS |
| Cornetto Disc Matcha Cookie 115ml | 2 | 2 E-STAMPS |
| B lue Inspiring Calamansi PET 500ml | 2 | 2 E-STAMPS |
| B lue Peppy Lychee PET 500ml | 2 | 2 E-STAMPS |
| Gulp 22oz Pepsi Blue/Gatorade/Lipton/MtDew | 2 | 2 E-STAMPS |
| Bear Brand Sterilized Tetra 200ml | 2 | 2 E-STAMPS |
| Nutri Boost Orange 330ml | 2 | 2 E-STAMPS |
| Nutri Boost Strawberry 330ml | 2 | 2 E-STAMPS |
| Del Monte Fit N Right Apple 330ml Pet | 2 | 2 E-STAMPS |
| Del Monte Fit N Right Pineapple 330ml Pet | 2 | 2 E-STAMPS |
| Del Monte Fit n Right Four Seasons 330ml Pet | 2 | 2 E-STAMPS |
| Del Monte Fit n Right Orange 330ml | 2 | 2 E-STAMPS |
| C2 Green Tea Plain 500ml | 2 | 2 E-STAMPS |
| Coca Cola 500ml NR PET | 2 | 2 E-STAMPS |
| Pepsi Regular 600ml PET | 2 | 2 E-STAMPS |
| Blue ProEnergyElectrolytes PinkGrapefruit PET500ml | 2 | 2 E-STAMPS |
| Blue ProEnergyElectrolytesPeachOrange PET500ml | 2 | 2 E-STAMPS |
| Mogu-Mogu Lychee Juice with Nata de Coco 320ml | 2 | 2 E-STAMPS |
| Mogu-Mogu Strawberry Juice w/ Nata de coco 320ml | 2 | 2 E-STAMPS |
| San Miguel Zero 330ml | 2 | 2 E-STAMPS |
| San Mig Light Bottle 330ml | 2 | 2 E-STAMPS |
| Summit Natural Drinking Water 2L | 2 | 2 E-STAMPS |
| Gatorade Orange Chill 500ml Pet | 2 | 2 E-STAMPS |
| Gatorade Grape 500ml Pet | 2 | 2 E-STAMPS |
| Gatorade Ion Citrus Quench PET 500ml | 2 | 2 E-STAMPS |
| Pocari Sweat 500ml | 2 | 2 E-STAMPS |
| Absolute Pure Distilled Water 2L | 2 | 3 E-STAMPS |
| Safeguard Pure White Body Wash 100ml | 2 | 3 E-STAMPS |
| San Miguel Super Dry Bottle 330ml | 2 | 3 E-STAMPS |
| Safeguard White Bar 180g | 2 | 3 E-STAMPS |
| Coke 2000ml | 2 | 3 E-STAMPS |
| Pepsi Regular Multi-Serve | 2 | 3 E-STAMPS |
| Del Monte Fit n Right Pineapple 1L | 2 | 3 E-STAMPS |
| Del Monte Fit n Right Four Seasons 1L | 2 | 3 E-STAMPS |
| Fresh Pick Orange | 1 | 3 E-STAMPS |
| Fresh Pick Apple | 1 | 3 E-STAMPS |
| Pocari Sweat 2L | 1 | 3 E-STAMPS |
Customer may redeem RUN 2020 registration code after they meet the required number of e-stamps
| | |
| --- | --- |
| E-stamp requirement | Redeem |
| 15 | RUN 2020 Registration code for the category of your choice |
| 30 | RUN 2020 Registration code for 5K and 10K Buddy Run Category |
| 60 | RUN 2020 Registration code for 21K and 42K Relay Run Category |
(1) one e-stamp is equivalent to (1) one eRaffle entry. Lucky 5,000 winners can also win products from our major sponsors
Customer who have completed the e-stamp requirement should transact the redemption on the CLiQQ App rewards catalog.
Customer will instantly receive the one-time use 7-connect reference number through SMS or App push notification. The SMS will show the message "Redeem your RUN 2020 registration code at any 7-eleven stores on or before January 20, 2020. Show this message at the counter: 7-Connect: 1234-5678-9012". The 7-connect reference number will be used for the registration of the race category they redeemed. Customer should not let the cashier transact the 7-connect reference code as it will be invalid.
 Customer will input the 7-connect reference number as the registration code in the RUN 2020 website: run711.com Fill up the details as needed and preferred/nominated store for claiming of race kit.
Per DTI-FTEB Permit No. 20414 Series of 2019
For More Information:
Visit – https://www.run711.com/