Watch out for the 1st Asian Obstacle Course Racing (OCR) Championships happening on January 27, 2018 in Aseana City. This event is organized by the Pilipinas Obstacle Sports Federation, officially sanctioned by the International Obstacle Sports Federation and Obstacle Sports Federation Asia and Supported by Obstacle Sports Factory.
1st Asian OCR Championships
January 27, 2018
Aseana City
5KM RUN + 20+ Championship Obstacles
Organizer: POSF
Registration Fees:
ELITE – P3500 or $70
Age Group – P2500 or $50
– Inclusive of a Singlet, Finisher Shirt and Finisher Medal
Registration Venue:
1. Online – Click Here
Asian OCR Country Jersey: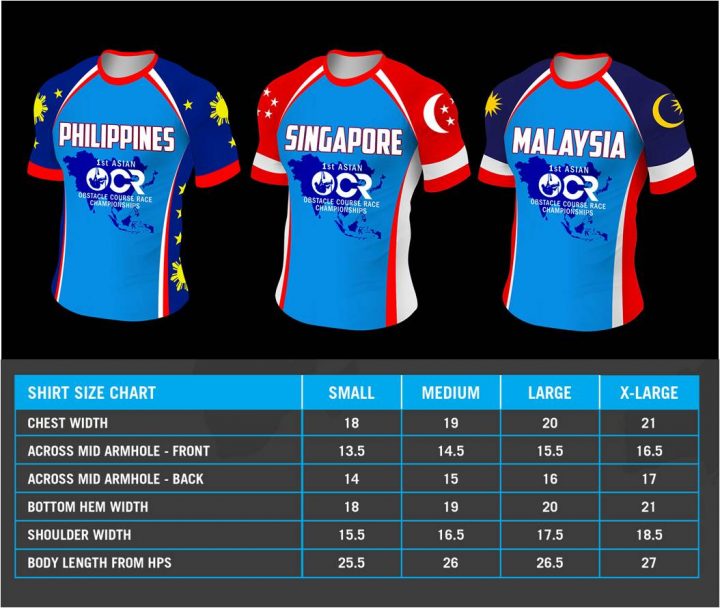 Check out some of the country jerseys for the 1st Asian OCR Championships happening on January 27 at Aseana City. Register on or before December 31 and represent in your country colors for the opening and awarding ceremonies.
Asian OCR Finisher Shirt: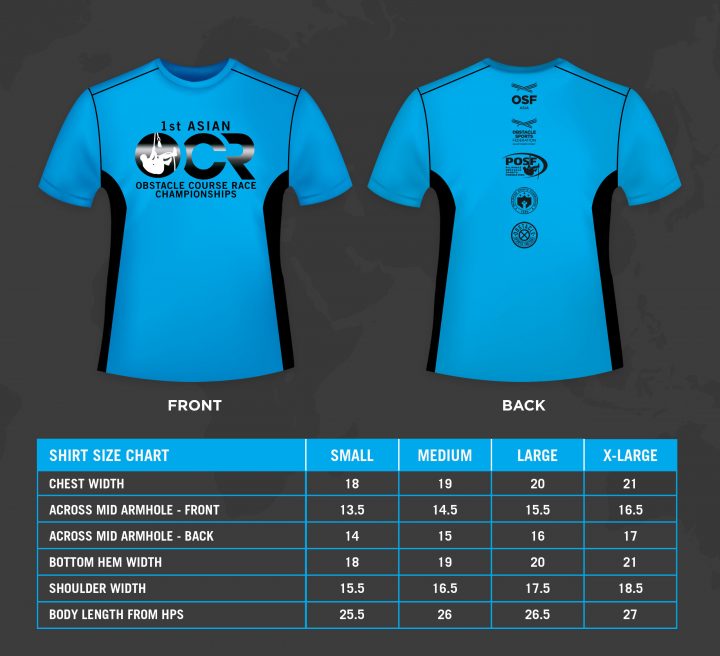 Asian OCR Medal:

Obstacle List and Map: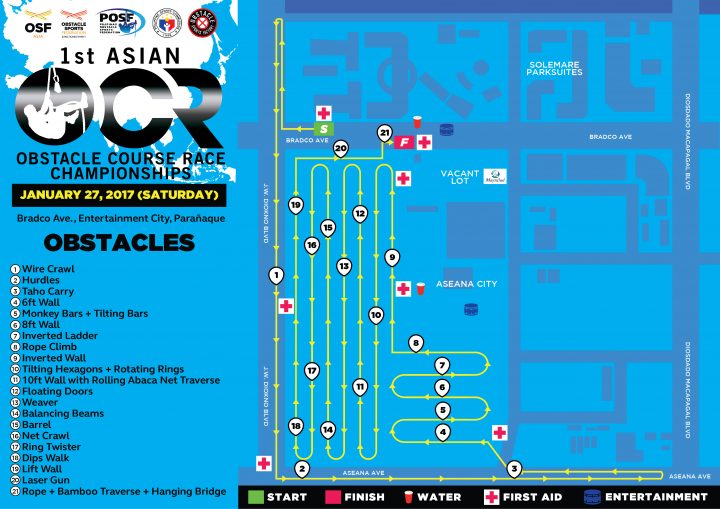 Frequently Asked Questions:
FAQS
ELITE
AGE-GROUP
MIXED PAIRS
Who can join?
Top 25 overall finishers in races approved by the OSF Asia held within 12 months of the date of competition.
16-20; 20-24; 25-29; 30-34; 35-39; 40-44; 45-49; 50-54; 55-59; 60 above

May be a beginner or first-time OCRacer

Any Male and Female tandem registered in the Elite or Age-Group category
How much is the registration fee?
USD 70 or Php 3,500
USD 50 or Php 2,500
USD 30 or

Php 1,500 per pair

What are the inclusions?
Country Jersey for Filipinos while supply lasts or Singlet (for foreigners if registered on January 1 onwards); Timing Chip, 3 color-coded Wristbands, one pair of rub-on Race Numbers, Finisher Medal and Finisher Shirt
A chance to race with a partner.
Are the obstacles difficult? How many attempts?
The obstacles shall be of varying levels (i.e., easy, moderate and difficult); be the same set of obstacles for the 3 categories; and can only be attempted once
What if I cannot complete an obstacle?
Each OCRacer shall start with three wristbands.

If a racer fails an obstacle, a wristband shall be removed from the wrist, and must complete a penalty.

The penalty shall be in the form of walking lunges (i.e., 1 knee to ground) with sandbags (i.e., 40 lbs. for male and 20 lbs. for female) held in front of one's chest (not on shoulders) along a 20- meter lane/route beside the obstacle.

If the racer fails three or more obstacles, he/she will not qualify for the Top Three Finisher Awards but may continue to finish the race to claim the Finisher Medal.

No wristbands.

Both OCRacers must complete all obstacles and may assist each other.

Failure to complete an obstacle by both or any member must complete a penalty – lunges with sandbag

How is the winner determined?
Shortest Time for Top 3 Male and Female OCRacers.  An OCRacer shall be ranked with a finish time, but cannot be ranked over an OCRacer who completes the course and has not failed three or more obstacles.
Top 3 pairs. Time based on the last member who crosses the finish line.
Who is entitled to the Finisher Medal
All racers who finish the race regardless if they have any wristband left.
What are the prizes?
Medals/ Trophies

Cash Prizes

1st: USD 1,000; 2nd: : US D750

3rd : USD 500

Medals/ Trophies
Medals/ Trophies
For explanation and race details, visit posf.ph
For More Information:
Visit: www.posf.ph
Email: [email protected]