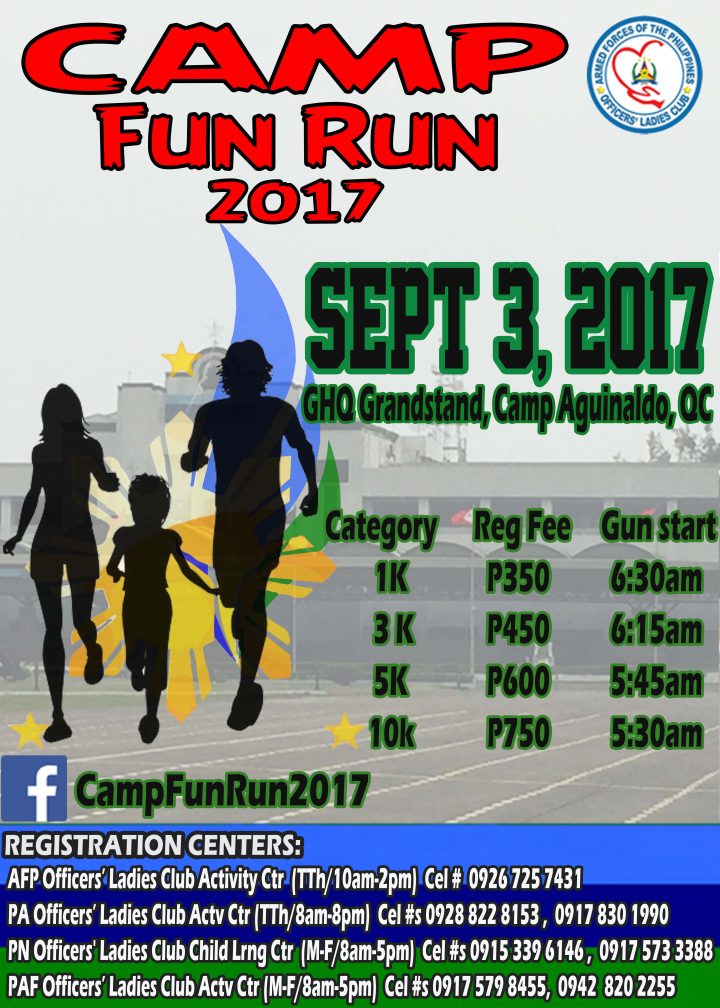 CAMP FUN RUN 2017 is an event organized by the Officers' Ladies Club of the Armed Forces of the Philippines. The event will be held on September 3, 2017 at the GHQ Grandstand, Camp General Emilio Aguinaldo, Quezon City.
Camp Fun Run
July 9, 2017 September 3, 2017
Camp Aguilando
1K|3K|5K|10K
Organizer: Officers' Ladies Club, AFP
Registration Fees:
1K – P350
3K – P450
5K – P600
10K – P750
– Registration fee is INCLUSIVE of singlet, race bib, snacks and raffle.
Registration Venues:
1. AFP Officers' Ladies Club Activity Center (TTH 10am-2pm) – 0926-725-7431
2. PA Officers' Ladies Club Acitivity Center (TTH 8am-8pm) – 0928-822-8153 | 0917-830-1990
3. PN Officers' Ladies Club Child Learning Center (M-F 8am-5pm) – 0915-339-6164 | 0917-573-3388
4. PAF Officers'Ladies Club Activity Center (M-F 8am-5pm) – 0917-579-8455 | 0942-920-2255
For More Information:
Anna Parreño – 09165777968
[email protected]
https://www.facebook.com/pg/CampFunRun2017