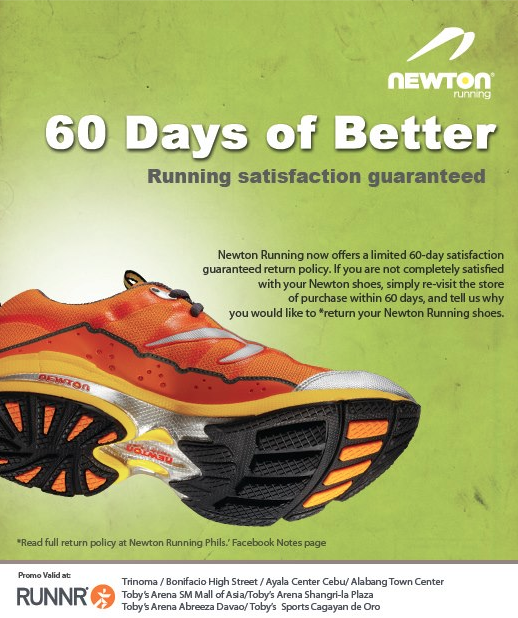 LOVE RUNNING WITH NEWTON. RUNNR and Toby's Sports' promo lets runners try out a pair of Newton Running to know if the shoes fit their running style.
Retailer offers customers a chance to run better with Newton
Dedicated runners invest a lot to have the right pair of shoes. More than just picking out the best-looking pair, this means finding a pair that's right for their feet, their running style, and what type of running they will be doing.
More often than not, it is a trial and error process for the really passionate runners. According to Toby Claudio, president of Toby's Sports and founder of the specialty store RUNNR, "These individuals put meticulous attention to how comfortable a pair fits and how much it enhances their performance. That's why it will be a benefit to them to try out a pair first so they will experience if a shoe can actually turn them into a better runner."
For someone in the athletic retail business, it certainly helps to carry a brand like Newton, the leading Natural Running footwear brand. Newton is committed to delivering superior performance and promoting optimal running form, and is now willing to back it up by offering a generous return/exchange policy that covers 60 days from purchase.
Newton's "60 Days of Better" is literally a trial run offered to those who purchase a pair at Toby's Sports or RUNNR from September 15 to October 31, 2012. Customers can take home a pair of Newton shoes for 60 days, and if they are still unsatisfied, they can bring them back for exchange.
This offer shows Newton's stand in meeting the needs of a demanding athletic clientele. The brand believes that runners must have a partnership with their shoes, which is rarely built in a day, and every step must be taken to make it last.
"This campaign is a huge come on for the market to try on a pair and experience the benefits of having Newton Running shoes," said Claudio. "We are proud to carry a brand that enhances our own commitment to customer satisfaction."
Newton Running points out that, unlike other running shoes on the market, all Newton pairs are built on a more level platform, mirroring the geometry of one's foot. The brand also uses a patented Action/Reaction Technology™ that provides up to 60 percent more cushioning and 40 percent more energy return than leading brands. Simply put, it helps runners achieve a faster and more efficient midfoot/forefoot running form with less injury.
Such product investments are meant only for those who put in just as much into the sport. Newton Running shoes are available exclusively at selected Toby's Sports and RUNNR outlets.
For more information on Newton's 60 Days of Better promo, connect with Newton Running Philippines on Facebook thru www.facebook.com/newtonrunningphils or inquire at 651-7777.
For Instant Updates – Follow US!
https://www.facebook.com/pinoyfitness
https://www.twitter.com/pinoyfitness
Like this Post!? Share it to your friends!