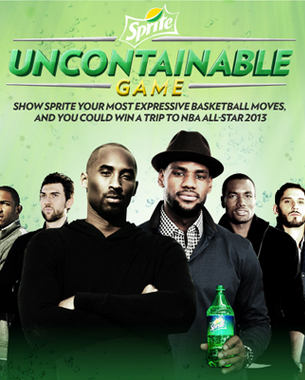 Are You Uncontainable? Join the Search for the Best Undiscovered Pinoy Baller!
By @jsncruz
The year so far has been packed with memorable sporting events. From the Condura Skyway Marathon early this year (where runners of all distances experienced running on the Skyway for the first time!), to the National Milo Marathon, and even to the recent Cobra 70.3 in Cebu, we have been treated to large and well-organized sporting events in the Philippines. With the onset of the rainy season, Sprite invites you to turn your eyes towards and have a look from August 17 to 19, 2012 at our de facto favorite sport: basketball.
Sprite Uncontainable Game Philippines
August 17-19, 2012
Mall of Asia Music Hall
The Sprite Uncontainable Game Philippines is, in not so many words, a matchless sporting event. The Manila leg, beginning this August 17, pits the best undiscovered Pinoy ballers against each other – all for a chance to compete for a spot in the Uncontainable Game worldwide challenge. What's the ultimate prize, you ask?
How about a chance to play with the biggest names in NBA basketball at next year's 2013 All-Star Game?
That's right. The top Uncontainable Game players from all around the world will stand to have an opportunity to play for Kobe Bryant's Team Intense (fast, surgical play) or Lebron James' Team Sudden (powerful, dominant style). This is a great chance for one of our undiscovered Pinoy ballers to quite literally, rise and shine!
The Sprite Uncontainable Game Philippines in Manila is happening this August 17 and will run all the way to August 19, 2012. It will be at the Mall of Asia Music Hall. Pinoy ballers wishing to participate only need to check the Uncontainable Game mechanics on the Sprite Facebook app (see links below), and show up at the venue. Let's show the world just what our passion for basketball is all about!
Like the Sprite Facebook page here: Click this link
Check out the Uncontainable Game mechanics here: Click this link
For Instant Updates – Follow US!
https://www.facebook.com/pinoyfitness
https://www.twitter.com/pinoyfitness
Like this Post!? Share it to your friends!