[ad#square-middle]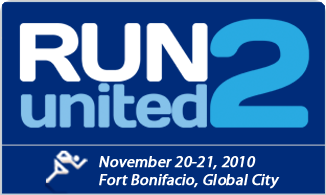 Congratulations to all those who participated in the Unilab Run United 2 held on November 20-21, 2010. Race Results and Photo Links are now available here for download.

Download Race Results Here:
[download id="345″]
[download id="346″]
[download id="347″]
[download id="348″]
[download id="349″]
[download id="350″]
[download id="351″]

The race was organized by RunRio. For any concerns regarding the race results, please email [email protected].
Photo Links:
Run United 2 Photos by Greentennial Run
Run United 2 Photos – Greentennial FB Page
Run United 2 – RunPix:
https://www.runpix.info/wrace/00/phl10/ge.php?e=phl10
Run United 2 Photo Vendo:
Photovendo- Run United 2 – Day 1
Photovendo – Run United 2 – Day 2
For now please feel free to post your comments and feedback about this event here.
To know more about upcoming events. Visit the Pinoy Fitness List of Events Page.