[ad#square-middle]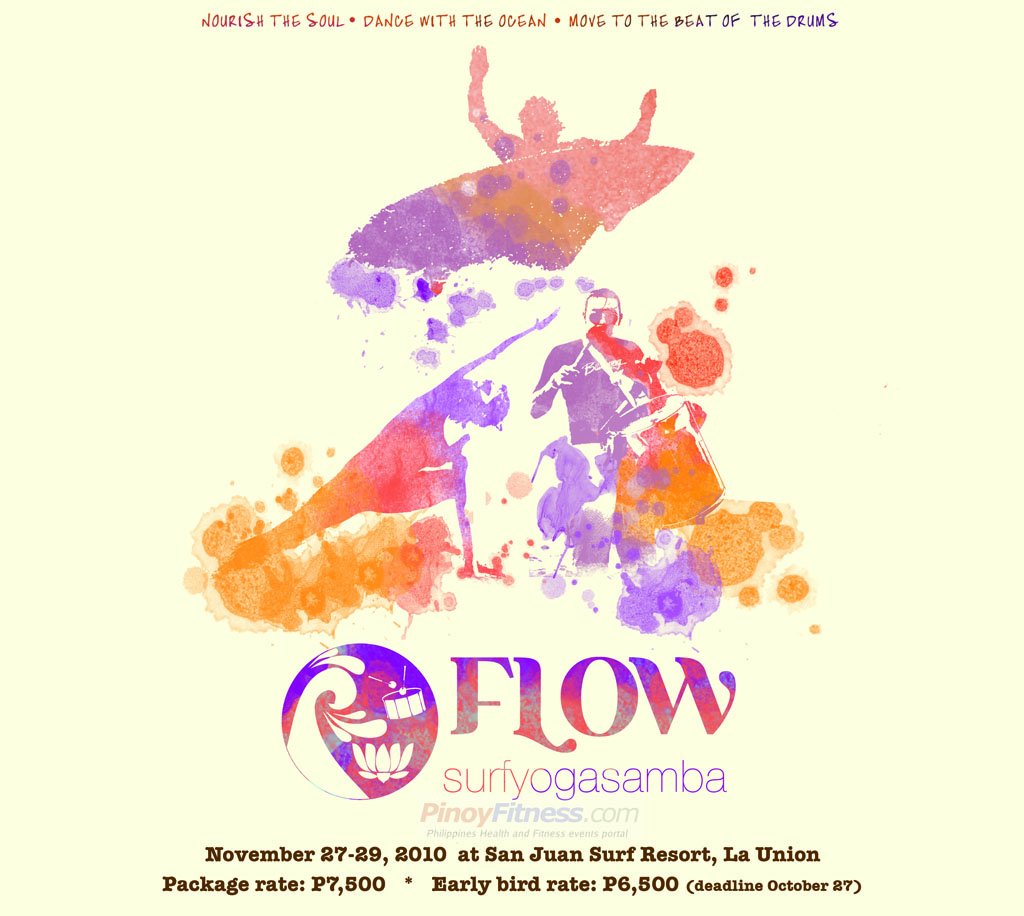 Get the chance to learn Vinyasa yoga, commune with nature, ride quality waves, dance to the beat of the drums and nourish yourself with wholesome food. Take a breather from your everyday lives and create a space where you can feel the benefits of living a healthy lifestyle.
The 3rd Flow: SurfYogaSamba Weekend
November 27-29, 2010
San Juan Surf Resort, San Juan, La Union
Package rate is PHP 7,500 which includes 2 Vinyasa Yoga sessions, 2 Surfing lessons, 2 Brazilian batuccada samba drumming lead, roundtrip private transfers from Manila-La Union-Manila, 3D/2N aircon accomodation at San Juan Surf Resort, Healthy meals and snacks, Flow Shirt and a Tote Bag with freebies.
The FLOW SurfYogaSamba Weekend Retreat aims to unify the body mind and soul. They offer each guest an experience of a lifetime. Practicing yoga will develop focus, strength and flexibility. Surfing will develop your confidence, stamina and ocean awareness. Dancing and creating music enhances sense of well-being and build social skills. The whole retreat is complemented with healthy food to help nourish this unique journey to self-discovery.
Vinyasa yoga lessons will be led by Monica Eleazar Manzano, a certified Vinyasa yoga instructor through Greenpath Boracay Yoga. She is also a Post-Natal certified yoga instructor with the Yoga Teachers Association of Australia (YTTA). Award-winning pro surfer, Luke Landrigan of the Billabong San Juan Surf School will teach the basics of surfing. Luke has also earned a Surfing Australia Level 1 Certification for surf instruction, a world-class qualification that permits him to teach anywhere in the world. Samba drumming lessons will be led by Toni Bernardo, a full time percussionist and Diretora da Bateria of the Escola de Samba de Manila. Toni has studied and performed the musics of Asia, Africa, the Middle East, and the Americas and has given numerous performances and workshops.
To mark their first year anniversary on November, FLOW SurfYogaSamba will be having additional activities for all participants such as, Poi workshops by Planets Zips, beach cleanup, introduction to raw food and thai lantern lighting.
For more information:
Email: [email protected]
Call: 0915-294-3441 (Monica)
Visit their website at https://flowsurfyogasamba.multiply.com or https://www.facebook.com/flowsurfyogasamba.