[ad#square-middle]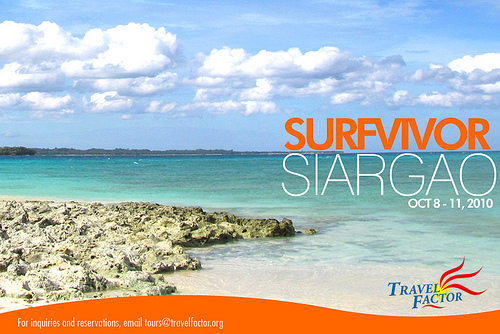 As the Philippine Surfing Season approaches, it's time to unbag your surfboard and get ready to fit in your board shorts and consider to join Travel Factor as they organize a Siargao Trip this coming October 8-11, 2010.
SURFVIVOR Siargao
Oct 8 -11, 2010
Siargao, Surigao de Norte
PACKAGE RATE
P6,500 to P7,500 per person depending on total number of participants
PACKAGE INCLUSIONS
Transportation:
* Roundtrip private van transfers from Siargao airport to resort
* 1 day Island hopping (Guyam, Daku, Naked Island)
* 1 whole day board rental
* Limited Edition: TF Siargao
* Travel Factor ID and lanyard
* Travel Insurance
Accommodation:
* 4D/3N accommodation (beachfront) – triple to quad sharing
* Resort Amenities: volleyball, massage, pool table, videoke
Meals:
Day 2 – breakfast, lunch during tours
Day 3 – breakfast
Day 4 – breakfast
Not Included:
* roundtrip airfare
* terminal fees (P200 in NAIA 3)
* terminal fees (P200 in Mactan Airport)
* other meals outside the package
* transportation during free time
DRAFT ITINERARY
* Interchangeable depending on wave condition
Oct 8 – Travel time to Siargao. Check-in and free time.
Oct 9 – Three Island hopping (Guyam, Daku, Naked) – beach bum and snorkel
Oct 10 – Surfing/beach bumming day!
Oct 11 – Batch 1 flight Siargao to Manila. Stop over in Cebu for lunch
– Batch 2 extended stay (subject to extra fee)
Oct 12 – Batch 2 travel to Surigao. Flight Surigao to Manila. Stop over in Cebu for lunch.
Book Your Own Flight
www.cebupacificair.com
1. Manila (MNL) to Siargao (IAO)
08 Oct 2010
5J 561 depart MNL 06:35H 1 stop(s) CEB 10:40H arrive IAO11:30H
2a. for 4 days and 3 nights stay
Siargao (IAO) to Manila (MNL)
11 Oct 2010
5J 878 depart IAO 11:50H 1 stop(s) CEB 12:40H arrive MNL 19:45H
2b. for 5 days & 4 nights stays
Surigao (SUG) to Manila (MNL)
12 Oct 2010
5J 876 depart SUG 11:45H 1 stop(s) CEB 12:30H arrive MNL 19:45H
BOOKING AND RESERVATION GUIDELINES
* No regform, No reservation. To reserve, please fill-out registration form then send to [email protected] Subject: SURFVIVOR Siargao (Jun 11-14, 2010)
* Then you will receive thru email account details where to deposit payment (BPI). For group reservations, please send your registration forms in one file & email.
* Everyone is required to download and submit registration form. Copy of e-ticket is required to confirm your slot.
* Please register only if you are 100% sure you are joining. And if after registering you need to back-out, please have the courtesy to notify us properly thru email.
* Full payment must be settled within the agreed timeframe. Should you need extension, please coordinate with Travel Factor
* Non-refundable but transferable to other person. Travel Factor must be notified asap or at least 5 days before the trip. In this case, the "proxy" must fill-out and submit registration form.
* The payments made to us are only refundable if we cancel due to weather issues or fortuitous events.
* Upon payment, you will receive a copy of complete guidelines, including things to bring, itinerary, reminders, etc…
FOR INQUIRIES/COMMENTS/SUGGESTIONS
email your concerns to [email protected] with your name and contact number
Subject: SURFVIVOR Siargao (Oct 8-11, 2010)
or contact TEAM TF , +632-7465119, +63917-8475341
DOWNLOAD REGISTRATION FORM
https://travelfactor.org/TF2010-REGFORM.xls
CHECK AVAILABLE SLOTS at https://www.travelfactor.org
DISCLAIMER
Recommended for fun-loving & adventurous people who would like to meet new friends while travelling. Be prepared of the long travel time and the 'wiwi' moments on public restrooms.