[ad#square-middle]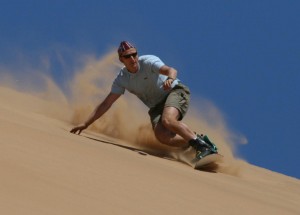 Eager to try a new Adventure? Experience the latest and hottest craze happening in Paoay, Ilocos… Sand Boarding! Join this weekend fun and adventure trip as the Ultimate Vich (Vee&Chal) crew takes a slide down the sand dunes of Ilocos on July 16-18, 2010.
All aboard Sand Boarding in Paoay, Ilocos!
Here are the details on how to join this fun filled adventure:
We leave Manila after work at 9:00PM on July 16 and hit it up straight to Poaoy. Then here's what's in store:
*P3,500/pax
*Maximum of 10pax only. Any succeeding pax count will need to form another group of 10…
Inclusions:
Cape Bojeador light house,
Kapurpurawan Rock Formation
Bangui Wind Mills
Pagudpud
SAND BOARDING in PAOAY!
Bonfire and Pinoy awesome grilled dinner
Transportation (via Private Van) Included
Cool photos of YOU (to be sent after 2 weeks)
Get on this NorthScape! Email us at [email protected] and give your email address, name, and cell number and will send you further details. Option date is on July 10, 2010.
Or visit their official blog at https://www.ultimatevich.blogspot.com/