I was craving for a Krispy Kreme Original Glaze Donut this morning and just stopped and wondered how much calories it has. Did a little research and this is what I found out…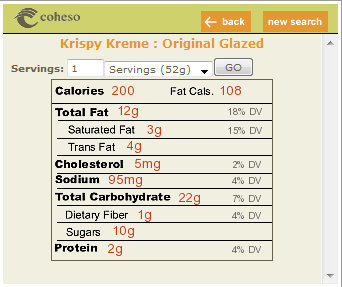 For a Kirspy Kreme Original Glaze Donut it's 200 Calories and 108 comes from FAT!. What did i do? I ate it anyway… hey, it's my cheat day!
But if you ever wondered how much calorie a food you are about to eat has, try out the Calorie Calculator below and check it out. To eat or not to eat is still up to you.