[ad#square-middle]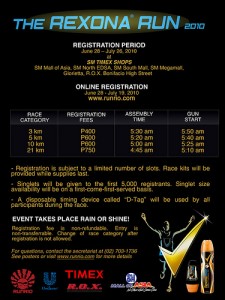 Coach Rio is once again raising the bar by introducing fresh new innovations and approach in organizing a running marathon event starting with this years' Rexona Run 2010.
Here are the Innovations to Look forward to:

1. The use of the D-TAG
The D-TAG is a brand new disposable RFID that was used in the New York Marathon last year, it's designed to be lighter, easier to use and more accurate than most timing chips.
Here's a video on how to use and attached the D-TAG properly.
2. iPad powered Registration
Talk about being eco-friendly, all upcoming race registration will be powered by an iPad eliminating the need for paper printouts. Having everything electronic backend system will also enable people who join Run Rio races to track their past achievements and personal time records.
3. Runrio Membership Card
They are also introducing the Runrio membership card which will entitle card holders to discounts at retail stores and to earn points.
4. Portable and Convenient Water Bottle
No more scattered plastic cups on the race route, SM Bonus will launch its new water bottle at Rexon Run water stations, can be poked, drink and carried by the runner during the race litter free.
So be sure to sign up for this event and let's all see how this new innovation can change the Pinoy running fever.
For race and registration details for Rexona Run 2010 Click here:
https://www.pinoyfitness.com/2010/06/the-rexona-run-august-1-2010/