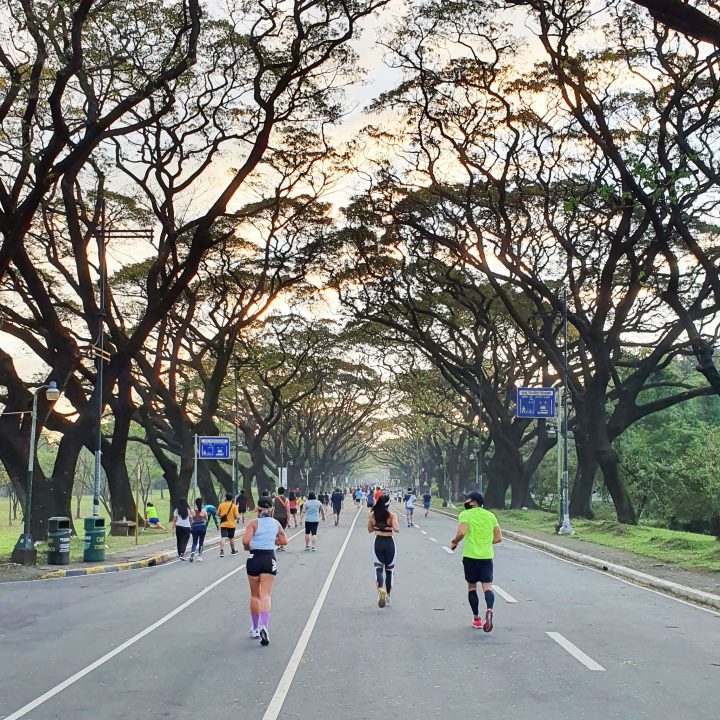 There's nothing quite like lacing up your running shoes and hitting the pavement. Whether you're an early bird who loves the peace of morning runs or a night owl who prefers running under the city lights, finding the right spot to run is crucial to maintaining your fitness routine.
In Metro Manila, you're spoilt for choice with a variety of locations catering to runners of all levels. From parks filled with lush greenery to paths set against the vibrant cityscape, Metro Manila has something to offer for everyone. In this article post, we'll explore nine fantastic places to run in Metro Manila.
University of the Philippines Diliman Academic Oval – Located in the heart of Quezon City at the University of the Philippines, Diliman, this running spot is a 2.2-kilometer loop enveloped by lush trees that provide a cool shade, making it an ideal running destination.
Bonifacio Global City – Situated in Taguig, Bonifacio Global City offers clean, well-maintained paths and sidewalks for running.
Ayala Triangle Gardens – This is a small yet scenic spot nestled in the midst of Paseo De Roxas St. Cor Makati Ave Cor Ayala Ave, Makati. Despite its size, it's perfect for those who prefer a short yet refreshing run.
SM Mall of Asia By the Bay – Found in Seaside Blvd, Pasay, this location offers a beautiful view of Manila Bay as you run. The stretch is about 2 kilometers, but can be extended to the nearby CCP Complex for a longer route.
Ninoy Aquino Parks and Wildlife Center – Situated on Elliptical Road, Diliman, Quezon City, this park offers ample space and a peaceful, green surrounding that makes it a perfect escape for nature-loving runners.
Marikina River Park – Located in Marikina Riverbanks Center, Marikina, this park provides well-maintained jogging paths along the scenic riverbanks, a great place for a peaceful run.
Rizal Park – Positioned in Roxas Blvd Ermita, Rizal Park, also known as Luneta, is a historical urban park with wide, open spaces suitable for running.
Quezon Memorial Circle – Located in the heart of Quezon City along Elliptical Road, Diliman, this place offers a dedicated jogging path for runners amidst peaceful and green surroundings.
Philippine Army Grandstand & Park – Situated in Fort Bonifacio, Taguig City, Metro Manila, this park is a popular spot for long-distance runners due to the park's loop providing a good distance for training.
Additional Locations:
Filinvest City, Alabang – Nestled in Muntinlupa, Filinvest City is not just a hub for business and leisure but also a haven for runners. The well-paved streets, combined with tree-lined avenues and pocket parks, make it a refreshing location for both casual jogs and more intense running sessions. On weekends, you'll find numerous fitness enthusiasts making the most of this urban oasis.
Neopolitan Cycling Ground – Located just behind SM Fairview, the Neopolitan Cycling Ground offers a great escape for both runners and cyclists alike. This hidden gem in Quezon City boasts a smooth path, ideal for those looking to clock in a few uninterrupted kilometers. Surrounded by trees and away from the hustle of the main roads, it provides a quieter and more serene environment, making it perfect for early morning runs or sunset jogs.
Ayala Circuit, Makati – Situated in the central business district of Makati, Ayala Circuit offers an urban running experience like no other. Once a renowned racetrack, this bustling hub has transformed into a dynamic area combining business, leisure, and entertainment. Its wide pedestrian lanes, modern ambiance, and the city skyline backdrop make it an attractive spot for those craving a metropolitan run. Whether you're aiming for a brisk morning jog or a moonlit run, Ayala Circuit pulses with the energy of Makati.
Arca South, Taguig – Dubbed as the "next BGC", Arca South is a meticulously planned city in Taguig. It combines green spaces and urban landscapes, making it an ideal running spot for those who want a touch of nature in the city. Wide pedestrian pathways, lined with trees and flanked by modern infrastructure, offer a fresh and expansive environment for morning jogs or evening runs.
Bridgetowne, Quezon City – Spanning the boundaries of Quezon City and Pasig, Bridgetowne is a rising mixed-use development that's swiftly gaining a reputation as a runner-friendly locale. With its well-paved streets, pocket parks, and the iconic Bridgetowne bridge that offers a panoramic view of the metropolis, it's a location that beckons both seasoned and novice runners to explore.
Metro Manila provides a range of running spots that cater to everyone, from novices taking their first steps on their fitness journey to seasoned runners logging in serious miles.
The city offers a unique blend of settings, from the peaceful tree-lined paths of the University of the Philippines Diliman Academic Oval to the scenic bay views at SM Mall of Asia By the Bay, and the bustling city vibe of Bonifacio Global City. So, strap on your running shoes and explore these locations to add variety to your running routine and experience Metro Manila from a refreshing perspective. Remember to stay safe, hydrated, and enjoy every stride. Happy running!