There are different types of runners out there; we have those who run for leisure, those who run to stay healthy, those who run to join competitions, then there are those who run to push themselves to their limits.
Your motivation for running will be different from everyone else. However, in general, one of the milestone moments for any runner is joining a race. May it be a fun run with your family or a competitive race with other high level runners.
Running alone or casually with a group of friends is already fulfilling enough in and of itself, but there's a different feeling once you're in that starting line against other athletes. The adrenaline you experience in the beginning and the fulfillment in the end is unlike any other.
And of course, not only is there fulfillment in finishing the race strong, but there's also fulfillment in knowing that all your hard work in training is finally going to pay off. Whether that be running your first marathon or your first SUB1 10K.
Speaking of running a SUB1 10K, Pinoy Fitness will be having the PF SUB1 10K Challenge on March 26, 2023! This is considered the "Holy Grail" of most runners, so if you're ready to take your running to another level you can check out the challenge here: https://pinoy.fit/sub12023
But back to the main point, joining a physical race is a great experience for all levels of runners.
But what if you can't join a physical race? Maybe you're from the province and there isn't one nearby or you just really prefer running alone, but still want that sense of competition and accomplishment.
Don't worry, we got you covered with the next best thing! This is where joining a virtual race or challenge comes in. So now even if you're far away from most races or just want to run around your area but still want to compete with others, you can do just that.
BENEFITS OF JOINING A VIRTUAL RUN CHALLENGE
And here at Pinoy Fitness, we have a ton of virtual challenges you can join all year round.
The great thing about virtual challenges is even if you run alone, there's still that sense of community since there are other runners also doing the challenge. You're never alone in your running journey especially if you take on these challenges.
This can also be an added motivation for you to lace up those shoes in the morning as running just for the sake of running is not the best form of motivation for everyone. With the virtual challenges on your mind this will help you get off the couch and start running.
Running virtual challenges is also an avenue for you to push your limits. You never know what you can accomplish once you commit and set your mind into it.
HOW TO JOIN?
So you may be wondering, "How can I join?"
To join virtual challenges throughout 2023, the first thing you need to do is download the Pinoy Fitness Mobile App. You can do so here:
Apple Store – Click Here
Play Store – Click Here
Once you're in the mobile app you will be able to see all the currently ongoing and future virtual and physical races that will take place.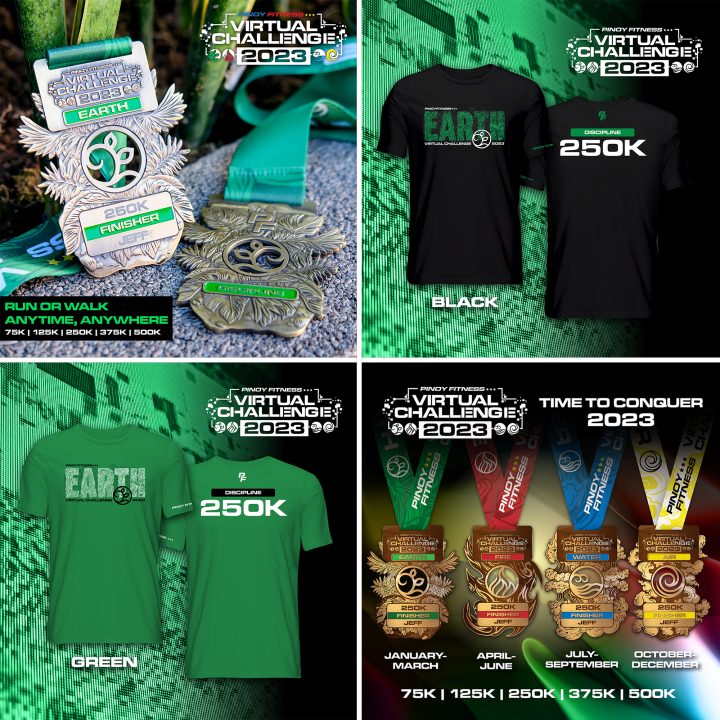 PINOY FITNESS EARTH VIRTUAL CHALLENGE
Speaking of virtual challenges, we have one of our major challenges for 2023 starting this January 1, 2023 all the way until March 31, 2023.
For Q1 2023, push your limits and run a 75k | 125k | 250k | 375k | or 500k from January 1, 2023 to March 31, 2023. Finishers get a PF Earth Finisher Medal and a Virtual Badge on the mobile app.
To learn more about the challenge, check out the details here: https://www.pinoyfitness.com/2022/11/pinoy-fitness-earth-virtual-challenge-2023/