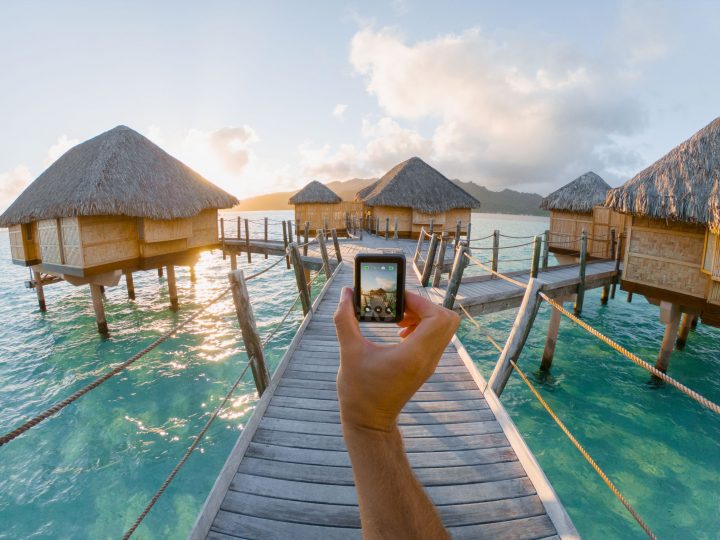 From travel vlogs to extreme videos, GoPro stepped it up a notch. On September 21, 2018, GoPro, Inc. announced the launch of the GoPro HERO7 Black.
Sticking to GoPro's sleek classic look, the HERO7 Black may look like its predecessors but packs so much more. Aside from delivering captivating 12-megapixel photos (in HDR and Raw), waterproof up to 10m, recording capabilities in slo-mo (120fps or 240fps), here are noteworthy additions to GoPro's newest action camera:
HyperSmooth
No need for additional accessories to stabilize shots. Capture those extreme moments with ease. HyperSmooth eliminates the need for a gimbal by providing smooth and stabilized shots whether you're walking, running, or mountain climbing. HERO7 Black 's HyperSmooth also works underwater, on turbulent conditions, and strong wind situations where gimbals fail.
However, GoPro's HERO7 Black does not only cater to adventure seekers and adrenaline junkies; GoPro is now evolving to cater to the social media era. From portrait orientation that are Instagram ready to live sharing, HERO7 Black is just getting started.
SuperPhoto
Much like a point and shoot feature, HERO7 Black brings you the SuperPhoto feature. Capturing without the need to adjust settings is now a feature not only digital cameras offer; GoPro makes it easier for the less tech savy of us have professional-looking photos by automatically detecting the right camera setting. GoPro is just making it easier for us!
TimeWarp
Into making workout videos or landscape scenery time lapse? Now with HERO7 Black you can. HERO7 Black now offers a "fast-forward" feature to your videos. No need to use a different app. Aside from being able to do Instagram-ready effects, you can now share it live too!
HERO7 Black is the first GoPro able to live stream. Users can now share their videos in real time to whichever social media outlet of their choice. No more waiting to share those incredible moments with your peers as GoPro lets you live and share the now.
The GoPro HERO7 Black comes with a tag price of PHP 24,690. Sweat deal for all those specs and capabilities, right?
With the launch of the HERO7 Black, GoPro also released 2 more that will allow its users to capture moments in better than High Definition and navigate through the device more easily.
Meet the HERO7 Silver and HERO7 White. Here's a rundown on the two:
While all 3 newly launched products feature 2-inch touch display, wi-fi and Bluetooth ready transfer, GPS, water resistance up to 10m, USB Type-C port, and a 62.3 x 44.9 x 28.3 m dimension, notable difference are the up to 4K (30fps video capture) and touch display.
HERO7 Silver (PHP 18,390) – 4K (30fps video capture)
4K literally translates to 4,000, which means the user is able to capture approximately 4,000 pixels of width of the footage. HERO7 Silver is now able to deliver better than HD footages. 4K video capture will be the future's standard for video recording and display stomping the 1080p or Full HD that most modern digital cameras offer today.
HERO7 White (PHP 12,390) –Touch Display
Despite being the cheapest out of the 3, HERO7 White lets you experience most of what GoPro is renowned for. With first-time users in mind, GoPro lets you experience one of the best specs in the market with user-friendly interface at the best price with the HERO7White!
Here's a summary on all 3 product specs: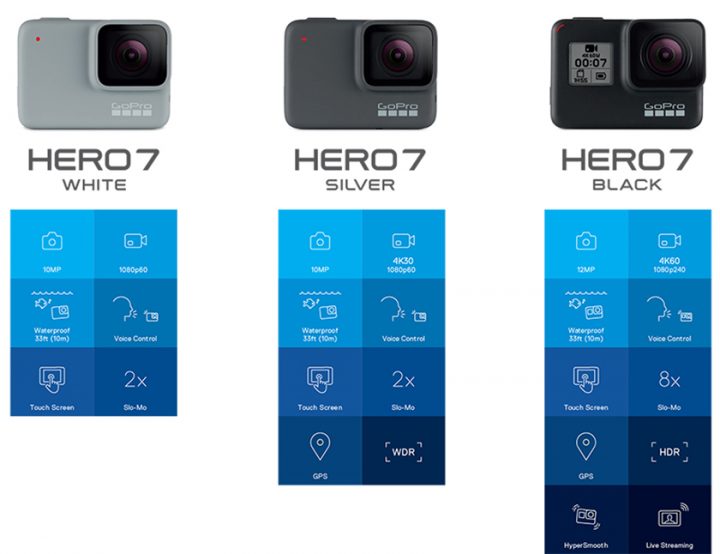 Want to win USD1,000,000? Join the HERO7 Black Million Dollar Challenge
Beginning September 27 worldwide, users can submit their best HERO7 Black raw video clips to the Million Dollar Challenge. Our creative team will pick their favourite shots for the highlight reel and award an equal cut of a million dollars to the individuals whose footage is selected.
For all HERO7 Black Million Dollar Challenge submission guidelines and details, please visit GoPro.com/Awards.