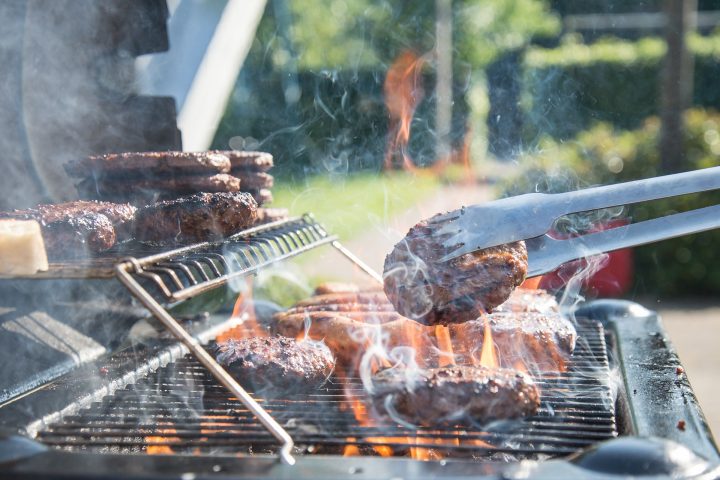 Cheating is often looked down upon, but when it comes to diet and exercise, a cheat day or a cheat meal is essential in muscle recovery. Indulging yourself in "sinful" treats, like chocolates, pizza, ice cream, etc., that would break your diet, is acceptable since you ideally spend the majority of your time depriving your body of the bad food and replenishing it with the good and nutritious food.
A cheat day gives your mind and body something to look forward to and can serve as a pallet cleanser and "reset button" from your diet of steamed vegetables, grilled chicken, and fruits.
With that in mind, you're probably looking forward to your next cheat day or cheat meal. If you're planning on treating yourself to something good on your cheat day, you might as well indulge in something that'll also help your muscles recover—with protein!
A burger is an easy way to stock up on what's good and yummy to the tummy: from the gooey cheese to the awesome sauce, and that thick juicy patty packed with protein—it's the perfect treat for all your hard work!
But before you bite into the delightful burger goodness from a favorite burger joint, we've whipped up a neat little review on the protein and fat content of the common burger joints around the Metro.
Find out which common burger is value for money and value for your diet.
Disclaimer: We've narrowed down the list to six common burger joints in Metro Manila and looked at which was their most protein-packed burgers. The nutrition facts gathered and shown below are sourced from Under Armour's myfitnesspal.com, unless stated otherwise.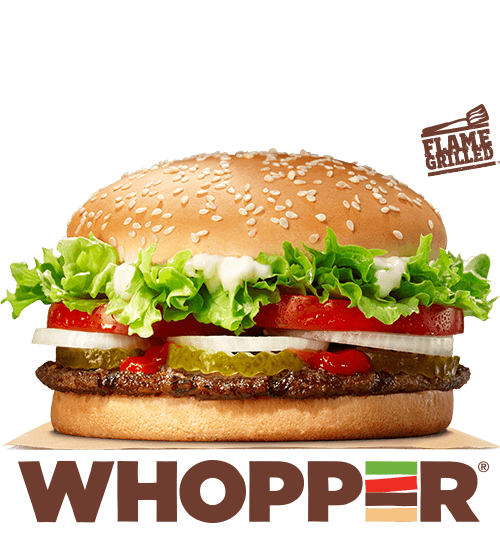 1. Burger King Whopper
Burger King is known for it's flavorful, flame-grilled burgers that probably have health-conscious fanatics, sold on the "healthy-ness" of the burger. But don't be fooled by the marketing—BK's flame-grilled whopper patty only contains 13 grams of protein and a whopping—pun intended—19 grams of fat!
Nevertheless, that flame-grilled whopper patty has that unique juicy zest that makes BK's Whopper so irresistible. Check out the nutrition facts below: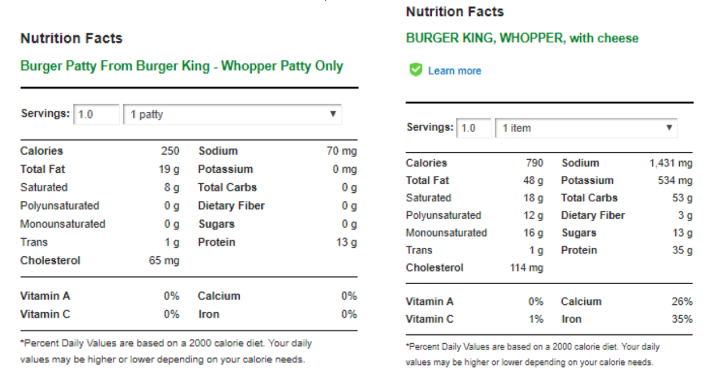 Burger King's Whopper with cheese has a protein-to-calorie ratio of 4.43% and a fat-to-calorie ratio of 6.08%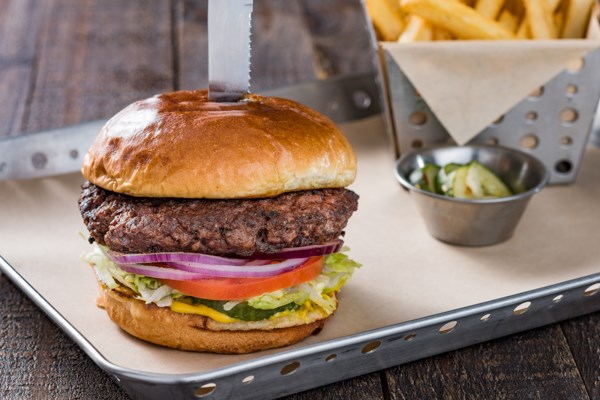 2. Chili's Standard Burger
Oversized burgers. Juicy burger patties. Overflowing sauce and fillings. We get it; Chili's is usually a treat-yourself-on-cheat-day no-brainer; but before you pull out your wallet and get ready to splurge on their big-mouth burgers, consider this: the standard Chili's beef burger patty alone, contains 360 calories.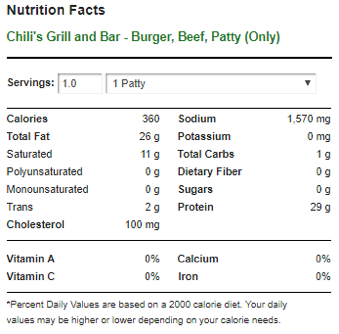 Although it's got 29 grams of protein, the patty has an 8.06% protein-to-calorie ratio. Imagine adding in the sinfully good stuff like the bacon, the cheese, the mushrooms… now, is it really worth all that cash and extra calories? You decide.
Chili's burger patties have a protein-to-calorie ratio of 8.06%.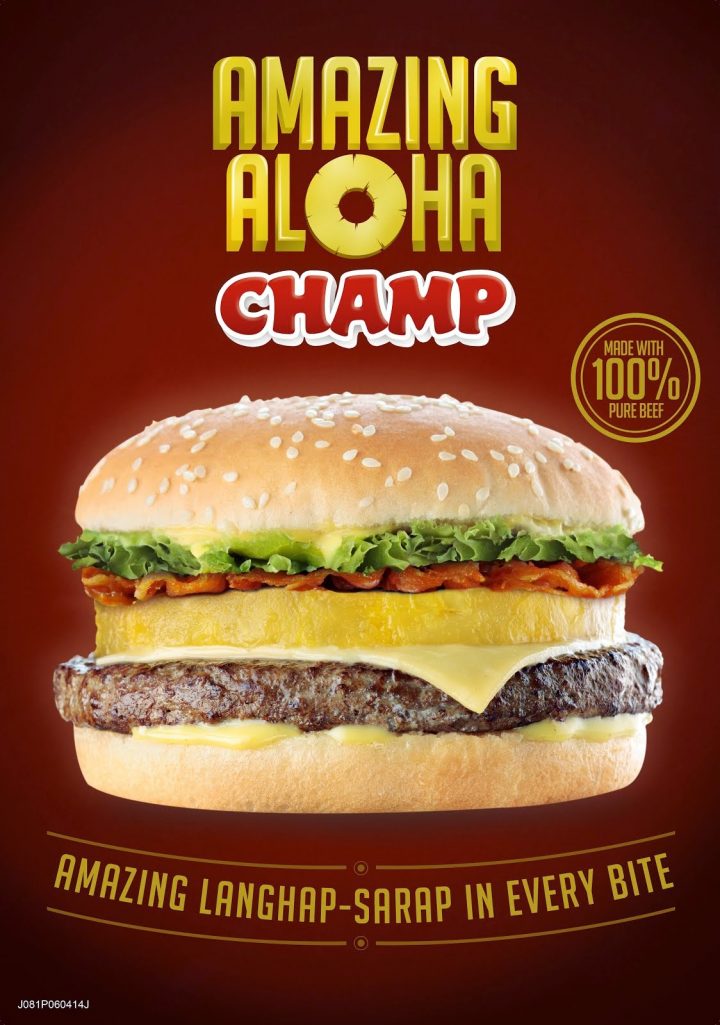 3. Jollibee Champ
You've survived a week's worth of self-control, being loyal to your diet. Now it's time to reap your rewards like a true champion, with the Jollibee Champ! This power-packed burger has got 39 grams of protein, making it one of the meatiest and leanest of the bunch. Check out what other nutrients you can get out of the Champ below: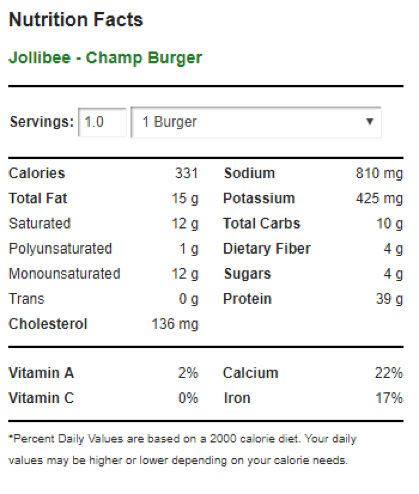 The Jollibee Champ has a protein-to-calorie ratio of 11.8% and a fat-to-calorie ratio of 4.53%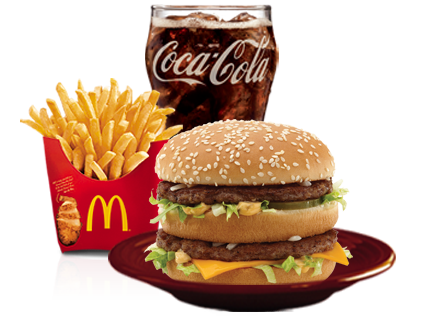 4. McDonald's Big Mac
Some like 'em big—big rewards for big efforts made on your end! McDonald's is an easy-to-find and affordable go-to cheat day treat; its standard patty weighs in with 7 grams of protein and 6 grams of fat.
On the level of the Big Mac, though its protein content rises to 26 grams per serving, its fat content also rises to 33 grams per serving. Now, is the fat worth the Mac? You decide.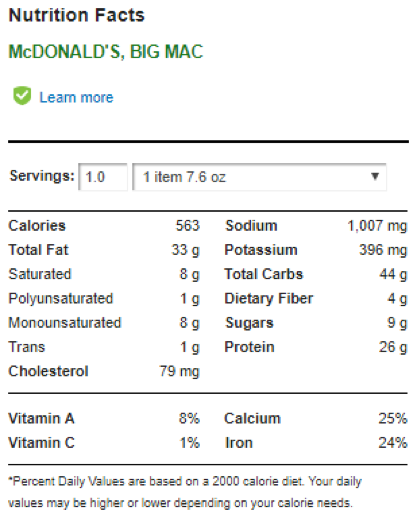 McDonald's Big Mac has a protein-to-calorie ratio of 4.62% and a fat-to-calorie ratio of 5.86%
5. Wendy's Standard Burger- Single
The standard Wendy's beef patty has got 39 grams of protein and 31 grams of fat. With less fat and more protein to spare, it seems like Wendy's is a pretty good bet to pack in the needed nutrients for that cheat/ recovery day!
If you wanna do yourself a solid and grab one, don't forget to weigh the pros and cons of the nutrition facts below: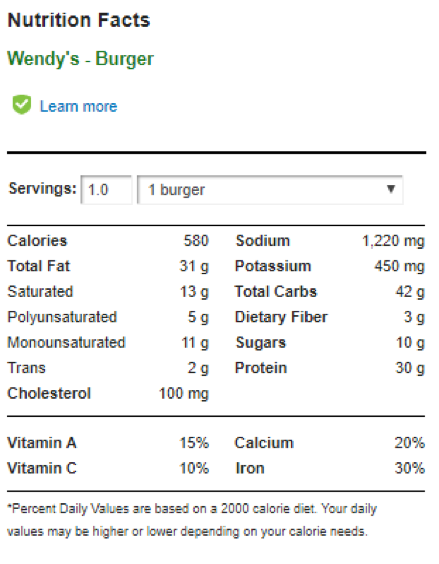 A standard Wendy's Single patty burger has a protein-to-calorie ratio of 5.17% and a fat-to-calorie ratio of 5.34%.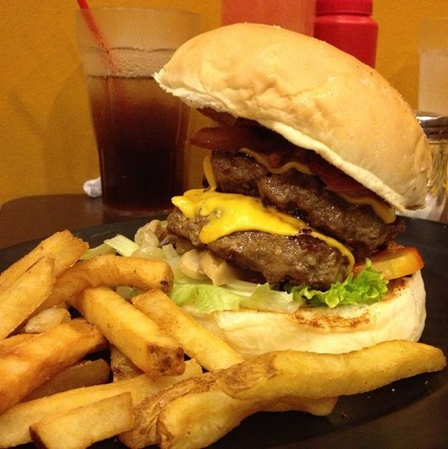 6. Zark's Stunner
Consider yourself stunned when you come face-to-face with Zark's Stone-Cold-Stunner. The Stunner is part of Zark's premium line of burgers. Just looking at what's in that stunning beauty of a burger probably has you drooling and totally neglecting the fact that its 850 calories.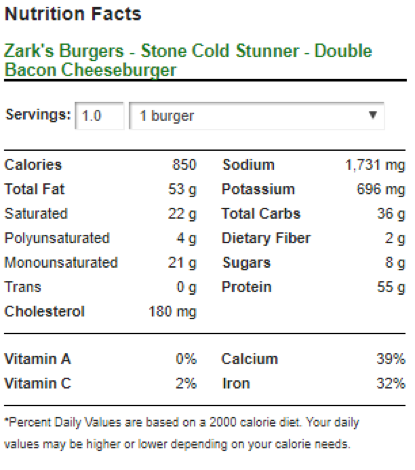 But damn, it's probably worth it!
Zark's Stunner burger has a protein-to-calorie ratio of 6.47% and a fat-to-calorie ratio of 6.24 %.
The Verdict

The Jollibee Champ Burger is truly the meal of champions that gives you value for money. With the highest protein-to-calorie ratio and lowest fat-to-calorie ratio, the Champ meets the balance between healthy and unhealthy.
At Php 126 SRP a la cart, you not only treat yourself to a filling meal fit for champs, but you also score a meal power-packed with the essentials needed to recover and replenish your weeks' worth of diet and exercise.
You might want to avoid Chili's unless you want to throw all caution out to the wind and just indulge in a premium line burger with minimal nutritional value, after all, what's a cheat day without breaking most if not all the rules, right?
But nonetheless, inevitably the choice is yours. If you decide to drop all the diet rules and go for flavor or what you like best, go for it! We've laid the cards on the table for you by giving you all the nutritional information you need. Happy eating!
Think we missed out on a more protein-packed burger joint? What burger are you getting for your cheat day? Let us know in the comments below!