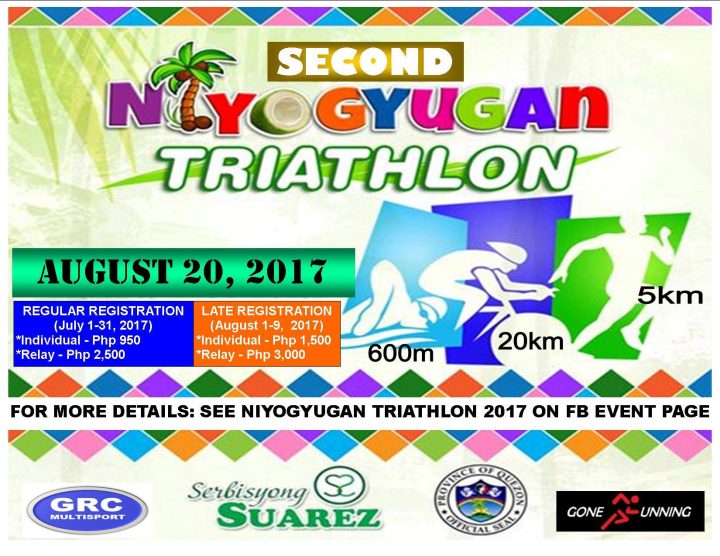 Niyogyugan Triathlon set to happen on August 20 in Lucena City. The event will be part of the upcoming series of races to promote tourism in Lucena. The purpose of the event is to encourage multisport participation within Quezon community and nearby places while promoting active and healthy lifestyles. The event also aims to SHOWCASE NIYOGYUGAN FESTIVAL 2017.
Niyogyugan Triathlon
August 20, 2017
Alcala Sports Complex Iyam, Lucena City
600m Swim – 20K Bike – 5K Run
Organizer: GRC Multisport
Registration Fee:
Regular (July 1 to 31) – P950 Individual | P2,500 Relay
Late (August 1 to 9) – P1500 Individual | P3,000 Relay
– Inclusive of Race bib, bike and helmet stickers, Finisher's medal, Finisher's shirt, Post-race meal
– Deadline of registration is subject to change depending on slot availability.
– Registration fees are non-transferable.
Registration Venue:
Payment can be made through: Bank of Philippine Islands
Account Name: DONNABEL M. DIZON
Account No. : 8859 – 1894 – 16
– Email your deposit slip and registration form at [email protected]
– Send your Reg. fee to LBC Lucban Quezon Branch and Email your Reg. form and deposit slip to [email protected]
For More Information:
Call: 0922-769-8016
Email: [email protected]