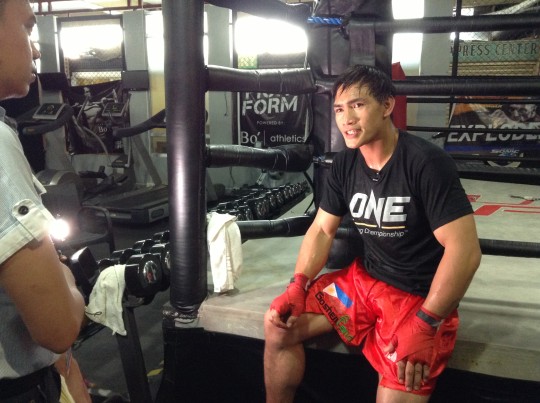 ONE FC Fighters Gear Up for Labor Day Lowdown
First Filipina ONE FC Fighter to Make MMA Debut
by "Raken" Roland Guia, Jr.
ONE FC fighters Eduard "The Landslide" Folayang, Eugene Toquero, and Jujeath "Bad Girl" Nagaowa showcased their skills as they made themselves available to the public in an open workout at Ultimate Fitness in Metrowalk, Pasig City, Philippines. The combat sport veterans provided a glimpse of what their opponents could expect from them in their mixed martial arts (MMA) bouts this coming May 02, 2014 at ONE FC 15: Rise of Heroes, to be held at the Mall of Asia Arena.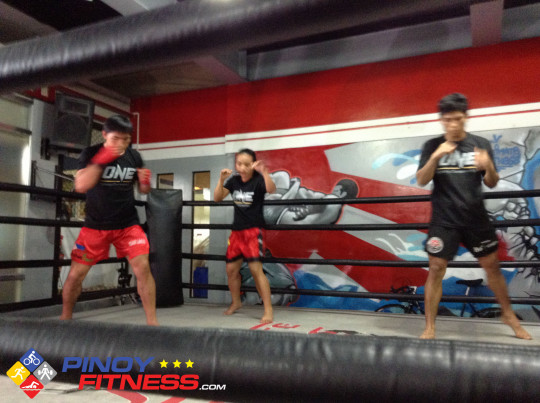 The three pros warmed up in the ring by stretching and shadow striking, limbering up before they hit the muay thai pads. Former URCC champion Jessie "The Finisher" Rafols held the pads as he set up both Folayang and Nagaowa for crisp combinations and thudding strikes for one round each. Toquero, who doubles as coach and trainer at Ultimate Fitness, gave a demonstration of both his stand-up and ground prowess with a traning partner. After working up a sweat, the trio took questions from the media in attendance as they detailed their training progress, expectations for their upcoming bouts, and more.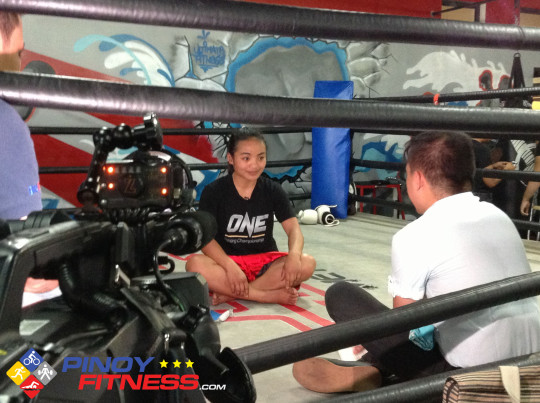 Making her professional MMA debut, Jujeath "Bad Girl" Nagaowa (0-0) confesses getting jittery in her preparation for her first MMA bout. A former professional boxer who won WBC Asia's atomweight championship, Nagaowa admits that MMA and boxing are two different sports that require specialized training. Fortunately for her, making this transition easier is fellow Lakay MMA teammate Gina Iniong, who is always available to lend her professional advice, technical skills or otherwise. After watching her teammate snag a decision win in a recent event, Nagaowa is raring to take her turn amongst the sport's elite. Interestingly, Nagaowa is the first Filipina fighter to be signed by the biggest MMA promotion in Asia, with more sure to follow in her footsteps.
With about 4 weeks left until her bout, "Bad Girl" is not taking her fellow atomweight opponent, Jeet Toshi (2-1), lightly. A decorated kickboxer from India, Toshi is a pioneer for women's MMA in her homeland. The taller Toshi will look to put her diverse stand-up arsenal to the test against the tight footwork and knockout power of the hometown heroine. Because of their credentials in professional boxing and kickboxing, fans can rightfully expect a stand-up battle between the two. However, Nagaowa should not be considered a one-trick pony coming into their bout as training with Lakay MMA has surely made her a well-rounded fighter.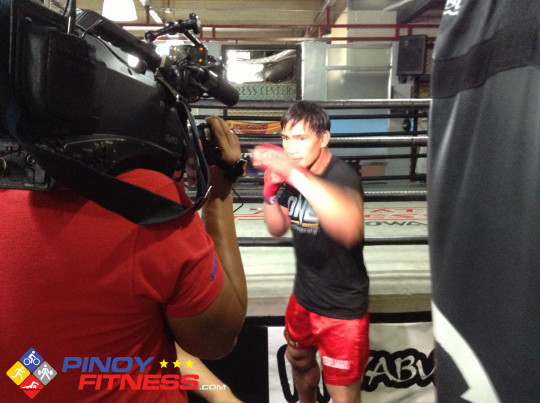 Team Lakay poster boy Eduard "The Landslide" Folayang (13-4) is set to take on former ONE FC titleholder Kotetsu "No Face" Boku (21-9) in their lightweight co-main event tilt. "The Landslide" believes that despite popular opinion to the contrary, our local talent can hang with other fighters on the ground. With extensive training from international wrestling coaches, Folayang opines that Filipino fighters just need to go over what he considers as a mental hurdle as far as ground fighting is concerned, before they can be considered the best in the world stage. Admitting that he wasn't satisfied with his last bout despite earning a win, Folayang has ramped up his training and focus against the South Korean fighter born in the Land of the Rising Sun. Part of the famed Krazy Bee Team led by Norifumi "Kid" Yamamoto, Boku's combination of knockout power, ground game, and experience will no doubt give the local bet a well-rounded test.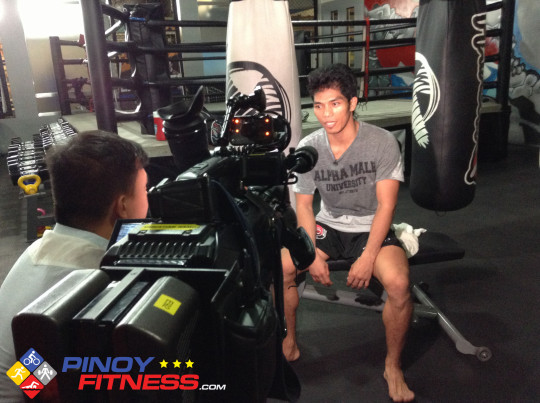 After experiencing his very first loss in MMA during his last outing, Eugene Toquero (4-1) is ready to move onto his next bout. Facing young prodigy Gianni Subba (3-0) out of Monarchy MMA and Phuket Top Team, Toquero expects a stand-up war. Toquero, considered by many to be the best pure striker in the country, is conscious of training extensively in all aspects of MMA to ensure that he will have a lot of tricks in his bag come fight night to be comfortable wherever the bout goes, and to keep his opponent guessing. Out of all the announced bouts for the ONE FC 15 card, Toquero's scrap with Subba has the potential to be the Fight of the Night. With 7 wins between the two, not one has gone the distance; wherever their bout goes, expect fireworks from either and a resounding finish in the end.
Catch all the action of ONE FC 15: Rise of Heroes at the Mall of Asia Arena on May 02, 2014! The main event will feature a ONE FC Bantamweight Championship bout between international MMA veteran Bibiano "The Flash" Fernandes (15-3) of Brazil, against the highly regarded Masakatsu Ueda (18-2-2) of Japan. Reserve and get your tickets now from SM Tickets (www.smtickets.com)!
For Instant Updates – Follow US!
https://www.facebook.com/pinoyfitness
https://www.twitter.com/pinoyfitness
https://www.instagram.com/pinoyfitness
PF Online Community -> https://members.pinoyfitness.com
PF Online Shop -> https://shop.pinoyfitness.com
Like this Post!? Share it to your friends!