Color My World FUN! – The Live More Run event Coverage
Words By: Ms_Mars
Photos: Ynny Cee and Catherine Mariano
What is this growing popular run event that if a runner walks out of it looking clean and unmessed, will make them feel awkward and out of place?
Nuvali had a very colourful look over the weekend as the participants of this unique event together with a combination of friends, relatives and family members trooped to this side of Sta.Rosa, Laguna for a no-pressure chikka-paced run.
As it's exciting initial year-starter, Smart's Live More Run was organized and brought to us by Runtertainment, Inc. the same people behind the successful Outbreak Manila series. Just like the essence of their previous runs, the organizers wanted its runners to have fun bonding time with family and peers.
The signature 5K route this time had its starting line at Evolving Parkway. Three waves of runners, all excited and predominantly wearing white or light colored shirts or singlets armed with their protective shades, got their initial color splash of hulk green at Kilometer 1. Proceeding to the next bend at Kilometer 2, the follow-up hue was that of ponkan orange. Two colors down, three more to go.
Powdery visibility became prevalent as the color marshalls were distributed every kilometer to ensure that runners will get splashed with the color assigned per station.
Screaming with delight while snapping their cameras, runners were getting the hang of the color shower as coming towards more than half of the route, color me pretty in pink topped off Kilometer 3. Was fun seeing kids of various ages alongside with teenagers and adults covered with at least 3 colored hues all over them got another hue as Kilometer 4 color marshalls splashed lemon yellow shaded powder. As participants gleefully headed down the finish line, deep-sea blue colored powder happily concluded Kilometer 5.
Everyone looked like an amusing human canvass of messy fun abstract artwork at the finish line. And the messier and colourful one looked, the better and more fun looking it got majority in their shades of delight!
Live More Run also became a reunion run to some of the volunteer zombies during the Outbreak Manila series. They opted to run in one wave and of course couldn't help but strike their famous and scary zombie poses to photographers. And how they missed their ghouly characters!
Trampolines were also set up at the finish line to those whose energy and adrenaline were still high. Finisher items inside the loot bags included a Live More Run medal, color sachet and a free SIM card from its major sponsor. Runners also had their souvenir photos taken against backdrops of on-the-spot paintings of some skilled artists. Hydration was more than adequate.
Looking like a day-care center, toddlers had a grand time at this huge inflatable play balloon while parents and guardians waited for the runner's return. Snacks and drinks were also sold. Among the amenities were dressing tents and extra make-shift portalets plus water sprinklers to shower off the powder which happened to be edible in nature.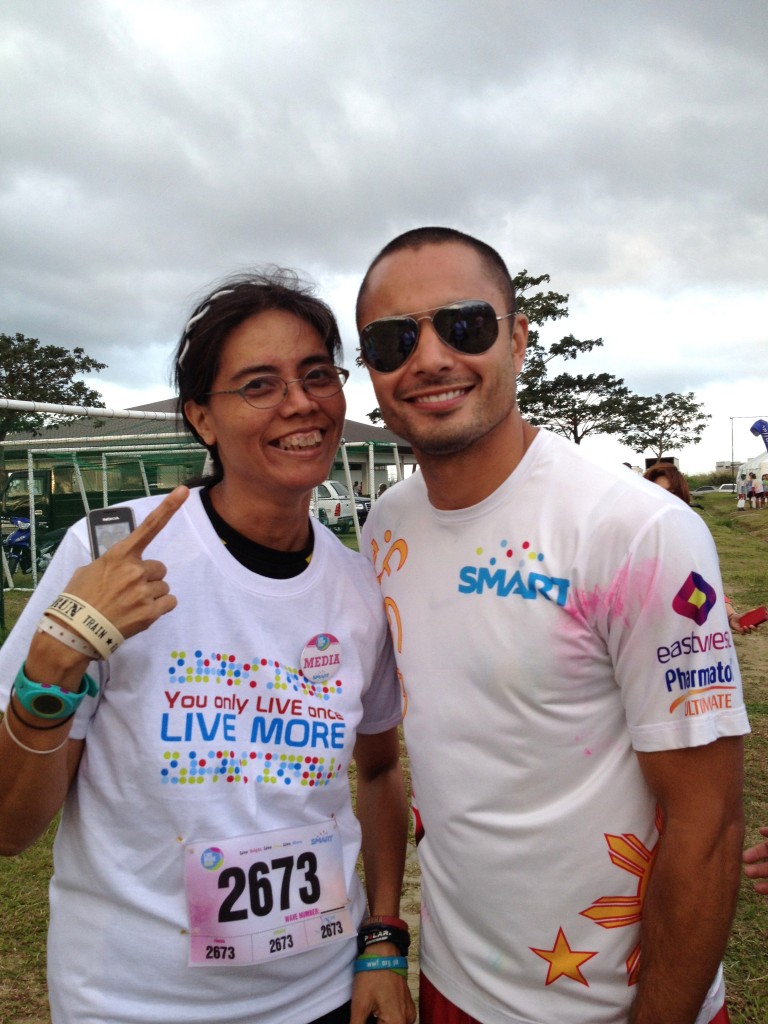 Popular celebrity guest and Smart network endorser Derek Ramsey thrilled and wowed the crowd. "I'm sorry I wasn't able to run with you guys, but thank you for coming and congratulations to all finishers," was Derek's statement amidst shrieking female fans. Some got lucky having their photos taken with him. What a starstruck moment.
The first 500 runners who came at the starting line prior to gunstart received SpongeCola CDs. The OPM boy band dished out all their hits while clad in colored powder themselves led by vocalist Yael Yuzon and had loads of fun taking some Instagram photos of the crowd. Another up and coming band, Taken By Cars entertained the crowd while runners awaited for the raffles to begin. A major prize was a brand new iPhone.
During the mini concert and part of the event highlights, a bunch of white LED balloons were distributed and released on queue. To everyone's awe and surprise, the balloons literally and slowly glowed as it flew in the dark skies. That certainly was a first!
Proceeds of this fun and colored event went to the MVP Foundation.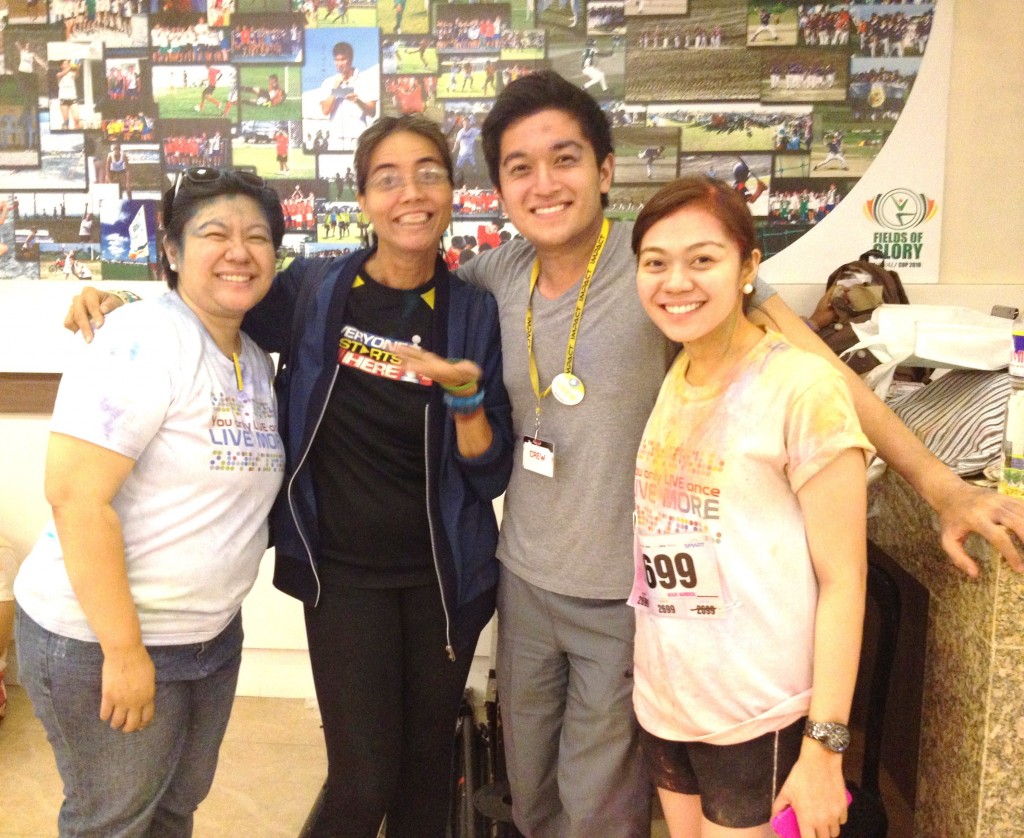 We were able to catch up with Angelo Cruz, one of the organizers and congratulated him and his team. Couldn't help ask Mitch what their next run event will be? With a big smile, he replied, "We will just surprise you guys with that. So…abangan!"
Many thanks to Mitch, Angelo, Nina Cruz and Ms. Judy Malabanan and to Pinoyfitness for the chance to cover this event.
For More Colorful Photos! – Click Here and Click Here Again
For Instant Updates – Follow US!
https://www.facebook.com/pinoyfitness
https://www.twitter.com/pinoyfitness
Like this Post!? Share it to your friends!