[ad#square-middle]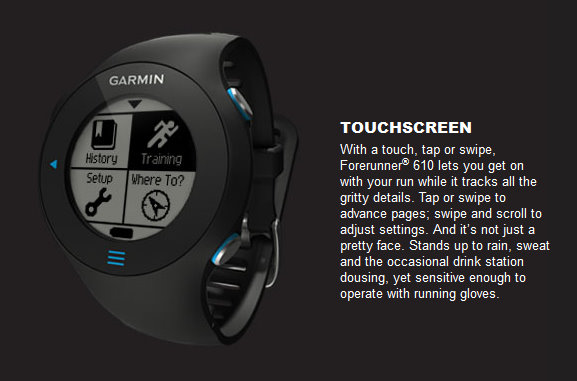 Garmin is going into the touch screen arena by introducing the Garmin Forerunner 610 its first touch screen GPS watch for Runners. I personally own a Garmin Forerunner 410 and i'm loving it's simplicity, functionality and especially the online Garmin Connect Website which keeps tracks and logs all of my trainings and workouts.
Garmin Forerunner 610 will inherit all of these great features plus changing the navigation method to touch screen, cool right!? Well, some of you might be thinking how the touch screen will stand against sweat and water, but Garmin claimed it can still function well in these conditions and is even sensitive enough to be used with running gloves.
I hope I can test drive this gadget one of these days. For now, i'll stay with my Forerunner 410. The Forerunner 610 retails for $349.99 and $399.99 w/ HRM. Here's a video on how it works.
For more information about the product, visit the Garmin Forerunner 610 Website – Click Here