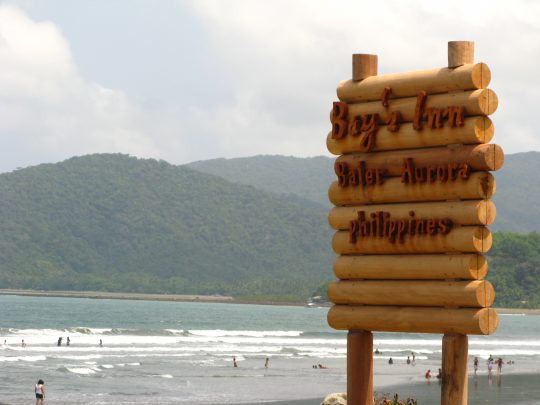 Just spent the Holy Week with my surf buddies and hit the beaches of Baler like we did last year. The waves were pretty nice this year, giving consistent shoulder to head high waves in Sabang Beach. Lots of improvement in the area, you can see that the roads leading to Baler are now slowly being cemented, soon the place would be accessible to any type of vehicle, new resorts like Bahia de Baler 2 where we stayed in this year has just been built to accommodate more visitors, amenities like free wi-fi and hot and cold showers are being offered as well for that relaxing vacation you have been dreaming off.
Bay's Inn is also a good choice when you are in a budget, they offer aircon and non-aircon rooms that would surely fit a budget hunters pocket. The Bay's Inn restaurant is also your favorite hangout place, it gives the best view of all the beach bumming and surfing action happening in Sabang Beach, and not to mention the cheap and delicious food they offer, 95 pesos for a double cheeseburger with fries and drink, yummy!
So have you ever considered spending your summer beach bumming and surfing in the warm beach of Baler?
I would recommend booking a room at Bahia De Baler, it is where Sabang Beach is located and where all the action happens.
Bahia De Baler
Buton Street, Sitio Labasin, Barangay Sabang, Baler, Aurora, Philippines
0916-7701980 / 0928-6875424
Contact: Camille Pedreno
Email: [email protected]
Website: https://www.bahiadebaler.com
Another resort to consider is Bay's Inn, if you are in a tight budget, reserve their fan rooms early.
Bay's In Resort
80 Sitio Labasin, Brgy. Sabang, Baler, Aurora Philippines
0907-7005734
Contact: Pia or Weng
Email: [email protected]
Website: https://baysinnbaler.multiply.com/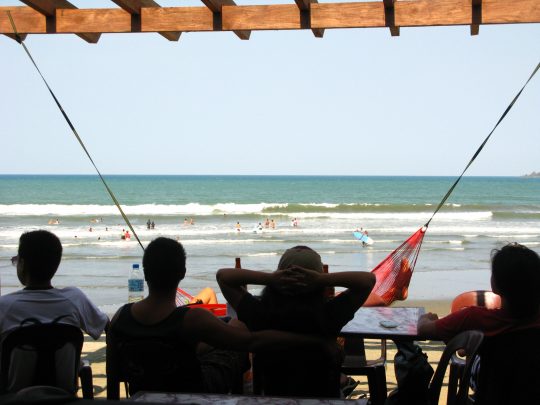 Enjoy Summer Everyone!! Don't forget your Sunblock!