In a remarkable display of solidarity and commitment towards breast health, the CCP Complex in Pasay City recently witnessed the incredible "Fun Run to Boob Love," organized by Avon, the leading intimate apparel brand in the Philippines. This event not only served as a beacon of hope in the fight against breast cancer but also symbolized Avon's unwavering dedication to this crucial cause.
The event was graced by a slew of celebrities and influencers, including 2015 Miss Universe Pia Wurtzbach, actor Enchong Dee, actress Kyline Alcantara, 2023 Miss Universe Philippines Michelle Dee, and 2023 Miss Supranational 1st Runner Up Pauline Amelinckx. Their presence added a special charm and significantly amplified the message of breast health awareness.
Participants had the option to join either a 3KM or a 5KM run, with each step taken echoing Avon's commitment to breast health awareness. Alongside the run, the event featured an informative fair centered around breast health education, emphasizing the importance of regular self-checks and early detection.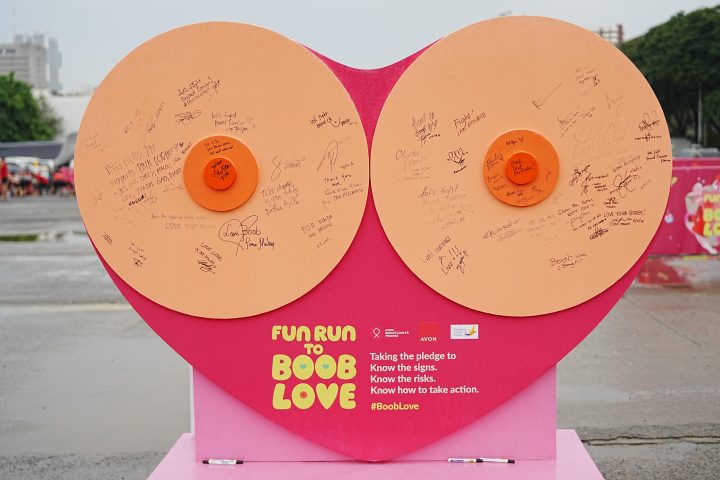 The Fun Run to Boob Love wasn't just about the run; it was an entire experience. Attendees indulged in a variety of activities, from a lively Zumba session to engaging in games and visiting donation stations. The #BoobLove pledge wall particularly stood out, allowing participants to express their support and commitment to breast health.
Sponsors like Collezione C2, Gatorade, Aetrex, Red Ribbon Bakeshop, Arcadis Consulting, and media partners Nylon Manila and Wonder Magazine significantly contributed to the event's success. Their support underlined the collective effort required in the battle against breast cancer.
Marion Limlengco, head of communications at Avon Philippines and Asia Pacific, highlighted the essence of the event. She emphasized the importance of regular breast self-checks in preventing breast cancer, a key message of Avon's Breast Cancer Promise.
The event's most impactful aspect was its fundraising initiative, with proceeds going to the Philippine Cancer Society. This collaboration exemplifies the powerful impact that can be achieved when organizations come together for a noble cause.
For those looking for more information on breast health and self-check guides, Avon offers an array of resources aimed at educating and empowering individuals.
Avon's Fun Run to Boob Love was more than just an event; it was a powerful statement in the ongoing fight against breast cancer. It served as a reminder that when we come together for a cause, we can make a significant difference.