MNL City Run is taking a significant stride towards a healthier planet and a healthier community, including the beloved furry friends of many. They present EcoFest Run: Striding Towards Sustainability, an event featuring a special 1km Dog Run for an eco-conscious and positively delightful experience.
As the third event of the year for MNL City Run, EcoFest Run continues the organization's dedication to making a positive community impact. Following a Php50,000 grant to the Cerebral Palsy Super Warriors Philippines, MNL City Run now calls upon runners in the metro and beyond to run for the benefit of the Million Trees Foundation Inc.
Founded in 2017, the Million Trees Foundation Inc. leads the way in conserving and rehabilitating Manila Bay and critical watersheds. Their mission is to plant one million trees annually to maintain water levels in key areas and protect the environment.
But EcoFest Run is not just about environmental stewardship; it's a lively celebration that fuses eco-consciousness with the thrill of a race. The introduction of the 1km Dog Run allows participants to share this unique experience with their pets.
EcoFest Run symbolizes how the roots of a single tree can channel and preserve water. Each step taken in this event by MNL City Run becomes a significant act of water conservation, aligning with participants' fitness goals. So, it's time to lace up those shoes, leash up those dogs, and be part of EcoFest Run: Striding Towards Sustainability, where every step contributes to a greener future!
ECOFEST Run: Striding Towards Sustainability
October 22, 2023 @ 3:30AM
Central Park, Filinvest City Alabang, Muntinlupa City
3K|5K|10K|16K|21K|1K Dog Run
Organizer: Rule and Rich Events Management
Registration Fees:
21K Half Marathon
Registration Fee: Php 1350.00
Kit Inclusion: Singlet, Finisher Medal, Finisher Shirt, Race Bib with RFID tag, Raffle ticket
Assembly Time: 3:30 AM
Gun Start: 4:00 AM
Cut-off: 7:30 AM
16K
Registration Fee: Php 1250.00
Kit Inclusion: Singlet, Finisher Medal, Finisher Shirt, Race Bib with RFID tag, Raffle ticket
Assembly Time: 4:00 AM
Gun Start: 4:30 AM
Cut-off: 7:30 AM
10K
Registration Fee: Php 1150.00
Kit Inclusion: Singlet, Finisher Medal, Finisher Shirt, Race Bib with RFID tag, Raffle ticket
Assembly Time: 4:30 AM
Gun Start: 5:00 AM
Cut-off: 7:30 AM
5K
Registration Fee: Php 850.00
Kit Inclusion: Singlet, Finisher Medal, Race Bib with RFID tag, Raffle ticket
Assembly Time: 5:00 AM
Gun Start: 5:15 AM
Cut-off: 7:30 AM
3K
Registration Fee: Php 700.00
Kit Inclusion: Singlet, Finisher Medal, Race Bib with RFID tag, Raffle ticket
Assembly Time: 5:15 AM
Gun Start: 5:30 AM
Cut-off: 7:30 AM
1KM Dog Run
Registration Fee: Php 600.00
Kit Inclusion: Event Shirt for Handler, Race Bib, Dog Bandana, Finisher Token
Assembly Time: 6:00 AM
Gun Start: 6:15 AM
Cut-off: 7:00 AM
Registration Venues:
1. Register Online via – https://mnlcityrun.myruntime.com/register/ecofest-run-2023
2. Instore Registration:
– Festival Mall UGF, West Wing Bridgeway Festival Mall Alabang
– From August 19 to October 19, From 10 AM to 9 PM daily (while stocks last)
Other Details: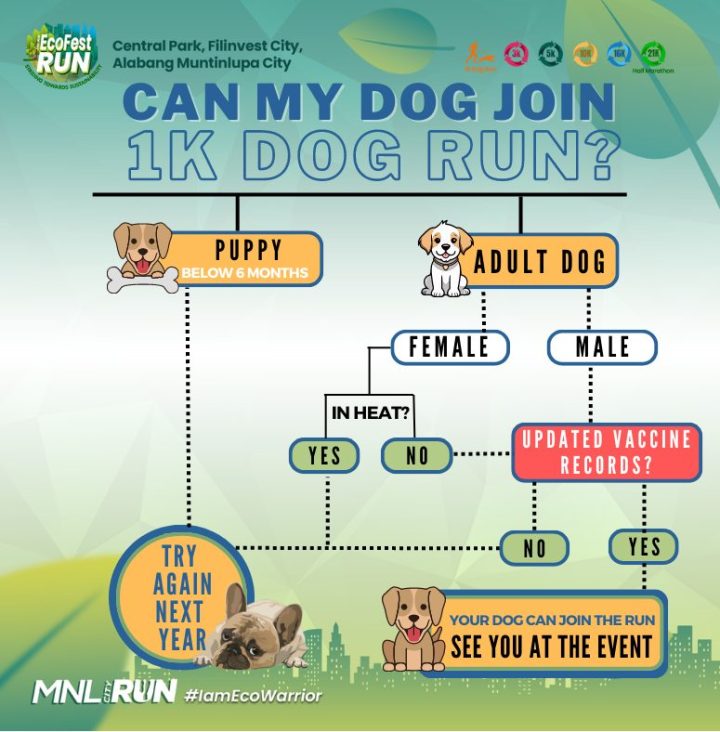 For More Information:
Ruel Cruz: 09560048085
FB: www.facebook.com/MNLCityRun
Email: [email protected] and [email protected]