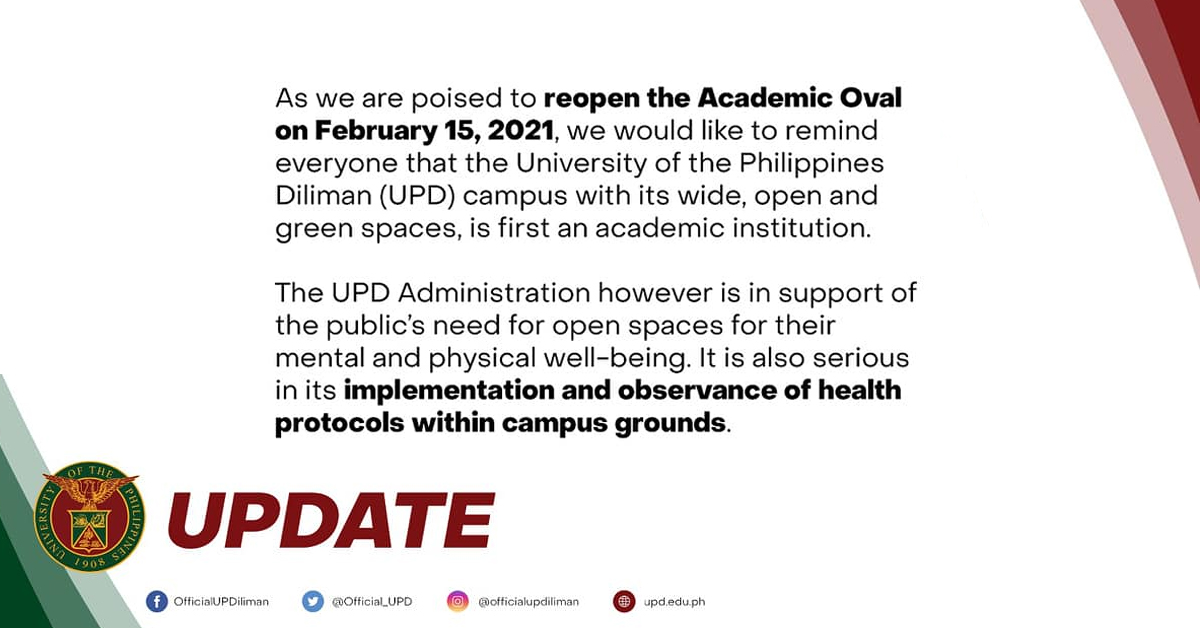 UP Diliman recently announced in a Facebook Post that the school is re-opening the UP Academic Oval starting February 15.
In the post, the UPD Administration reminded everyone that UP Diliman is first and foremost an academic institution, but they will continue to support the public's need for open spaces for their mental and physical well being. With this, the UPD Administration has released a new health guideline for visitors.
When at the Academic Oval and other open spaces, everyone is advised to strictly follow University health guidelines to prevent the spread of COVID-19 and other possible ailments:
• Properly wear face masks and face shields at all times.
• Carry alcohol or sanitizers at all times.
• Observe physical distancing of at least one meter.
• Observe the NO EATING, NO LITTERING policies on public grounds.
• If in a group, make sure that you are NO MORE THAN 10 persons.
• Follow the designated bike routes. Training and racing are strictly prohibited.
• Only individuals aged 15 to 65 (provided they do not belong to the vulnerable group or those with co-morbidity) are allowed to use the Academic Oval and other open spaces for any exercise activity.
• Keep the Academic Oval and other open spaces clean.
UP Diliman have asked the support of the Barangay UP Campus COVID-19 Task Force to help us monitor compliance with minimum health protocols. Remember, if we work together, we can defeat COVID-19.