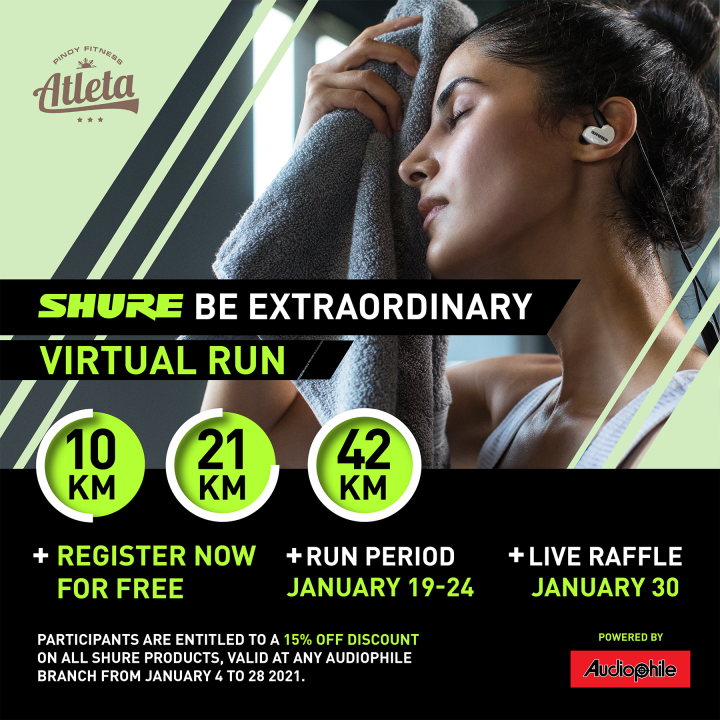 It's time to bring your legendary running performance this January by conquering your selected distance at the SHURE Be Extraordinary Virtual Run!
Choose between 10K, 21K or 42K (cumulative) from January 19-24. Finishers will get a chance to win a SE215 Sound Isolating Earphones and other outstanding items from Shure.
All participants also get 15% off an all Shure products (Valid in all audiophile stores, just present your PF Atleta registration upon purchase)
SHURE Be Extraordinary Virtual Run (FREE)
January 19-24, 2021
5K|10K|21K
Anywhere in the World
Registration Fee:
FREE!
Registration Venue:
1. Web Browser – Click Here
2. Apple App Store – Click Here
3. Google Play Store – Click Here
Reward: Virtual Badge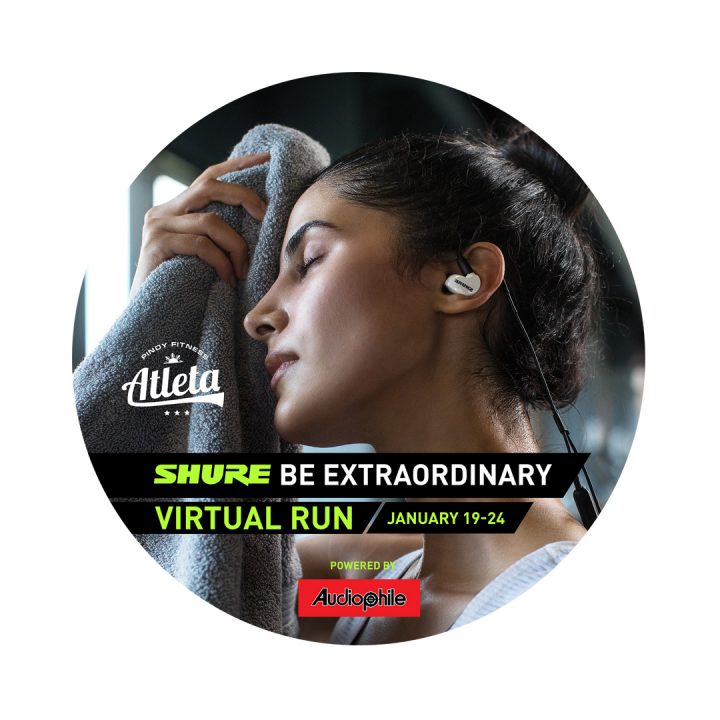 Participating Audiophile Stores:
1. Audiophile Manila | tel. (02) 8559-6819 – Audiophile Building 1002 president quirino avenue extension paco manila
2. Audiophile Quezon City | +63 920 299 9937 – YDG Building 219 katipunan avenue quezon city
3. Audiophile SM Mall of Asia | Tel:(02) 8556-4385 | e-mail: [email protected]
4. Audiophile SM Megamall | Tel. (02) 8656-4084 | e-mail: [email protected]
5 Audiophile SM North EDSA | Tel: (02) 8441-4127 | 0945-109-6883 | e-mail: [email protected]
6 Audiophile Cloverleaf, Balintawak | Tel: (02) 8932 0825 | e-mail: [email protected]
7. Audiophile Market! Market! | Tel: (02) 8828-9422, (02) 8384-8024 | e-mail: [email protected]
8. Audiophile Glorietta, Makati | Tel: (02) 8869-6842 | e-mail: [email protected]
9. Audiophile Festival Mall, Alabang | Tel: (02) 8807-2570, (02) 8807-8796 | e-mail: [email protected]
10. Audiophile Estancia Mall, Pasig | (0908) 739 3721 | [email protected]
11. Audiophile SM Seaside Cebu, Cebu City | [email protected]
How does a Virtual Race work?
– Choose and Register on a Virtual Race
– Use a GPS-tracking running app, watch or treadmill
– Track and Finish the Race
– Take a photo of your result
– Submit your Run
Rules:
"No completion, no reward" policy; This race is based on honour system, periodic checks will be done on the submissions.
All GPS-based App and Treadmill Submissions are allowed.
Account will be suspended if fraudulent results are found