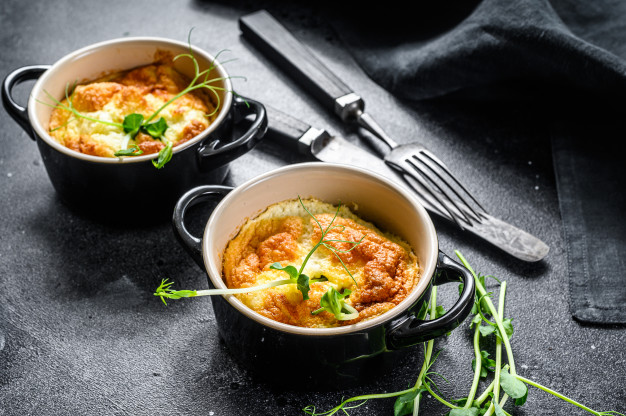 Running out of breakfast ideas to make on those lazy mornings? Try these yummy (and healthy) bite-sized frittatas!
It can be quite challenging to muster up the will to explore the kitchen early in the morning, especially if your body is still sore from yesterday's workout. That's why it really helps to think ahead and make a weekly meal plan. Preparing your meals ahead not only saves you time and energy but it would make following a healthy diet easier.
If you're the one cooking your own meals, you can have total control over what goes in your food and the portions of each meal, preventing you from over-eating and wasting food. Instead of wasting time standing in front of your fridge wondering what to eat, have these made ahead of time and just reheat them when you need to.
Save it for later
So, whether you're on the go, looking for a fun activity for you and the kids, or just plain too tired to cook, this recipe is good for you. These mini breakfast frittatas are actually freezer safe, so you can make this quick breakfast treat ahead of time as part of your weekly meal plan.
Once frozen and stored properly, these can keep up to 3 months! Making and planning ahead will also save you trips to the grocery, keeping us safe from unnecessary exposure. So, stock up and plan ahead to get into that healthy habit.
Read the recipe below and get started on making frittatas part of your morning healthy habit!
Serving size: 12 pieces
Prep time: 30 minutes 
Equipment needed: Muffin pan, frying pan, stove and oven
Ingredients:
12 eggs

½ red onion 

2 garlic cloves

½ cup bacon

½ cup mushrooms

½ cup spinach

Note: Try local alternatives like talinum or saluyot

½ cup tomatoes

Note: Choose cherry tomatoes if you want them to be cute

¼ tsp salt

¼ tsp black pepper

½ cup cheese (optional)
Procedure:
Preheat the oven to 180 °C and fully coat the muffin pans with butter or the oil of your choice.

Finely mince onion and garlic. Dice the tomatoes or if using cherry tomatoes, slice in half.

Chop the bacon into bits and cook them in a frying pan, then set aside in a bowl

With the same oil used to cook the bacon, fry the onion and garlic.

Add the mushrooms and spinach and season with a pinch of salt and pepper. Put the vegetables in a bowl and set aside.

Whisk 12 eggs in a bowl until the egg yolks and the egg whites are fully incorporated. Season with ¼ tsp salt and ¼ tsp black pepper.

Fill up the muffin pans with the bacon, mushrooms, spinach, and tomatoes. Make sure each hole has the same amount of filling. Mix and match the combination of your choice. 

Pour over the egg mixture into the muffin pans up to ¾ full or until the holes are covered.

Top with cheese if desired and bake in the oven for 15-20 minutes. Use a toothpick and poke the center of a muffin to see if the eggs are fully cooked. If the toothpick came out clean, that means it's cooked through.

Let it cool down to room temperature before eating or storing in an airtight container. This can be stored in the chiller for up to 5 days and in the freezer for up to 3 months.
Pro tip: This recipe is ketogenic diet-friendly, too.
RELATED READ: 30 Day Keto Diet Challenge
Try this recipe out and let us know if you like it over the Pinoy Fitness Community Facebook group!